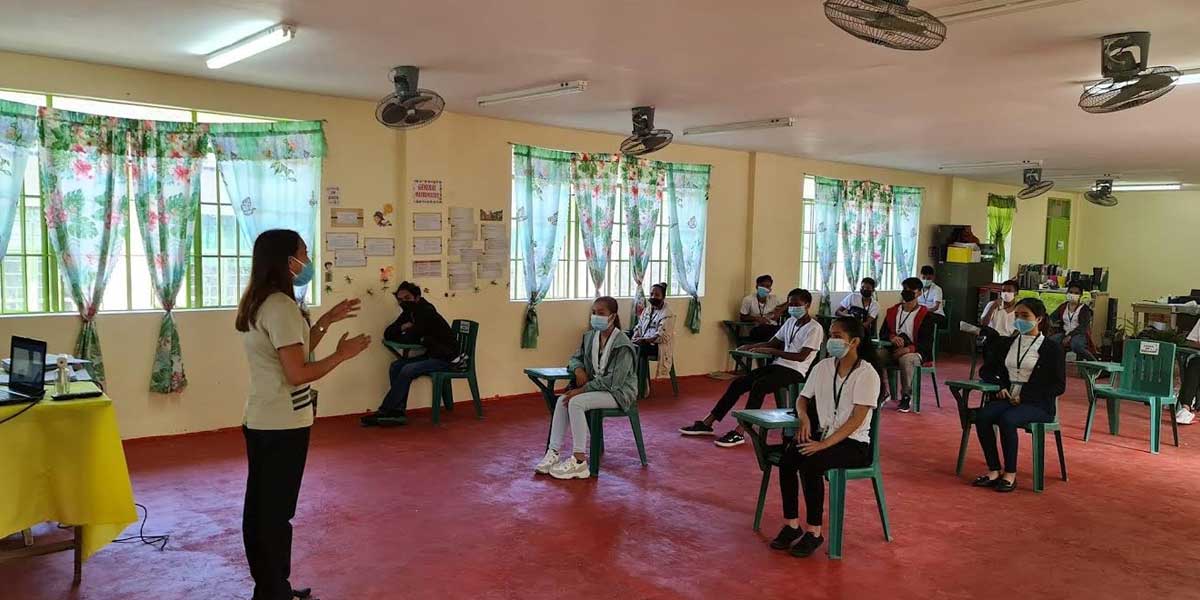 An independent monitoring initiative spearheaded by a youth group lauded the smooth implementation of the Department of Education's pilot run of face-to-face (F2F) classes in the Philippines, even as it found key gaps and challenges as the pilot run was conducted.
In December 2021, the Center for Youth Advocacy and Monitoring (CYAN) and G-Watch (Government Watch) conducted simultaneous special monitoring of DepEd's pilot F2F classes as part of its Multiply-Ed (X-Ed) project.
Last year, 100 public schools were selected to join the Department of Education's pilot run of F2F classes, which was conducted from November 2021 and is slated to conclude in January 2022.
In her report to the President on Jan. 17, DepEd Secretary Leonor Briones announced that implementation of these pilot classes was "highly successful," and recommended "progressive expansion."
Multiply-Ed's monitoring initiative is an independent civil society assessment of the readiness of public schools for face-to-face classes and aims to provide appropriate recommendations to make the public education system adapt to the new normal amid, and after, the COVID-19 pandemic.
Reacting to DepEd's findings and recommendations on the pilot F2F classes, CYAN Executive Director Jeza Rodriguez said that they noted key gaps and challenges in the pilot run through X-Ed's special monitoring initiative.
"We expect these gaps to worsen if left unaddressed before expansion," said Rodriguez.
Gaps noted
From December 5 to 17, 2021, the special monitoring teams visited 16 schools in 12 municipalities located in various areas in Luzon, Visayas, and Mindanao to conduct a documentary review, physical inspection, and interviews with 32 students and 18 teachers in selected schools that were part of the pilot.
During their visits, citizen monitors used a monitoring tool that checks compliance with standards for the pilot run of F2F classes, based on DepEd's own guidelines.
The standards checked compliance or non-compliance with the following:
Basic health and safety protocols;
Minimum requirements to qualify as a pilot school;
Safety and learning continuity mechanisms, processes, plans, and protocols;
Budget allocation and supplies;
Arrangement of spaces and structures;
Inclusiveness, accessibility, and proactive assistance to students; and
Quality learning and teaching.
Monitoring results showed general compliance (93% to 99%) of these schools with standards for F2F classes.
However, the results also showed schools that had incidences of non-compliance, with some high cases of overall non-compliance meriting closer attention.
Out of the 70 standards for F2F classes included in the monitoring tool, the CYAN and G-Watch special monitoring team recorded non-compliance with 16 standards.
Seventy-seven percent (77%) of the standards were complied with by all schools monitored, while 23% of the standards were not complied with.
The standards that are least complied with or with the highest incidences of non-compliance, hence, needing closer attention are the following:
Teachers utilize service vehicles from and to their area of residence and the school (10 incidences of non-compliance);
Classes are held every other week (9 incidences of non-compliance);
The learner has their own textbooks in class (5 incidences of non-compliance);
Receipt of Php 100,000 "initial funding support" for the pilot face-to-face classes (4 incidences of non-compliance);
The learner understands why they are part of the pilot run of face-to-face classes (4 incidences of non-compliance); and
Teacher is a resident of the city/municipality where the school is located (4 incidences of non-compliance).
Further assessment needed
Various factors, including the short preparation time for the F2F classes, delayed budget releases, and unresolved issues in the education sector, among others, may have affected these incidences of non-compliance.
"It's hard to define the pilot F2F classes as 'highly successful at this point because there are still lapses and rooms for improvement," said G-Watch convener-director Joy Aceron.
"Based on the monitoring, there are still challenges that F2F classes face if the F2F standards are applied universally on all schools or even just on expanded F2F classes," she said, adding, "These challenges must be addressed".
As of this time, DepEd is finalizing its full report on the pilot run of F2F classes.
After securing a copy of the DepEd final report, the CYAN and G-Watch special monitoring team are set to present its full independent assessment of the pilot run on Feb. 7 during the formal launching of the Multiply-Ed project before education stakeholders all over the country.*
Multiply-Ed or X-Ed is a project of CYAN (https://cyanpilipinas.com) and G-Watch (www.g-watch.org) that aims to set up a youth-led, multi-sectoral, and multi-level monitoring of education in the time of COVID-19. For updates on this project, follow https://www.facebook.com/MultiplyEdPH.