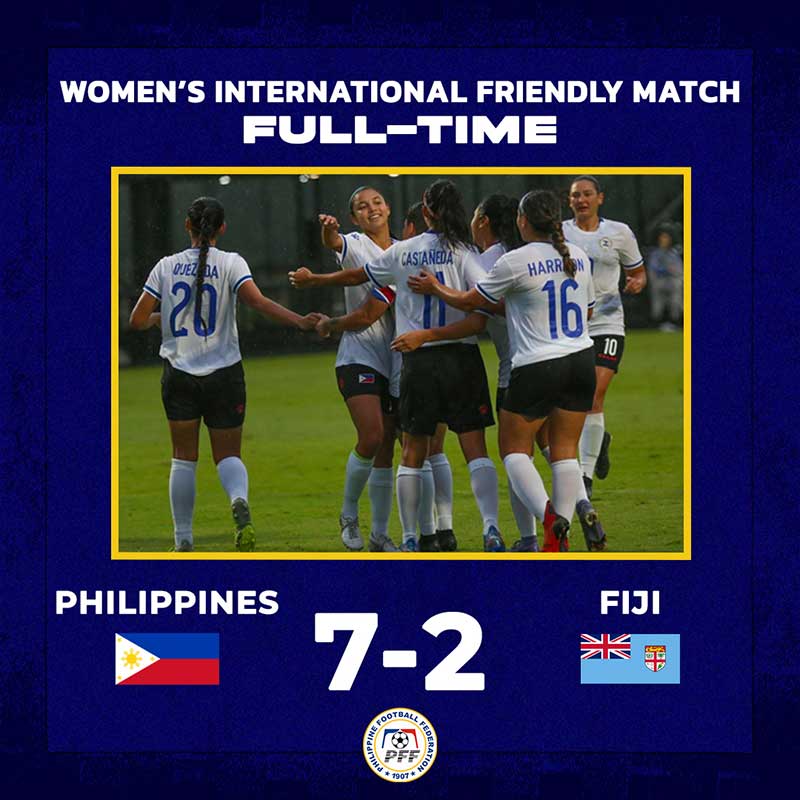 By Leobert Julian A. de la Peña
The Philippine Women's National Football team picked up where they left off and continued their stellar outing after demolishing team Fiji, 7-2, in a friendly match set as part of their preparations for the upcoming 2022 Southeast Asian Games.
Head coach Alen Stajcic and his wards didn't give any daylight to Fiji as they dominated them in the whole 90-minute span.
It only took 13 minutes for the Philippines to find the back of the net courtesy of the team's forward Quinley Quezada who cruised past the Fiji backline for a sweet short volley kick conversion.
The Philippines then ballooned their first half lead to a quick 6-0 after Anicka Castaneda and Tahnai Annis each scored braces for the team.
Dominique Randle then joined the Filipina goal party and delivered a tough and well-placed looping goal in the 34th minute for their sixth goal of the first half.
However, Fiji suddenly caught fire and regained their confidence in the last 45 minutes when they quickly scored two straight goals in the 50th and the 63rd minute.
"We were a bit rusty on the ball as the match wore on. That's just a result of a couple of months out and just four to five days of training. But we'll be working hard to ensure we get back to the levels where we were during the Asian Cup," said Stajcic.
Disrupting Fiji's rhythm was Quezada when she added another goal to the Philippines' tally in the 79th minute and became the last goal of the match.
Aside from Fiji, coach Stajcic and the Philippines Football Federation (PFF) confirmed that they will still have a series of friendly games before flying to Hanoi, Vietnam for their final preparation phase.