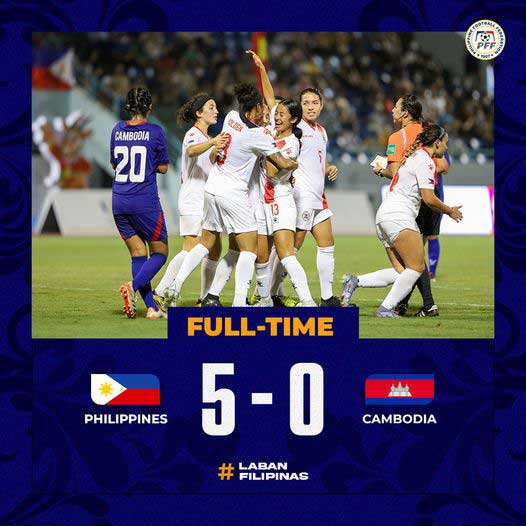 By Leobert Julian A. de la Peña
The Philippine Women's National Football Team didn't disappoint in their 2022 Southeast Asian Games opener after crushing Cambodia, 5-0, held at the Cam Pha Stadium in Vietnam.
After an undefeated friendly match campaign the past weeks, the Filipinas continued their dominant display of football and were just too much for the Cambodians.
Isabella Flanigan drew first blood for the Filipina booters after finding the back of the net at the 27th minute of the match.
The Cambodians bounced back and displayed a more efficient defensive outing in the next 20 minutes of the first half after holding the PHL team scoreless.
However, the Filipinas' more aggressive approach on offense torched Cambodia courtesy of goals from Sarina Bolden, Eva Madarang, Quinley Quezada, and Anicka Castaneda.
Bolden's well-placed header doubled the PHL lead in the 64th minute and was added by another conversion from Madarang three minutes after the second goal.
Quezada's superb header in the 76th minute widened the gap for the Filipinas and was capped off by a close-ranged tap sent in by Madarang in the last 10 minutes of the match.
With the huge win, team PHL is currently leading Group A with three points and will look to secure the lead as they take on Vietnam today at 8:00 PM.
The confident Filipinas are currently on a winning streak since crushing the Fiji and Tongan national teams during their preparatory friendly matches during the past weeks.