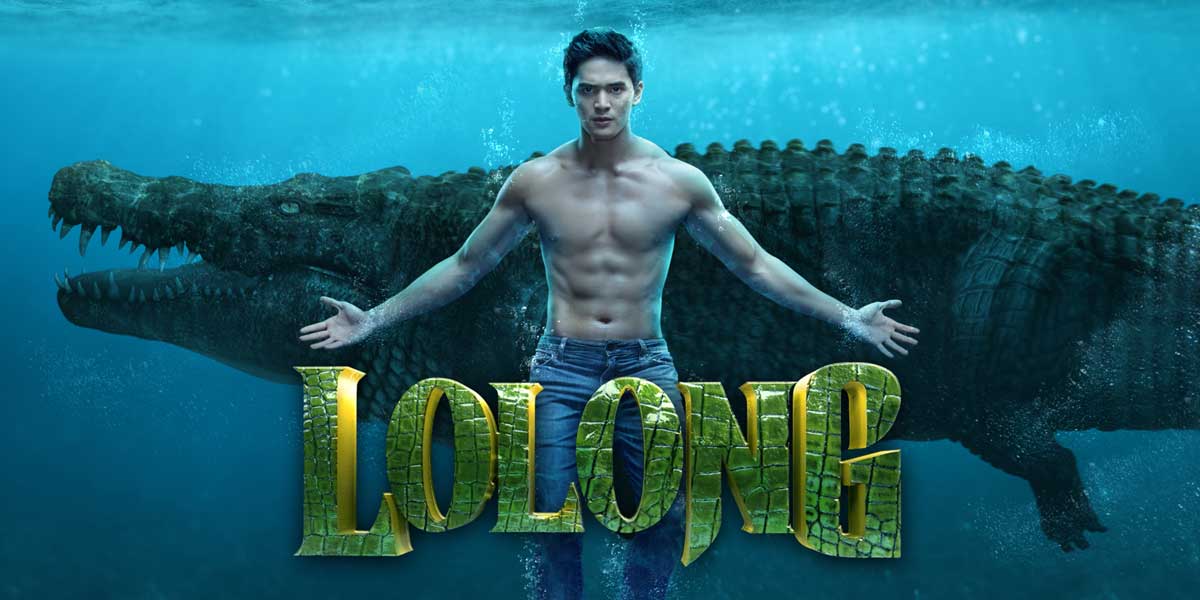 This July 4, a new hero rises on Philippine primetime TV as Kapuso Action-Drama Prince Ruru Madrid headlines GMA Network's biggest adventure-serye this year – Lolong.
A homegrown Kapuso artist, Ruru is proud to take on the titular role in this latest creation of GMA Public Affairs that tells the exciting tale of a man's extraordinary friendship with a giant crocodile.
"This is my 10th year in showbiz at ito ang project na ibinigay sa akin. I'm just very lucky at ganito kaganda 'yung materyal namin, ganito kaganda 'yung cast. I learned so much from the show," shared Ruru.
Joining Ruru in this series as his leading ladies are his co-Sparkle artists Shaira Diaz and Arra San Agustin who play the roles of Elsie and Bella, respectively.
Free-spirited and 'woke', Elsie is Lolong's loyal friend. Such friendship will blossom into something deeper that will be tested by various forces. Bella, on the other hand, is a travel vlogger from Manila. Behind her beauty is a mysterious personality that will leave viewers guessing if she is a friend or a foe.
Off-cam, Shaira and Arra have cemented their friendship because of the show.
"Bago pa man, solid 'yung samahan namin, yung naging pagkakaibigan namin ni Arra," said Shaira. "Parang kapatid ko na siya. Si Ruru din, di niya pinaparamdam na may lamang sa aming dalawa."
Arra promised viewers that they will be glued to their screen, "Hindi predictable 'yung love story dito. Abangan nila ang mga mangyayari."
Lolong's life will be further surrounded by the characters brought to life by the powerhouse cast members composed of Christopher de Leon, Jean Garcia, Bembol Roco, Malou de Guzman, Rochelle Pangilinan, Paul Salas, and Ian de Leon.
Adding more color to the series are Marco Alcaraz, DJ Durano, Mikoy Morales, and Maui Taylor. Set to portray special roles as well are Ms. Gina Pareno, Pokwang, Mon Confiado, Ryan Eigenmann, Leandro Baldemor, and Abby Viduya.
As a child, Lolong (Ruru) developed an affinity with animals through the help of his parents Gloria (Abby) and Raul (Leandro). They introduced him to a unique friend – a gigantic crocodile who they named Dakila. Immediately, Lolong and Dakila formed an unusual bond.
Unfortunately, Armando Banson (Christopher), has made it his personal crusade to kill all crocodiles in his small town of Tumahan, saying that the creatures are a menace to their livestock and have been reported to attack and kill people.
Growing up, Lolong kept his friendship with Dakila a secret. But he would also notice peculiar things about himself and would soon discover that while being special is not a choice, it is his calling – and he needs to answer the call.
Lolong stars are all excited to share to Kapuso viewers all over the world this project that took three years in the making.
"This is going to be a very entertaining teleserye, I am sure of that. This is going to be a roller-coaster ride for everyone. I am proud of this project," said Christopher.
Jean, on the other hand, grew fond of her co-actors. "I'm so proud of this group. Iba 'yung pagmamahal, yung passion, yung galing,yung pag-aaral–na isinapuso nila rito for Lolong."
The idea of creating a crocodile-themed drama series came from award-winning broadcast journalist and GMA News pillar Jessica Soho and Assistant Vice President for GMA Public Affairs LJ Castel.
Dakila, who has been fondly referred to as the "highest paid actor in the series," is made of fiberglass body and silicone skin. To make him move like a real crocodile, the production team used pneumatic technology and an air compressor, as well as computer-generated imagery (CGI).
Ever since GMA Network announced the making of Lolong, the show has been drawing a lot of attention – from the concept to the cast, and to the production value. Its teasers have been trending online, with netizens praising the cinematography and visual effects that complement the star-studded cast. And in just over 24 hours since it was released, the show's full trailer already hit more than 1 million views with netizens getting a clearer picture of the storyline.
Lolong is another primetime offering produced by GMA Public Affairs—the same department behind some of the country's hit TV series, "Inday Will Always Love You," "One of the Baes," "Owe My Love," and "Love You Stranger," as well as the well-loved series that showcased stunning cinematography and superb visual narratives such as "The Lost Recipe," "Ilustrado," "Alamat," and "Sirkus," among others.
The Clash Season 2 Champion Jeremiah Tiangco sang the series' official theme song, '214', which was originally sung by Rivermaya.
Directing Lolong are Rommel Penesa and Conrado Peru.
Catch the biggest adventure-serye on Philippine primetime–Lolong–rising this July 4 on GMA Telebabad after 24 Oras.
Kapuso abroad can catch it as well via GMA Pinoy TV.
For more stories about the Kapuso Network, visit www.GMAnetwork.com.