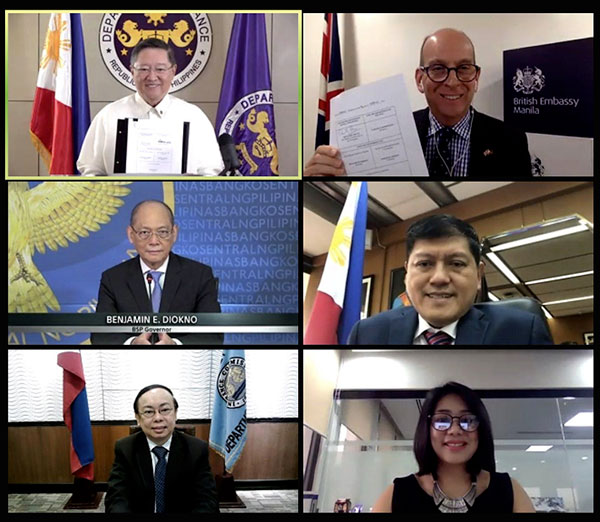 The Bangko Sentral ng Pilipinas (BSP) joined the Department of Finance (DOF), the Securities and Exchange Commission (SEC), and the Insurance Commission (IC) in the signing of the Memorandum of Understanding with the British Embassy of Manila (BEM) for the country's participation in the United Kingdom's (UK) Prosperity Fund for the ASEAN Economic Reform Programme (AERP) and ASEAN Low Carbon Energy Programme (ALCEP).
The MOU formalizes the cooperation activities between the Philippines and the UK in the areas of capital market development, fintech development, green finance, and accounting standards.
Under the MOU, the DOF, as the lead agency, and the BSP, SEC, and IC, as co-lead agencies, will collaborate with the BEM through technical assistance and capacity-building programmes.
The UK Prosperity Fund is a £1.2 billion global fund aimed to support inclusive growth and poverty reduction in partner developing countries.
A part of this fund is allocated to AERP and ALCEP two ASEAN programs, involving the Philippines, Indonesia, Malaysia, Myanmar, Thailand, and Vietnam.
The AERP aims to enhance the business environment and develop the financial markets in Southeast Asia, while the ALCEP aims to improve energy security and inclusive access to clean and reliable energy sources in the region.