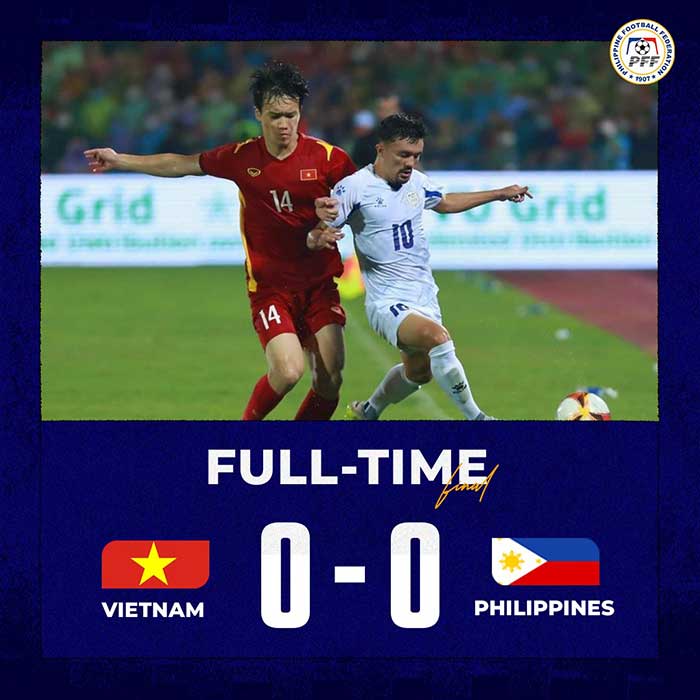 By Leobert Julian A. de la Peña
The Philippine Azkals Under-23 team continued its stellar run in the ongoing 2022 Southeast Asian Games after finishing its duel against the reigning defending champions Vietnam squad in a scoreless draw, 0-0.
It was a decent defensive finish for the young Filipino booters after staying patient for 90 grueling minutes against the surging Vietnam team.
The PHL Azkals are fresh off a momentum-boosting 4-0 demolition of the Timor Leste national team and improved to four points in Group A.
From the get-go, the Vietnamese team looked to draw the first blood after penetrating through the Philippine defense a couple of times in the first 30 minutes of the match.
However, adjustments were quickly deployed on the side of the PHL Azkals as their help defense in both the wings caused them to produce several stops that halted Vietnam's offensive rhythm.
After two impressive outings against Timor Leste and Vietnam, the Azkals will continue their bid for a SEAG gold medal as they take on Myanmar and Indonesia today and on May 13, respectively.
In the world of kickboxing, Philippine representative and defending champion Jean Claude Saclag booked a ticket to the semifinals and already assured the country of a sure bronze medal.
Saclag put on a classic performance against Laos and earned a unanimous 3-0 decision win in the 63.5-kg low kick category.
Meanwhile, diver Ariana Drake fell short in advancing to the next round and settled for a fourth-place finish and a dead last in the women's one-meter spring board category.