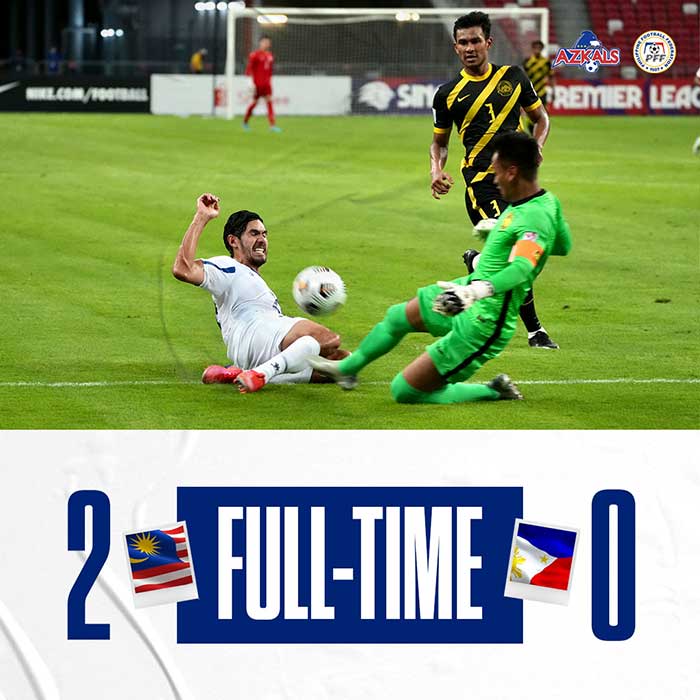 By Leobert Julian A. de la Peña
The Philippine Azkals had a rough opening day during the 2022 Tri-Nations Series football tournament after bowing down to Malaysia, 2-0, held at the National Stadium in Singapore.
Two early first-half goals from Malaysian striker Akhyar Rashid proved to be more than enough for Malaysia sneaking in a win against the revamped Azkals roster who got back the services of star goalkeeper Neil Etheridge.
The Azkals were caught off-guard immediately as Rashid entered the scoring column just two minutes after the whistle was blown.
Rashid was able to dribble past Azkals' first line of defense and ignored the resistance by Enrique Linares that got past Etheridge's post for the first blood of the match.
22 minutes after his first conversion, Rashid tallied his brace of the match after blitzing his way against the Azkals' defense off a stolen possession that sealed the win for Malaysia.
The Azkals missed scoring opportunities from Manny Ott and Stepan Schrock when both veterans failed to complete their respective setup plays that could've boosted their chances of equalizing or winning the match.
Malaysia immediately grabbed top spot honors in their group after their 2-0 win against the Azkals and will seek to clinch their second-straight win on Saturday.
Meanwhile, the Azkals will go back to the drawing board and will look to gun for win no.1 against Singapore next Tuesday.