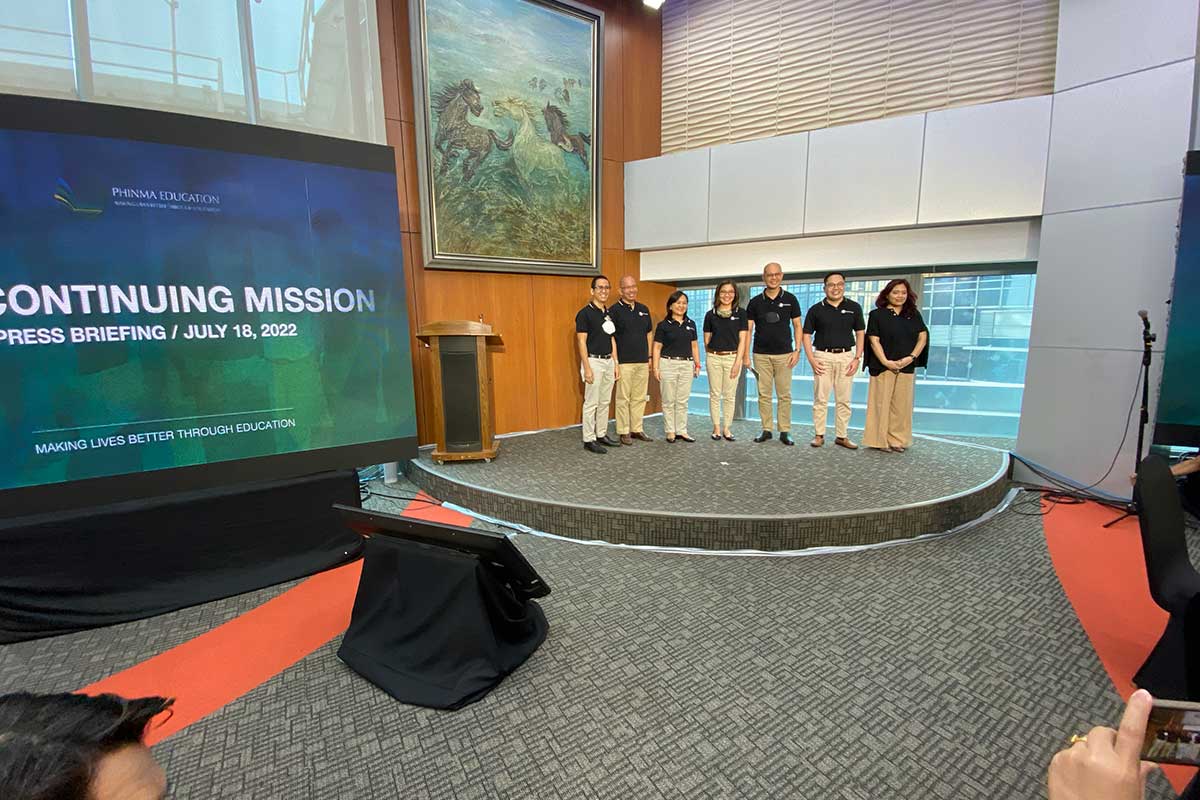 By Joseph B.A. Marzan
PHINMA Education, a 10-institution network of schools in the Philippines and Indonesia, continues its mission of advocating for students' greater learning to be ready for the real world.
In a press event on Monday, PHINMA Education President Chito Salazar said that their educational network was already at 'PHINMA Ed 4.0', which aims to make sure that students find good jobs and improve their lives even if they do not graduate from their schools.
Salazar emphasized partnering with other like-minded institutions and organizations globally to serve low-income markets through education to benchmark and exchange best practices.
He cited this in discovering what their students needed to be better persons through community engagement.
"When we began in PHINMA [Education], our key goal was to help the kids to get jobs, but through the years we discovered that it wasn't enough that our kids had the skills and competencies to be employed. We realized that we need to make sure that they also had the right sense of community, the right ethics, and the right integrity," Salazar said.
"It's not enough that our kids' lives would get better, but they themselves learn how to make the lives of others better in engaging with their communities and contributing to positive social change, so we're trying to inculcate this in our students as well, that they will serve society and serve the country," he added.
Salazar took pride in the "barebones, no frills, brass-knuckles" education that their network provides, which addresses the most basic needs of children to get the most out of their learning experience.
He said that their focus to help the "children at the margins" or those who "do not have access to good schools or have access but only to the bad ones."
"We have reduced learning to its most essential requirements, a great teacher, a proper classroom, the appropriate facilities. This has allowed us to keep our tuition fees low, and our schools financially accessible," he said.
"We designed a learning system that meets our students where they're at, adapts to their social context, and seeks to better their chances at getting a job. But ultimately, what drives us at PHINMA Education is the want to help as many of the kids at the margins as possible," he added.
He took pride in their 21 percent growth amid the pandemic, with 95,000 students composed of 94,000 in the Philippines and 1,000 in Indonesia.
He cited their two pandemic response programs—the Flex Learning and the Remote and Distance (RAD) Learning programs—which were both paper module-based and supported by internet-based personal coaching and mentoring via messaging apps.
"This is our largest growth ever in our past 18 years, in the most difficult and challenging times in our country's life. We were able to find ways to respond to their needs for education, in a way that was matched to their circumstances in life," he said.
Salazar likewise credited their success through their people, whom they have nurtured through developing an engaging, socially aware, and mentally sensitive culture, continuously-improving compensation and benefit structure, and development and succession strategies.
He mentioned that they are set to go through another round of salary standardizations to match the salaries of government-run tertiary schools.
"What drives PHINMA Education is really the passion of our people to really serve our students. We can feel this in the head office and the schools, the great desire to really serve the students who need it the most, and this was a challenge when we came into our schools," he said.
"The problem with traditional universities is that they do not adjust to their students' situations, same curriculum, books, and teaching. Because our students are precisely from the lower-income markets, we realized that we had to adjust to their circumstances. So, we had to re-educate our institutions to learn how to help kids from low-income families to really learn," he expounded.
To ensure this, their network has done away with extra-curricular activities including student organizations, pageants, varsity teams, and other components seen in other schools which may financially burden students.
Likewise, they have also centralized their management system with their top officials overseeing all of the schools instead of decentralizing to each of the schools, which would help them save on administrative costs and help them to avoid passing financial burden to the students.
"There are so many expenses in schools that aren't even necessary. In our schools, we don't have glee clubs, marching bands, basketball teams, [because] these were things which we thought would not contribute to the learning of our children. What we focus on is the competencies and skills they need to get a job, so because of that we are able to bring down our costs," he said.
"In schools, the costliest center is most likely the office of the president, with one president, likely three secretaries, a car, a driver, and four or five [vice presidents]. In our schools, the VP for Finance is a VP for all the schools, we don't have one for each school, so it's easy to manage. We only have one full-time VP on the ground, so we find ways to reduce the costs," he explained further.
He also mentioned that they are pursuing a "strong sustainability drive" across campuses with their own solar power generation, rainwater catchments, cisterns, and materials recovery facilities.
At present, while having other available degree programs, PHINMA Education focuses on four "core and in-demand" degree programs, namely Criminology, Nursing, Education, and Engineering, which are available at all of their schools.
PHINMA President and Chief Executive Officer Ramon Del Rosario said that their focus on education was out of a want to provide education to those who needed it most.
He said that in the 18 years of the network's existence, they have learned how students desired to learn even in the face of challenges, including the current COVID-19 pandemic, that a more intimate understanding can make learning better, and that rapid changes necessitate a quick response in improving educators and educational institutions.
"Our continuing mission, therefore, is to serve our students better by providing quality education that goes beyond responding to their current needs. We are setting our sights on a system that innovates frequently and improves fearlessly. We aim to make lives better for every student who enters PHINMA Education, whether they graduate or not, and most importantly, we will empower them to make the lives of others better too, because that is what success is all about," said Del Rosario.
PHINMA Education was established in 2004, starting through the acquisition of Araullo University in Cabanatuan City in Nueva Ecija.
Today, they own the PHINMA University of Iloilo, which they acquired in 2009, as well as 9 other schools across the country, and Horizon Karawang in Jawa Barat in Indonesia.
Most students of their system are from low-income families, with 76 percent coming from households earning less than P15,000 per month, and most likewise being first-generation college graduates.
The network is the education arm of the PHINMA Group of Companies, a Filipino conglomerate that is also present in the construction materials, property development, and hospitality industries.