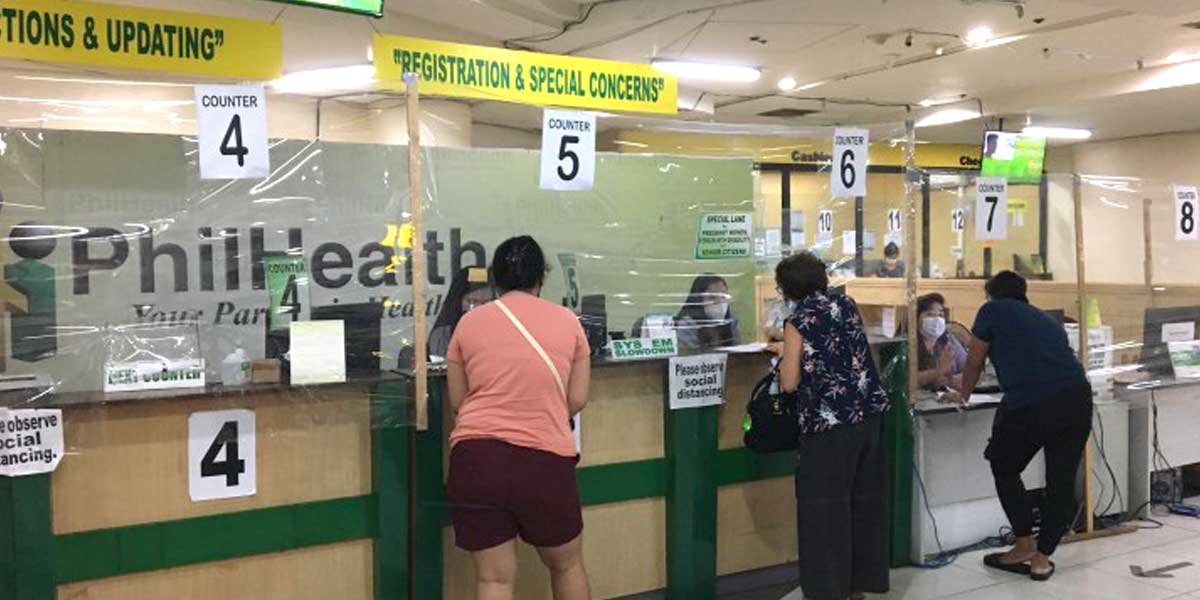 More than P6 billion in health benefits have been paid by PhilHealth Regional Office VI (PRO VI) to cover the medical expenses of 858,052 patients confined in Western Visayas in 2021.
In a press release, PhilHealth-6 said claims records indicated that the big chunk of payment covers confinement on pneumonia moderate risk (non-COVID) while other top medical conditions are newborn sepsis, hypertensive emergency, urinary tract infection, pneumonia high risk and acute gastroenteritis.
In terms of surgical procedures, payment for CoViD-19 testing is the top paid condition in the amount of P855,876,515.28 for 374,142 testing claims, followed by hemodialysis at P900,082,835.75 for 279,002 filed benefit claims.
Around P126,217,187.45 was paid for expanded newborn care package of 44,973 newly born babies.
For CoViD-19 cases alone, PRO VI has released more than P2 billion as of February 22, 2022 claims data. The payment includes P580,372,893 for 795 patients with critical pneumonia; P389,145,502.68 for severe case of pneumonia; P295,225,558.56 and 9,534,796.34 for moderate and mild pneumonia respectively.
According to Acting Regional Vice President Janet A. Monteverde, PhilHealth also issued a policy on full financial risk protection which guarantees 100% coverage of the medical expenses of health care workers inflicted with CoViD-19.
Dr. Christie Bucayan, a resident physician, is one of the many doctors who have benefited from the said policy.
"As a health care worker, I am aware of the risk my profession poses. However, nothing prepared me for a month and a half battling COVID 19," Dr. Bucayan said. "I am very fortunate to have a very strong support system and thankfully PhilHealth got me fully covered.  I would say it wasn't a small amount, it costs millions.  And I got lucky, I had the second chance to live, and I am deeply grateful for it."
Meanwhile, a Missionary from Immanuel Christian Fellowship and a cancer survivor recounted how PhilHealth ransomed her out of sickness and financial burden.
Maria Fe Dequito was diagnosed with breast cancer and had to undergo operation, chemotherapy and radiation.  She was also hospitalized for 15 days due to CoViD-19.
"Napakalaking pera ang pangangailangan ko po sa hospital at salamat po sa PhilHealth sa naging malaking tulong nila para sa akin at sa maraming Pilipino na indigent, kaya po pinagpray po namin na magpapatuloy po ang PhilHealth sa kanyang ginagawang pagtulong sa ating pangangailangan," Dequito said.
For patients with catastrophic condition like Ms. Dequito, the PhilHealth Z benefit package assures them of financial risk protection.
Currently, there are three (3) contracted facilities in the region, namely: the Corazon Locsin Montelibano Memorial Regional Hospital which is contracted for acute lymphocytic/lymphoblastic leukemia (ALL) for children and breast cancer; St. Pauls Hospital Iloilo, Inc. for peritoneal dialysis and Western Visayas Medical Center for ALL, breast cancer, RF-RHD, ventricular septal effect, tetralogy of Fallot, coronary artery bypass graft, prematurity and hearing impairment.
PhilHealth remains to be relevant to each member it serves despite the challenges that hound the Corporation.
Atty. Alfredo Arungayan, Human Resource Director of St. Paul University, Iloilo said that "Difficulties will always be there and I am aware that PhilHealth has not been spared with its share of struggles. However, I believe there are PhilHealth members who pray for the best outcome of the system and I join these members in their prayers."
He also mentioned that PhilHealth saved him several times – from the birth of his first child up to the time he was Covid 19 positive.
"It continuous to be with me despite the challenges we're all going through. Have you imagined how different our life would be without it?" Atty. Arungayan said.  (PhilHealth Region VI-Public Affairs Unit)