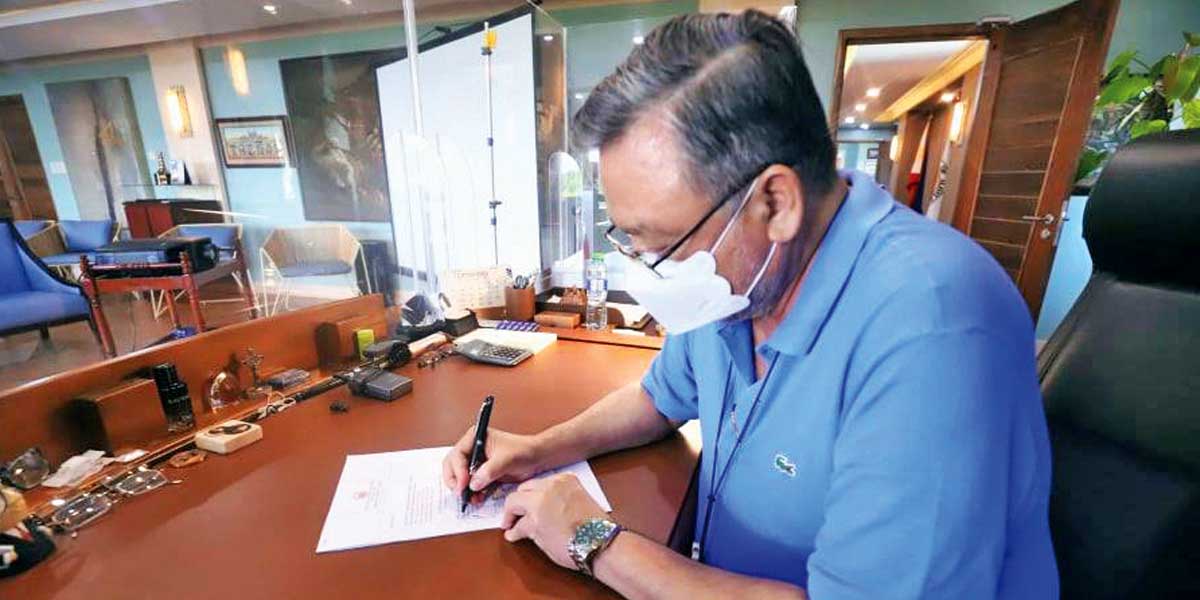 By Jennifer P. Rendon
Iloilo City Mayor Jerry Treñas on September 3, 2021 formally signed and sent a letter-complaint against state-run insurer Philippine Health Insurance Corp (PhilHealth).
The complaint stemmed from alleged "uncatered, unheeded, and unpaid COVID-19- related claims of hospitals amounting to P932,322,324.35, as of August 24, 2021."
Dated August 26, the complaint will be sent to Deputy Ombudsman Paul Elmer M. Clemente of the Office of the Deputy Ombudsman for the Visayas and Secretary Jeremiah B. Belgica, Director General of the Anti-Red Tape Authority.
The filing of the case was intended "for the early payment of the claims of the hospitals in the city and the Uswag Molecular Laboratory."
Treñas first announced his plan to file a case against PhilHealth-Region 6 officials on August 26. A week after that, he said the Iloilo City Council already authorized him to file the complaint.
In his letter complaint, Treñas noted that the claims were already elevated to Atty. Dante Gieran, PhilHealth President and chief executive officer, on June 24, 2021. It was reiterated in yet another letter on August 24, 2021.
"In both communications, the urgency of releasing the PhilHealth claims, vis-à-vis the need for sustaining the health care system of Iloilo City amidst the alarming Covid-19 situation has been stressed and reiterated," Treñas said.
However, "up to this day, our pleas have called to dead ears," he said.
The latest record showed that of the 10 health care institutions in the city, nine were able to update their list.
In July, Western Visayas Medical Center in Mandurriao district posted the highest claims at P556.984 million as of April 30, 2021.
But latest records indicated that WVMC claims only amounted to P112.7 million as of August 24.
Iloilo City's Uswag Molecular Laboratory has overtaken WVMC with P207.4 million in claims.
The records also showed that PhilHealth owed Metro Iloilo Hospital and Medical Center in Jaro with around P190.756 million; Iloilo Mission Hospital with P99.645 million; St. Paul's Hospital Iloilo with P95.205 million; and The Medical City Iloilo with P88.052 million.
Treñas also said that Iloilo Doctors' Hospital claims totaled P58.114 million; West Visayas State University Medical Center with P49.998 million; and QualiMed Hospital with P30.393 million:
PhilHealth – Region 6 later issued an official statement relative to Treñas' move.
Atty. Valerie Hollero, Philhealth Regional Vice President for Western Visayas, said that she is saddened that Treñas has resorted to filing a complaint against them.
"I feel bad for the 402 hardworking employees of PhilHealth Regional Office VI who have worked so hard to process good claims immediately in order to help our partner hospitals at this time of pandemic," she said.
Hollero stressed that PhilHealth-6 was, in fact, one of the fastest offices to process claims.
"As shown during the congressional hearing on PhilHealth's Unpaid Hospital Claims this afternoon, PhilHealth Region VI has a turnaround time of 27 days and has the highest number of claims processed per employee nationwide at 1,255 a month. I urge my colleagues not to be disheartened. As public servants, we have sworn to serve our country, whatever the cost. Padayon lang," she said.
Even earlier, Treñas has already doubted the PhilHealth's financial robustness.
"PhilHealth is no longer capable of paying the claims. In Iloilo City alone, the claims are reaching almost P1-B."
The mayor has also retorted PhilHealth-6's claims that they posted the most number of claims processed per employee.
If indeed such was true, "others would be in a more pitiable state. If we are on verge of drowning, others might have already drowned," he said in vernacular.
Treñas has earlier said that the health system in the country will collapse in case nothing is done about this.
He noted that there must be some urgency in the payment of these claims "unless we want the health care system to collapse."
He claimed that the nonpayment of these claims is resulting to the hospitals not adding more COVID beds and ICU beds to cater to moderate and severe positive patients," he added.