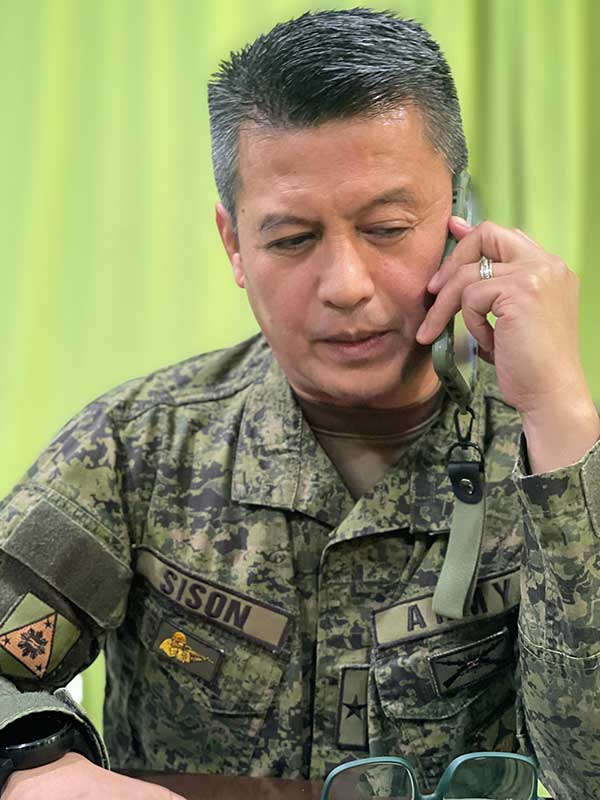 By Jennifer P. Rendon
Casualties of great proportion. A plenum that went oof. Plans that went down the drain.
The recent encounter with the Philippine Army was a big blow to the New People's Army (NPA) in Panay Island.
While they have the upper hand, the 301st Infantry Brigade said they would continue pounding on the enemy until they are reduced to a negligible level.
"We will sustain the gains that we have. We will continue with the pressure," Brigadier General Marion Sison, 301st IB commander, said days after the Dec 1, 2021 encounter that reportedly killed around 16 rebels (although only 9 bodies were accounted for) at Barangay Alimodias, Miagao, Iloilo.
Sison said there is no time to rest. In fact, the Philippine Army, in coordination with the PNP, strengthened their defensive operations in areas identified as targets of NPA attacks in time for the 53rd founding anniversary of the Communist Party of the Philippines (CPP).
The CPP is the political organ of the rebel movement.
During the encounter, the military claimed that around 70 NPA members were present on a plenum or meeting.
They were, in fact, rehearsing how to carry out the attacks against military and police personnel, Sison said.
The targets appeared to be a police detachment in Barangay Tiolas, San Joaquin, Iloilo and an Army patrol base in Barangay Pudpud, Miag-ao.
According to military sources, the rebels were also targeting vital installations, particularly those that were not "paying money".
The military did not identify these installations.
"Despite that we were able to neutralize them, we continue to be alert. 'Di kami nagkokompyansa," he said.
As earlier confirmed, Army troops recovered anti-vehicle and anti-personnel land mines in Alimodias.
Meanwhile, Sison denied reports that they indiscriminately bombed the area.
"In the Philippine Army, we don't do indiscriminate during that would affect ang ating mga kababayan," he said.
Sison said what happened in Miag-ao was a deliberate and successful decisive operation.
"We have seen that there was no collateral damage and there was no civilian affected kaya lahat sinasabi ng taga-kabila ay kasinungalingan 'yan," he said.
Sison said they have good intelligence information from various sources that's why they were able to execute a good plan.
He said they used artillery fires, particularly Howitzer 105, in targeting the enemy.
Howitzer 105 or 105 mm M101A1 howitzer, is an artillery that was the standard US light field howitzer that has been used in World War II.
"With the use of our drone, then we were able to fix them," he said adding that there were no affected civilians as the nearest community was more than a kilometer away.
The Philippine Army indeed uses helicopters but that was just part of their "eye in the sky."
"That's why, we knew their exact location. It was a game changer for us. It was a knockout punch for them," he said.
Again, Sison has called on the rebels, especially the wounded ones, to surrender.
"It's Christmas time, magbalik loob na kayo," he said.