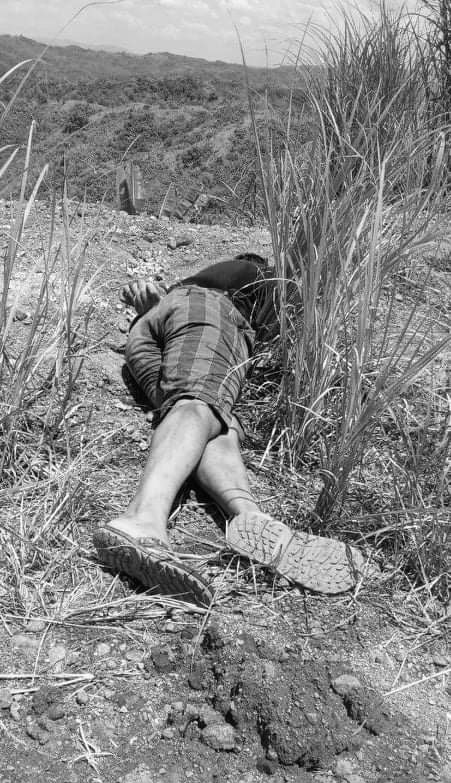 By Jennifer P. Rendon
A lone Army soldier in a group of civilians was waylaid at the hinterland village of Lahug in Tapaz, Capiz.
Philippine Army Corporal Frederick Villasis was flagged down by the suspects while on board a motorcycle with a woman backrider around 10:30 a.m. of August 11, 2021.
He was subsequently abducted and was found lifeless.
The 301st Infantry Brigade said that Villasis, a member of the 12th Infantry Battalion, was killed execution-style: his hands were tied behind his back and he was repeatedly shot from behind.
His motorcycle was also partially burned and left near his body.
Brigadier General Marion Sison, 301st IB commander, said Villasis was an Army trooper working on peace and development initiatives in Barangay Lahug, Tapaz, Capiz.
The Regional Task Force to End Local Communist Armed Conflict (RTF-ELCAC 6) said Villasis was a member of the Army's Community Support  Program Sustainment Team based in Lahug village.
In its statement of condemnation, the RTF-ELCAC-6 through its spokesperson, Assistant Provincial Prosecutor Flosemer Chris Gonzales, said Villasis along with village kagawad Analyn Giganto and Estong Sumaria were bound for Tapaz Municipal Hall to coordinate and follow-up the water system project for the barangay when he was intercepted.
In strongly condemning "the brutal execution" of Villasis, the RTF-ELCAC-6 pointed to the New People's Army (NPA) as the perpetrators of the incident.
Helpless, Villasis "was brutally murdered by the NPA terrorists."
"This is clearly an act of terror designed to undermine the peace efforts of the government in the hinterland barangays of Tapaz, Capiz," the statement said.
It added that the "barbaric and inhumane act will not go unpunished. Those responsible will be held accountable and shall be brought to the bars of justice."
For Prosecutor Gonzales, "the CPP-NPA terrorist organization is desperate. They are resorting to cowardly acts of terrorism, senseless murder, and shameless violation of all human rights protocols."
"Peace is not possible until and unless every last CPP-NPA terrorist has surrendered or has been neutralized," the RT-ELCAC-6 said.
Meanwhile, Sison vowed justice for Villasis' death.
"Initial investigation has been conducted, and the "Bayanihan" Brigade is determined to not let the sacrifice of Corporal Villasis be in vain," he said.
"Malinaw na walang pagpapahalaga sa buhay ang mga teroristang NPA. Wala silang respeto sa karapatang pantao. Our soldiers are working to give our people a better life, by paving the way for peace and development," he said.
The 301st brigade commander said that Villasis was a member of the Philippine Army who worked to serve the community.
"His murder is nothing but a cowardly act of desperation by the Communist Terrorist Group who have been continuously losing their mass-based support in the island of Panay," he said.
SET UP?
The 301st IB said it is looking at every possible angle on the circumstances surrounding Villasis' murder, including reports that he was set-up to his death.
"Nothing is conclusive for now. What is clear was that NPA perpetrated the cold-blooded murder of one of our gallant troopers," Sison said.
With Villasis' murder, he did not only leave behind a wife and two young children but a community whom he eagerly vowed to serve.