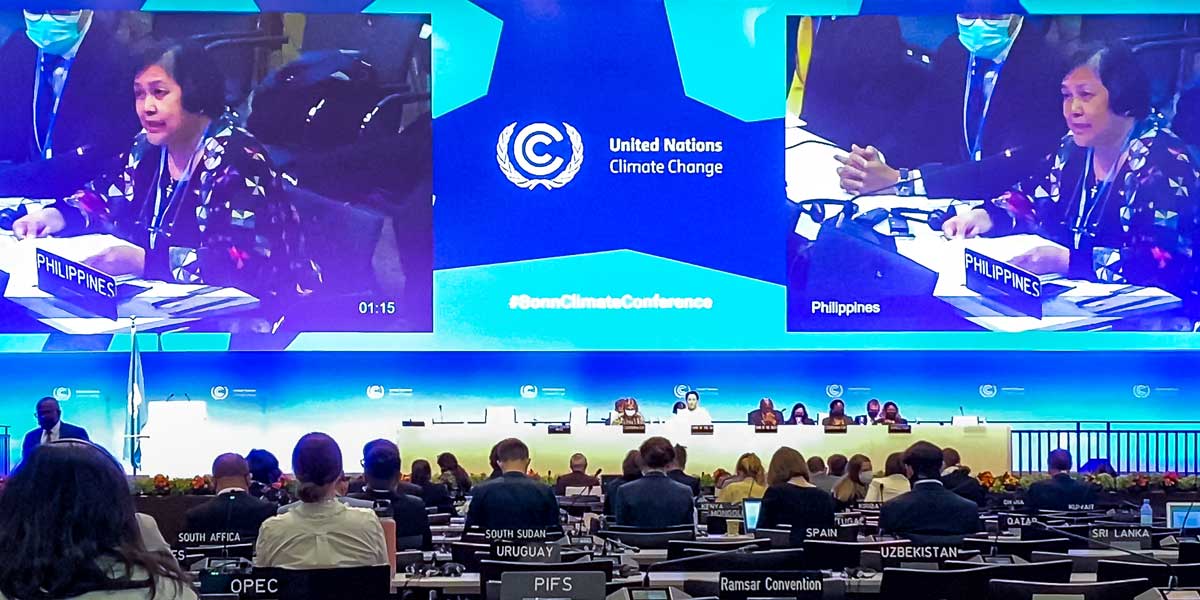 BONN, GERMANY – The Philippines stressed anew the need for urgent "actions with results" towards a more effective and efficient global strategy to address climate change.
Delivering the Philippines' National Statement at the opening of the 56th Session of Subsidiary Bodies on Climate Change (SB56), National Economic and Development Authority (NEDA) Undersecretary Mercedita Sombilla underlined that the entire international community needs to "transform theories and rhetoric into practical and pragmatic solutions applicable to the smallest, isolated, and disadvantaged communities to achieve holistic and sustainable development."
Undersecretary Sombilla further emphasized that what is needed for developing and vulnerable nations are "actions with results" particularly loss and damages, climate finance, capacity development and technology transfer and development.
Climate Change Commission Secretary Robert Borje said this results-oriented approach and demand is critical for developing and climate change vulnerable countries, and is "firmly anchored on the principle of climate justice."
"To give our people the environment we deserve, we – the global community – need to do more—for the least responsible for climate change, those with the least resources, and those who are most vulnerable and at risk," said Secretary Borje. "Conversely, for those most responsible for climate change, with the most resources, you – the developed and industrialized countries need to do more. This is climate justice," explained Secretary Borje.
"SB56 determines the road ahead and the pace with which the international community takes towards addressing climate change and enhancing climate resiliency. The agenda and the results expected must, therefore, be clear," added Secretary Borje.
The National Statement at SB56 further amplified the call for greater sense of urgency by the Philippines during the Stockholm+50 International Meeting held on 2-3 June 2022 in Sweden and the Dushanbe Water Process Conference held on 6-9 June in Tajikistan where Secretary Borje also expressed the need to push the work and results-oriented climate agenda as "existential threats leave the Philippines and the developing world very vulnerable and at greater risk."
SB56 is the lead up to the 27th Session of the Conference of the Parties (COP27) to the United Nations Framework Convention on Climate Change (UNFCCC), which is scheduled on 6-18 November 2022 in Sharm El-Sheikh, Egypt.
On the road to COP27, the Philippines is working on immediate and substantial progress on the Global Goal on Adaptation and National Adaptation Plans, the Glasgow-Sharm El-Sheikh Work Program, on addressing and financing loss and damage, and accessing climate finance and other means of implementation for developing and most vulnerable countries.
The Philippine delegation to SB56 comprises 17 key officials and representatives from CCC, NEDA, Department of Agriculture, Department of Energy, Department of Environment and Natural Resources, Department of the Interior and Local Government, and Department of Science and Technology.
For updates on the participation of the Philippines to SB 56, follow the social media accounts of the CCC at /CCCPhl.