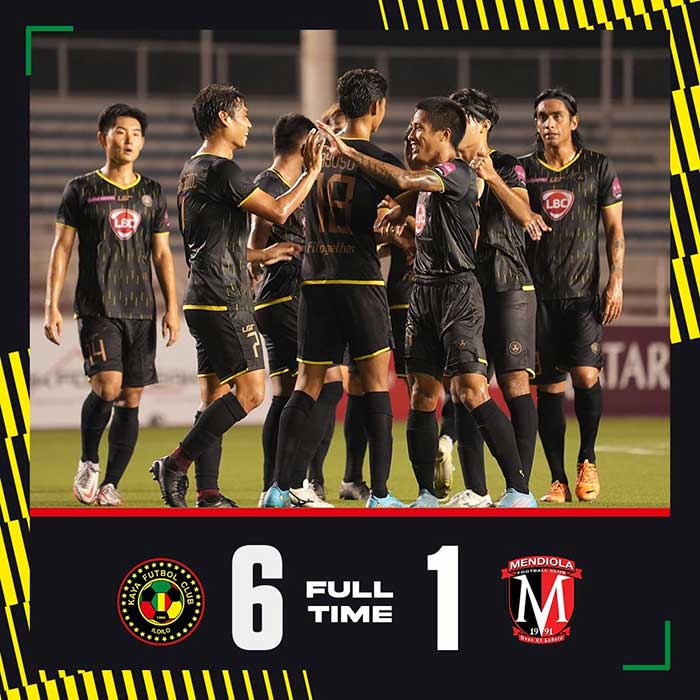 By Leobert Julian A. de la Peña
Kaya FC-Iloilo continued its majestic and undefeated run in the ongoing 2022 Philippines Football League (PFL) after demolishing Mendiola FC 1991, 6-1.
Despite a shaky start in the first half of the match, the Kaya FC booters still managed to bounce back and found a way to finish strong in the contest.
It was Mendiola who drew the first blood and looked to put an early exclamation point against the former champions after midfielder Aron Altiche found the back of the net in the 21st minute.
Eager to quickly equalize and make up for their backline miscommunication, the Ilonggo squad doubled their offensive intensity and pushed the tempo.
Kaya FC's adjustments finally paid dividends five minutes before the first half ended after Ilonggo Jovin Bedic cashed in a header for the equalizer.
The team fed off the momentum from Bedic's goal and orchestrated another goal courtesy of Eric Ben Giganto who doubled Iloilo's goal in the clutch seconds of the first half after a crisp and clean kick.
Iloilo's offensive onslaught didn't end there as promising young star Jarvey Gayoso gave Kaya FC a 3-1 lead after following Shirmar Felongco's attempt with a tap.
Bedic completed his brace in the 75th minute after a well-calculated looper kick kissed the back of the net.
Kaya then provided the finishing touches in the last 13 minutes of the match after Daizo Horikoshi and Jhanjhan Melliza added two more goals for a 6-1 finish.
With the win, Kaya FC rose to nine points in the total tally and is looking to make it four wins in a row when they square off against Maharlika Manila on August 28.