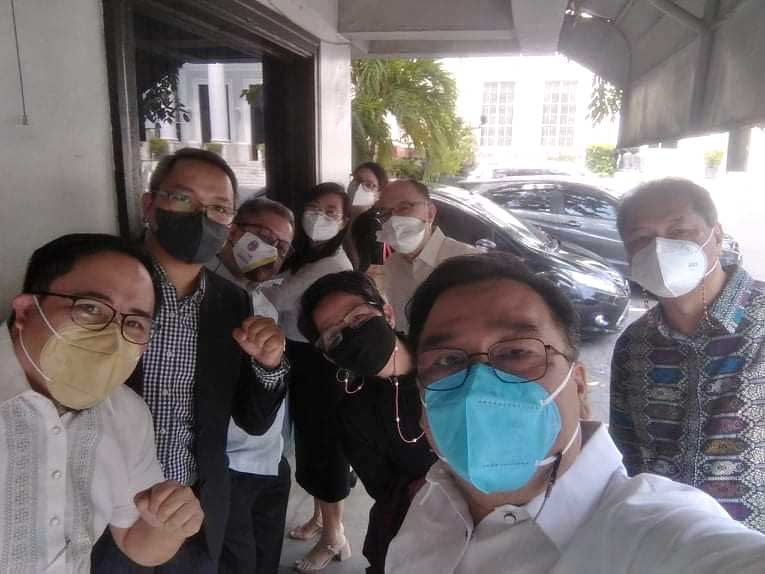 By Joseph B.A. Marzan
Twenty-five groups of petitioners in the cases against Republic Act No. 11479 (Anti-Terrorism Act of 2020) went to the Supreme Court once again on Wednesday, March 2 to file their motion for reconsideration, hoping that the court would take a second look to finally trash the law which they say may curtail their freedoms to express and assemble.
Petitioners state that several provisions were unconstitutional, including paragraph 3 of Section 25 (designation of terrorists) and Section 29 (detention without judicial warrant of arrest).
The petition's prefatory statement recalled the 1986 EDSA People Power revolution which they say must never be repeated.
"They say history has a way of repeating itself, but there are parts of history that must not be repeated, especially those that led to horrendous arrests, disappearances, tortures, and deaths," the statement said.
"The very Constitution that this Honorable Court protects and serves is the same one that was heavily inspired by the desire of the Filipino people to NEVER AGAIN be subjected to the abuses that characterized the [Ferdinand Marcos dictatorship's] "constitutional authoritarianism"—a dictatorship that was able to perpetuate atrocities to basic civil and political rights due to the executive's unchecked powers," it added.
During a press briefing by the counsels of the petitioners, lawyer Howard Calleja said that they hope for the high court to take a second look at the law's constitutionality.
Calleja also alluded to the joint motion as "the true Uniteam", in reference to the 2022 election tandem of former senator Ferdinand Marcos Jr. and Davao City Mayor Sara Duterte-Carpio.
"We strongly believe that despite the two provisions that were adjudged in favor of our side, we think that this is still lacking, that's why we are bringing this motion for reconsideration because there are still provisions which we think that they [Supreme Court] must declare [as] unconstitutional," Calleja said.
Another counsel, Virginia Lacsa-Suarez, who represents the Pagkakaisa ng Kababaihan para sa Kalayaan in this motion, cited the current celebration of International Women's Month.
"We really needed to file this motion for reconsideration because we cannot allow to be continuously silenced. Women are always being silenced, and we know that while we are being silenced, it will result to more violence," she said.
Counsels who represented petitioners included Calleja and Suarez, as well as Neri Colmenares, Ephraim Cortez, Josa Deinla, Edre Olalia, and Randall Tabayoyong.
The Supreme Court voted to uphold several provisions of Rep. Act No. 11479 on February 16, with an 8-7 vote, the majority including Chief Justice Alexander Gesmundo.
The motion for reconsideration was filed after Associate Justice Rosmari Carandang had retired shortly after the promulgation of the earlier decision. Senior Associate Justice Estela Perlas-Bernabe is set to retire on May 15.