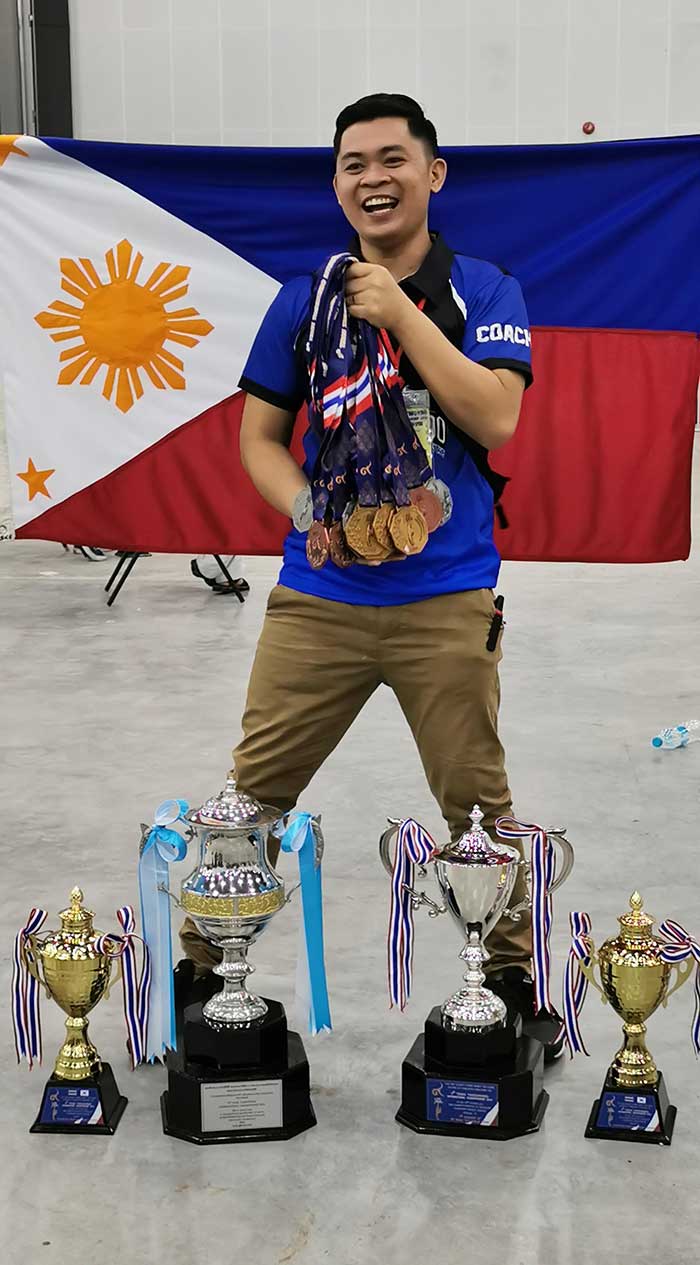 By Leobert Julian A. de la Peña
Mistakes are indeed the best teachers in life.
Through all the bad and wrong decisions you made in life, there will always be a glimmer of hope in the end where the lessons taught behind the wrongs will equip you to become the best individual that you can be.
No matter how hard the situation is, the only thing that's left is to back up and fight through whatever life hits you with.
This is a story of a simple kid born and raised in the simple town of Cuartero Capiz and is now considered as one of the most prominent personalities in the world of taekwondo.
Forever famous for doing things "The MVP Way", Denmark V. Pinggol will always be one of the most beloved taekwondo masters in Iloilo City and Western Visayas.
The eldest among the five siblings of Mr. and Mrs. Pinggol, the young Mark used to wander all-around his surroundings and was always physically active.
Even though his parents sometimes scratched their heads because of his naughtiness, the young and energetic Mark was actually a great achiever and was his batch's valedictorian during his elementary level at the Malagab-i Elem. School.
"Sa Cuartero Capiz ako nag elementary and ako ang naging valedictorian sang amon class. However, due man sa kapigaduhan sang pangabuhi, nagsaylo ako sa Iloilo City sang tunga-tunga sang high school kag didto ako nag tapos sang akon nga secondary sa Iloilo City High School," Mr. Pinggol said during an exclusive interview with the Daily Guardian.
It was not an easy transition as Pinggol had to adjust from a comfortable atmosphere in Capiz when he was still young to the bustle of Iloilo city.
In school he was bullied. He was one of those victims of "kay taga uma ka indi ka d bagay sa syudad" kind of mentality.
Although it was hard, Mark knew he had to deal with it and accept the fact that this was now his surroundings, except for one incident that changed his fortunes forever.
When he was practicing in one of the school's rooms as part of the school's musical programs, Pinggol began to notice a group of students busy kicking pads and performing exercises.
The activity grabbed his attention, he envisioned himself as if he was Jackie Chan or Bruce Lee doing the kicks with precision.
It was as if he was the action star taking the lead, teaching those who bullied him a lesson while having the satisfaction of knowing the advanced level of the sport.
Pinggol then didn't return to his music classes and instead focused on taekwondo. The moment he stepped into the room, it was pure euphoria for him. As early as his junior high, he already made a commitment to love and live by the sport under the leadership of his first mentor, coach Ryan Tachado.
However, the process wasn't easy for Pinggol. There came a point that he had to find a living for himself in order to pay coach Tachado his taekwondo fee.
Pinggol took the courage to drive a pedicab around Molo area from 8 PM to 10 PM just to collect enough money for his taekwondo lessons because he wanted to learn more. He wanted to become one of the best taekwondo athletes out there. From a young age he showed immense drive, passion, and determination to succeed not only in the sport but also in life.
Perhaps the turning point in his taekwondo career was during the 2004 Manggahan National Invitational Taekwondo Championships in Guimaras.
One of the most prized taekwondo tournaments in the region, Pinggol and team Iloilo City High joined and was recognized by the most respected taekwondo masters after delivering a performance of a lifetime.
Awaiting him in the black belt category of their division was one of the top taekwondo athletes of the region that time: Jeorge Lutas from Antique who was a former silver medalist in the Palarong Pambansa.
Hitting the mat as the heavy underdog, the resilient Pinggol embraced the challenge and shocked everyone after knocking Lutas down with a turning side kick.
Though ending up losing the fight, Pinggol recalled that Lutas revealed to him that he was the toughest opponent he ever faced in his taekwondo career.
Pinggol's performance caught the attention of Region VI-B's taekwondo program head sir Sim Griño and approached him right after his fight with Lutas.
Griño spoke to Pinggol and said that if he had the time he should go and visit one of Iloilo's primary taekwondo gym.
Pinggol did not hesitate and went to the taekwondo main gym where Griño was honing the future champions of the country.
From there, Pinggol's road to taekwondo supremacy began and became a student of Griño while at the same time became an assistant to the coaches.
Pinggol was a member of main gym's demo team and obtained his black belt in 2006 where he would be a licensed coach six years after.
When the gym closed in 2016, Pinggol couldn't imagine himself without a home which led to him eventually forming his very own gym.
This was how the famous MVP (Mark V. Pinggol) taekwondo gym was formed. Pinggol had to endure some trials during the early years of his gym but he never gave up. He wanted to prove that his decision was right.
And prove he did.
During the summer of 2018, Pinggol and his team setup a clinic at Megaworld which turned out to be a massive success as news of his taekwondo gym caught the attention of many.
It was a joy for Pinggol to see his gym get full of aspiring champions. It was different. It was a dream come true for him not only to teach the sport that he loved the most but seeing his plans when he was still young materialize.
Up until now despite the pandemic, the MVP gym is still operating and has even adapted to the new normal by conducting online classes.
Every time Pinggol steps into his gym, all the hardships and struggles he had to go through flashes back in his mind.
Those times that he had to go through were just the testaments of his success in life.
That's the MVP way of life. It is giving back to others. It's putting God in the center of your life because it is only Him that can shed the light when we feel dark.
"Don't be afraid to commit mistakes by yourselves. This is where you learn," closed Pinggol.