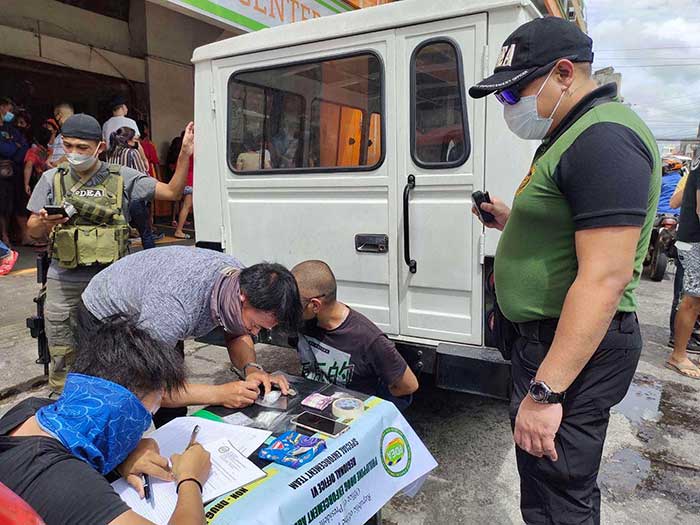 By Glazyl Y. Masculino
BACOLOD City – The Philippine Drug Enforcement Agency (PDEA)-6 Special Enforcement Team (SET) conducted a series of buy-bust operations in the past two days which resulted in the recovery of P544,000 worth of suspected shabu here.
The recent drug bust was conducted at the Downtown area beside the Old City Hall along Luzuriaga Street, Barangay 12, yesterday, which led to the arrest of Kim Khubchand.
According to a PDEA agent, they launched the buy-bust against Khubchand based on information from their previous operation.
Authorities recovered from Khubchand about 55 grams of suspected shabu worth P374,000, the P12,500 marked money, a cellular phone, an empty box, and a motorcycle.
Khubchand is said to be a high value target based on the volume of the drug recovery, according to PDEA.
In an interview with Aksyon Radyo Bacolod, Khubchand denied the said allegation claiming that he was just asked to deliver the item.
He said he had no idea who was behind the recovered contraband.
Prior that day, PDEA also arrested Kristine Faith Derla, a regional level targeted personality; Joar Abdon Mercado, and Khim Rose Derla in a buy-bust at Bonifacio Street, Barangay 4 last Thursday.
Around 15 grams of suspected shabu worth P102,000 was confiscated from them.
Later that night, Richard Consorte was also arrested in a drug bust at Bangga Escala, Barangay Estefania, which led to the recovery of about 10 grams of suspected shabu worth of P68,000.