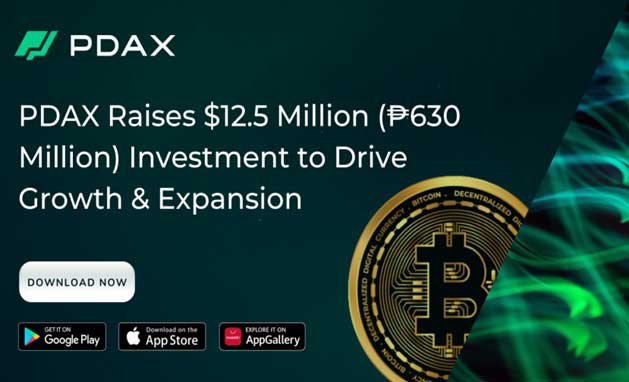 The Philippine Digital Asset Exchange (PDAX), the country's leading cryptocurrency exchange licensed by the Bangko Sentral ng Pilipinas, announced today that it has raised $12.5 million (₱ 630 million) in funding, on the back of exponential growth and cryptocurrency adoption over the past year.
The funding round was led by a UK-based venture capital firm, joined by Hong Kong SFC-licensed digital asset operator, BC Group. Most of PDAX's existing investors increased their investment in PDAX, including venture capital firms Beenext Ventures, CMT Digital, global cryptocurrency leaders such as Ripple Labs, and prominent family offices in the Philippines. Among PDAX's local investors is UBX, the ventures arm of leading Filipino digital bank, UnionBank.
According to a representative from the BC Group, the digital asset operator's involvement with PDAX will be crucial in making digital assets accessible to more people. ""We're thrilled to extend our partnership with PDAX through this investment round," they said. "Digital asset adoption and regulation continues at a rapid pace across Asia. As a licensed operator, PDAX is unique in the market and will continue to grow its leadership position and market share in the Philippines as end-users continue to migrate to trusted, regulated players."
PDAX launched its cryptocurrency exchange back in 2018 to provide Filipinos with an accessible platform where they can trade the world's leading digital assets like Bitcoin safely, directly with PHP, and at globally competitive rates. Since the start of the COVID-19 pandemic in March 2020, the company has seen 25x growth in its user count and an 80x rise in its monthly volumes, proof of the country's rising cryptocurrency adoption.
In the latter part of 2020, the Philippines' homegrown tech startup also launched the PDAX mobile app to allow users to more conveniently trade cryptocurrency.  It has also since expanded into tokenized securities, by collaborating with the Bureau of the Treasury and Unionbank in launching Bonds.PH, the world's first blockchain-enabled app that allows retail investors to invest in retail treasury bonds right from their mobile devices.
Nichel Gaba, founder and CEO of PDAX, explained that the latest investment round would fuel the company's short- and long-term growth plans, as PDAX continues to expand, improve, and roll out more products and features to help digitize the financial services landscape in the country.
"We are in a golden age of cryptocurrency adoption and technology-driven transformation in the Philippines," Gaba explained. "We are already making remittances into the country much cheaper by helping remittance companies utilize cryptocurrencies, and providing them with a deep and liquid market to convert crypto into Philippine pesos."
"Today, we need inclusive financial services more than ever.  However, the age-old problems remain — the lack of easy, secure, and affordable ways to transact and invest. We want to change that, and we believe that — thanks to greater adoption of cryptocurrencies and blockchain technology — we can."
PDAX plans to continue developing its cryptocurrency exchange into a world-class platform. PDAX also intends to add more features and support more digital assets towards the end of the year.  The company is also excited to grow the Bonds.PH app, together with its partners, by introducing more investment options and features, particularly for OFWs who want to invest in the country. As blockchain technology and cryptocurrency adoption rapidly expand all over the world, PDAX is at the forefront of making sure that the Philippines remains firmly ahead.