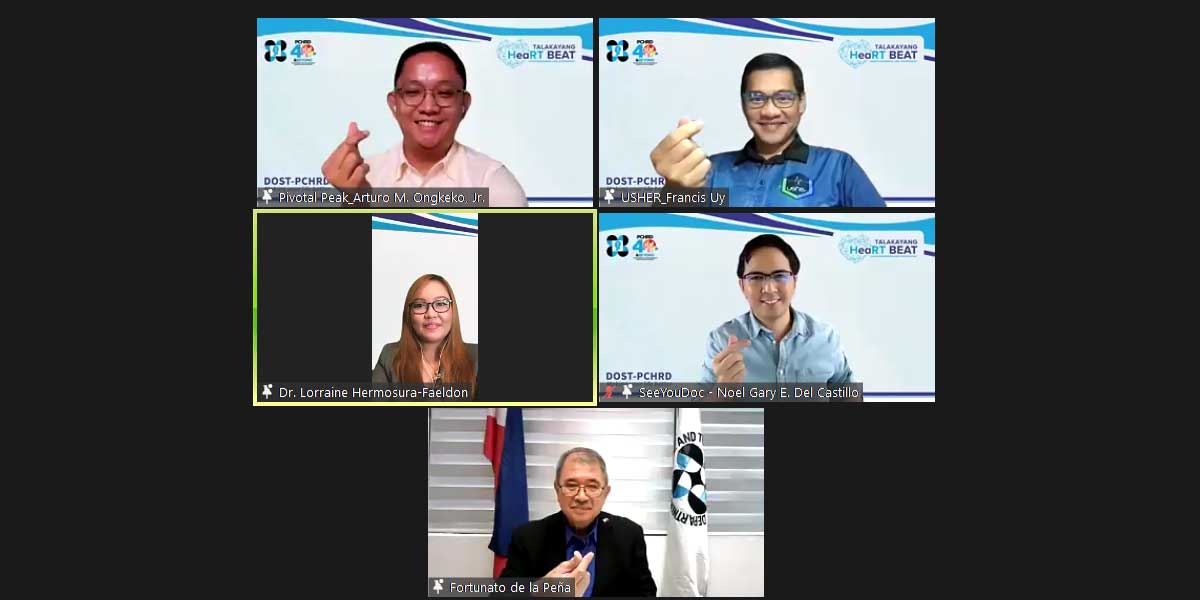 Filipino health startups receive R&D grants under the Department of Science and Technology Philippine Council for Health Research and Development's (DOST-PCHRD) Startup Research Grant program (SGP).
Launched in 2021, the program was designed in response to the Innovative Startup Act or R.A. No. 11337 which mandates the DOST to promote the Philippine startup ecosystem by providing R&D support to startup companies.
Under the SGP, startups who qualify based on the screening process are entitled to a research grant of up to three million pesos. The research activities to be pursued should aim to overcome R&D roadblocks, strengthen the company's intellectual property, establish initial market traction, refine the company's business model, and scale up current production capacities.
To share updates on some of the grantees under the program, the DOST-PCHRD is holding the Talakayang HeaRT Beat press conference on 24 June 2022 at 10AM-12PM, via Zoom.  The activity will focus on the SGP and updates on the activities of the following grantees:
SeeYouDoc Corp.
SeeYouDoc is a telemedicine platform that allows patients to search, book, and conduct consultations online, among other features. Under the SGP, the company is set to develop an enhanced interactive analysis platform that provides data on the effectiveness of using telemedicine in medical facilities, which are the target users of the technology. The project aims to emphasize the value of telemedicine in healthcare service delivery by providing evidence on its benefits.
Pivotal Peak Digital Health Solutions, Inc.
Pivotal Peak is a startup specializing in digital health solutions. The DOST-PCHRD is supporting the development of a two-way e-referral system that will facilitate government-to government, private-to-private, private-to-government, and vice versa health facility referrals.  It is envisioned to facilitate efficient communication between healthcare service providers to enable immediate care for patients.
USHER Technologies, Inc.
USHER Technologies originally focused on earthquake recording instruments for structural health monitoring of infrastructures. In 2020, responding to the COVID-19 pandemic, USHER Technologies developed innovations addressing problems brought by the virus. One of these is the HOCLOMAC, a device that can generate safe and effective disinfectant using locally available raw materials. The SGP grant will focus on enhancing the HOCLOMAC to prepare it for commercialization.