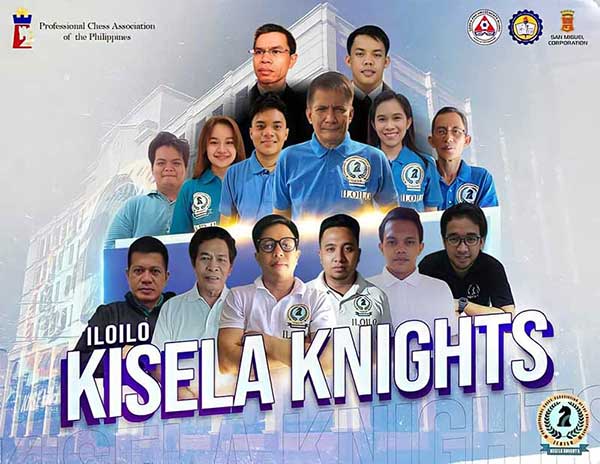 By Leobert Julian A. de la Peña
The Iloilo Kisela Knights took down the resilient Toledo City Trojans in two-straight matches and clinched another 2022 Professional Chess Association of the Philippines (PCAP) Wesley So Cup Southern division finals seat.
Fresh off a nip-and-tuck win against Tacloban during the quarterfinal stage, the Kisela Knights continued its dominant PCAP run and swept Toledo, 12.5-8.5, and 11.5-9.5.
In the same scenario against Tacloban, the Kisela Knights had to go toe-to-toe against Toledo and immediately took the blitz category lead in their first encounter, 4.5-2.5.
However, in the next seven playing boards, Toledo got hot midway led by back-to-back board wins from GM Xu Yi and Rommel Ganzon.
The Kisela Knights were quick to answer with their own offensive snowball and got huge wins from GM Rogelio Antonio Jr. and NM John Michael Silvederio which gave them a slim 8-6 lead after the rapid category.
After the close win in the first game, the back-and-forth didn't stop between Iloilo and Toledo and ended the first seven playing boards with a 3.5 deadlock.
Iloilo quickly opened the rapid category with a momentum-clinching win from GM Hovhannes Gabuzyan but GM Yi of Toledo came right back with an answer in the second board.
Despite losses from Karl Viktor Ochoa and NM Fritz Bryan Porras, back-to-back board wins from WFM Cherry Ann Mejia and GM Antonio Jr. put the Kisela Knights back on track.
The explosive matchup finally ended and went Iloilo's way after NM Rolly Parondo Jr. pulled off a close win in the last board against Bonn Rainauld Tibod.
Awaiting the Kisela Knights in the Southern division finals are familiar foes and rival squad Negros Kingsmen.