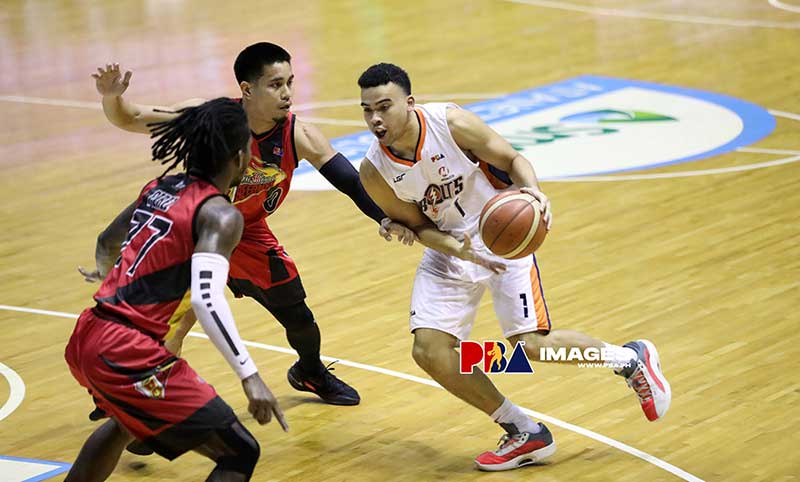 By Leobert Julian A. de la Peña
The Meralco Bolts displayed one of its flawless performances of the season and asserted its mastery over the San Miguel Beermen, 111-97, during Game 4 of the 2022 PBA Philippine Cup semifinals.
Meralco found its offensive rhythm early and raced to a 20-8 lead in the first quarter led by their hot-shooting from the three-point area.
The duo of Allein Maliksi and Aaron Black were quick to put their imprints on the game after firing from all cylinders, embarrassing the San Miguel perimeter defense in several offensive possessions.
Aside from their scoring outburst from downtown, The Bolts also got a huge offensive lift from its second unit as Chris Banchero and Bong Quinto stabilized the Meralco scoring that kept its double-digit lead midway through the second quarter.
However, an offensive spark from June Mar Fajardo, CJ Perez, and Marcio Lassiter helped San Miguel claw back and cut Meralco's lead to just five at the half, 58-53.
Fajardo spearheaded the San Miguel comeback after converting on an and-one jump shot opportunity at the post while Lassiter got hot at the right time and drilled three clutch treys in just five minutes.
Eager to replicate its hot first-quarter start, Raymond Almazan and the rest of the Bolts outscored the Beermen 30-18 in the third quarter and established another double-digit lead heading into the final canto.
Despite Perez's late game eruption, Meralco was still able to hold their ground and answered back with their own offensive rally capped off by their well-orchestrated offensive executions.
The Bolts out-assisted San Miguel 28-19 and were on-point in running their half-court schemes and also limited their turnovers to just 11 compared to the Beermen's 16 total.
"We shot the ball much better today. I think Aaron came out and was aggressive right from the start. Then the other guys, like Allein Maliksi, also came out and shot the ball very, very well," said Meralco head coach Norman Black.
Black top-scored for Meralco with 21 big points, seven rebounds, and seven assists backstopped by Maliksi with 19 points.
Meanwhile, San Miguel will go back to the drawing board heading into Game 5 and will look to avoid a second-straight semifinal loss against the Bolts.