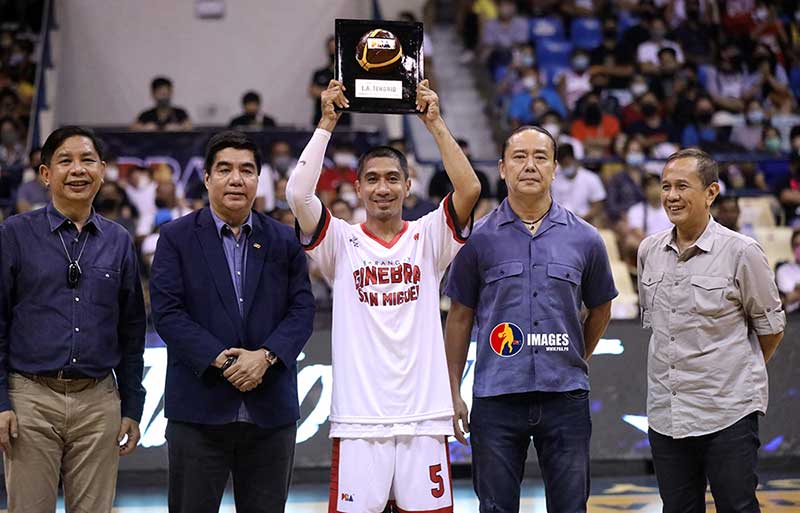 By Leobert Julian A. de la Peña
Barangay Ginebra San Miguel's LA Tenorio added another award under his belt after playing his 700th straight PBA game and extended his record as the league's "Iron Man".
The PBA multi-champion with the Alaska Aces and Ginebra was called onto the center stage before their tip-off against the Blackwater Elite and received a plaque of recognition given by PBA commissioner Willie Marcial and members of the board.
Since entering the league way back in 2006 after getting drafted by San Miguel, Tenorio is still yet to miss a single game in the PBA and has played all 16 seasons.
Despite minor injuries throughout the course of his professional career while undergoing a laparoscopic appendectomy during the PBA 2020 Philippine Cup bubble, the court general still found a way to be present in all of the scheduled games.
"He's just kind of a freak of nature. I mean he doesn't get injured, knock on wood. I mean, he had appendicitis and he had an operation, and five days later he's playing in a basketball game. He's draining his wound while he's playing," said Ginebra head coach Tim Cone.
The recognition night was capped off with a convincing come-from-behind victory by Ginebra against Blackwater, 85-82, where Japeth Aguilar sank the game-winning jump shot that put them ahead 83-82 in the clutch seconds of the dogfight.
Tenorio logged in 31 total minutes against Blackwater and tallied five points and four assists including a clutch basket in the paint when they were starting to pull away in the last three minutes of the game.
Meanwhile, Cone also joined Tenorio during that day and achieved a coaching career milestone after locking in his 1,700th game in the PBA.
Cone began his career as a head coach in Alaska way back in 1989 and led Alaska, B-Meg (now Magnolia), and Ginebra to 24 PBA titles combined in a span of 33 years.
"I mean, there have been reasons for me to miss, but thankfully for my family, I've never done that. And, so, it's a record I'm really proud of," said Cone.