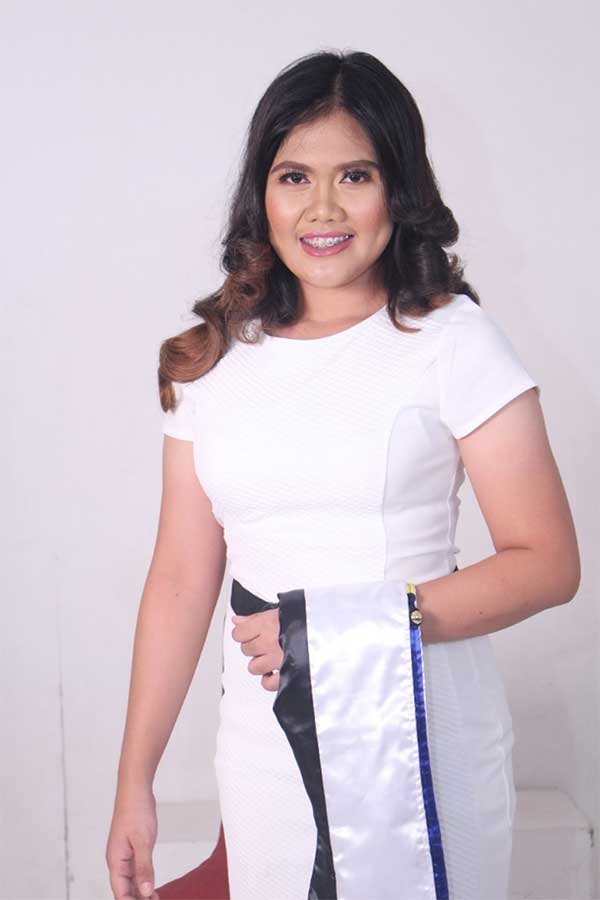 By Philip Jayson D. Falcis
From selling vegetables to becoming a Summa Cum Laude graduate and currently writing a dissertation when all the odds are against you is one for the books.
And so, the Commission on Higher Education (CHED) noticed the success story of overcoming poverty through education from a scholar of the West Visayas State University's College of Education (WVSU-COE) here.
The story of Jeena A. Amoto, 27, a vegetable seller who graduated summa cum laude with a degree in BSEd Mathematics in 2015 from the WVSU-COE, placed third in the CHED's Scholar Award with her video entry highlighting the significant contribution of the scholarship to her chosen field and the community.
Amoto's entry is the regional winner in a search conducted in July 2021 from which each CHED regional office can send only one entry to the national level. Having graduated only six years ago, Amoto considers the recognition [from CHED] a significant platform to advocate for how little acts of kindness can go a long way.
The awarding of the Top Five winners of the CHED's Scholar Award will be held virtually during the "Padyak Parangal Para Sa Mga CHED Iskolars" on Feb. 10, 2022, via Zoom.
An inspiring story
Due to lack of access to affordable healthcare, Amoto revealed her father died when she was eight and thus, had to help her mother sell vegetables in a small market at Brgy. Benedicto, Jaro, and it was there that she developed her love for arithmetic when she had to make sure she computed the customers' payments and loose change.
"Growing up, I have always wanted to become a teacher," says Amoto, believing that education is a great equalizer, and that pushed her to never give up on her dream.
As a recipient of the CHED half-merit grant from 2011 to 2015, she was able to finish the degree Bachelor of Secondary Education with a specialization in Mathematics.
The CHED Merit Scholarship is a yearly competitive scholarship given to students based on their grades the previous school year. During her time, as a half-merit scholar, Amoto received P7,500 per semester as a counterpart for her tuition and miscellaneous fees. However, to make ends meet, she had to become a student assistant and a tutor to cover her other expenses in school.
"The scholarship inspired me to be active in nation-building so that I can pay the kindness forward," said Amoto who initially thought that earning a college degree was impossible. "But with the help of CHED, the impossible was made possible," adds Amoto who is presently connected with the University of the Philippines – Visayas.
"When we were in third year college, we were shown a video of a teacher seeing her students succeed in life. She said it is what keeps her motivated despite all the difficulties and challenges. She referred to her students as her return of investment and that made an impact on me," says Amoto.
Furthermore, as a student, Amoto recalled how she went through hardships in life and overcame them because of many people who opened their hearts and even homes to give her a fighting chance.
"They never asked me to repay them, but I am doing my best to give them their return of investment by paying the kindness forward," says Amoto who continues to upgrade in the field of education by enrolling in post-graduate studies at WVSU.
An outstanding student
Among the meritorious achievements that Amoto bagged during her college days where she was also a CHED scholar are the following: Rotary Awardee for the Most Outstanding College Graduate, one of the Outstanding Students of Iloilo, one of the Ten Outstanding Students of the Philippines – Western Visayas, and an Ayala Young Leader alumna.
With her mantra of serving 'the last, the least, and the lost', Amoto continues to shine her way teaching each day with passion, vision, and enthusiasm. A very proud WVSU has been a witness of how Amoto continues to thrive in her chosen field as she earned her degree Master of Arts in Education with specialization in Mathematics last 2018 and proceeded to enroll for a PhD degree in Mathematics in 2019 and is currently in her final year of finishing the degree Doctor of Philosophy in Science Education, also at WVSU.
"My greatest appreciation goes to the Commission on Higher Education for the opportunity to share my story; to West Visayas State University College of Education for instilling in me a love for learning and service to others; to my teachers who have not given up on me even when I was causing them problems, stress, and for keeping me grounded," says Amoto, a resident of Alimodian, Iloilo.
Drawing inspiration in everything that she does and for raising her to be strong and empowered, Amoto's gratitude to her family is overflowing – the presence of her mother and her two older siblings who are equally successful. In the same light, she also thanked her friends for their unwavering support and encouragement for being there in the highest of highs and lowest of lows.
For an outstanding student like Amoto, paying the kindness forward does not always need to be grand or big for it can also be done in small everyday ways. "If I can make this world a better place for a colleague by helping her with an issue in Microsoft Excel, then I will do that. And when we make this world a better place for others one person at a time, we also make a better world for us to live," she cites.
"The future is scary but every day, I wake up and try to make myself better than I was the day before – a better person and a better teacher," she concludes.
"I learn as much as I can so that whatever lies ahead, I'll be ready," says Amoto.