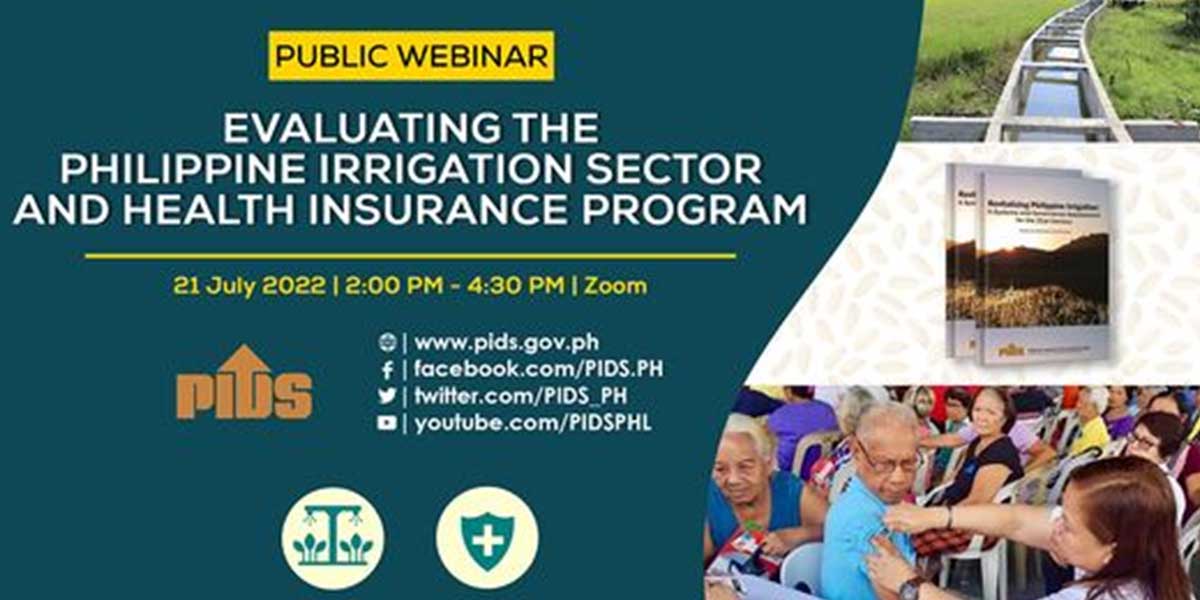 By Marjune N. Muzones
A panel of experts gathered to evaluate the current state of the country's irrigation sector and health insurance program during the webinar entitled "Evaluating the Philippine Irrigation Sector and Health Insurance Program" on July 21, 2022.
The virtual forum was organized by the Philippine Institute for Development Studies (PIDS) and joined by discussants from the National Irrigation Administration (NIA) and Philippine Health Insurance Corporation (PhilHealth).
Dr. Roehlano M. Briones, PIDS Senior Research Fellow presented the award-winning PIDS book entitled "Revitalizing Philippine Irrigation: A Systems and Governance Assessment for the 21st Century".
Among key findings are lacking elements, efforts, and transparency in project identification, implementation and procurement, operations and maintenance, and monitoring and evaluation.
Recommendations include the need to improve human resource capacities, increased coordination with the Department of Agriculture and LGUs, estimating irrigation potential through land conversion trends, watershed integrity, water availability, and other geo-referenced data, rigorous cost-benefit analysis, improve irrigation system designs, among others to ensure efficient services and promote better production outputs.
"Going forward, we know that we will continue to invest heavily in our irrigation. Even now more because food has always been a top priority but then again, elevated now because of the current 5Fs crisis that we are undergoing; Food, Feeds, Fertilizer, Fuel, and Finance. Hopefully, this book will be of renewed relevance under these conditions," Briones said.
In response, NIA Deputy Administrator for Engineering and Operations, Engr. C'zar Sulaik, laid out the agency's perspectives and insights in the development of the country's irrigation sector.
"NIA is formulating plans for rehabilitation and protection of water resources, supporting irrigation systems nationwide. Relatively, the modernization of irrigation systems and establishment of command centers are being pursued to monitor flood levels and enable stakeholders to act in a timely manner and avoid unnecessary loss of of lives and properties during calamities," Engr. Sulaik stated.
Moving over to the country's health insurance for senior citizens, Dr. Michael Abrigo, also a Senior Research Fellow of PIDS presented the study "Expanding Health Insurance for the Elderly in the Philippines".
Key takeaways include the increased social health insurance coverage by 10-20 percentage points with female middle-class citizens being the biggest compliers. However, out-of-pocket expenditures surpassed expectations and grew over 100% due to non-covered expenditure categories like outpatient services and medicines.
"We need to ensure that increased expenditures reflect use of necessary care… and that healthcare providers are not charging higher prices to insured patients or that they are not passing the cost to other patient groups," Dr. Abrigo said.
"Isa sa magpu-push for those reforms ay ang Universal Healthcare Act wherein we want to ensure that all Filipinos are guaranteed equal access, meaning lahat makaka-access regardless of your socio-economic status in life, quality and affordable healthcare goods and services, and protected from financial risk," Dr. Gilberto De Guzman, Head of PhilHealth CARES Management Office stated in his response.
The presentations were followed by a discussion and an open forum wherein panel members answer questions from the audience.
The recorded webinar session is available at the PIDS Facebook page through this this link: