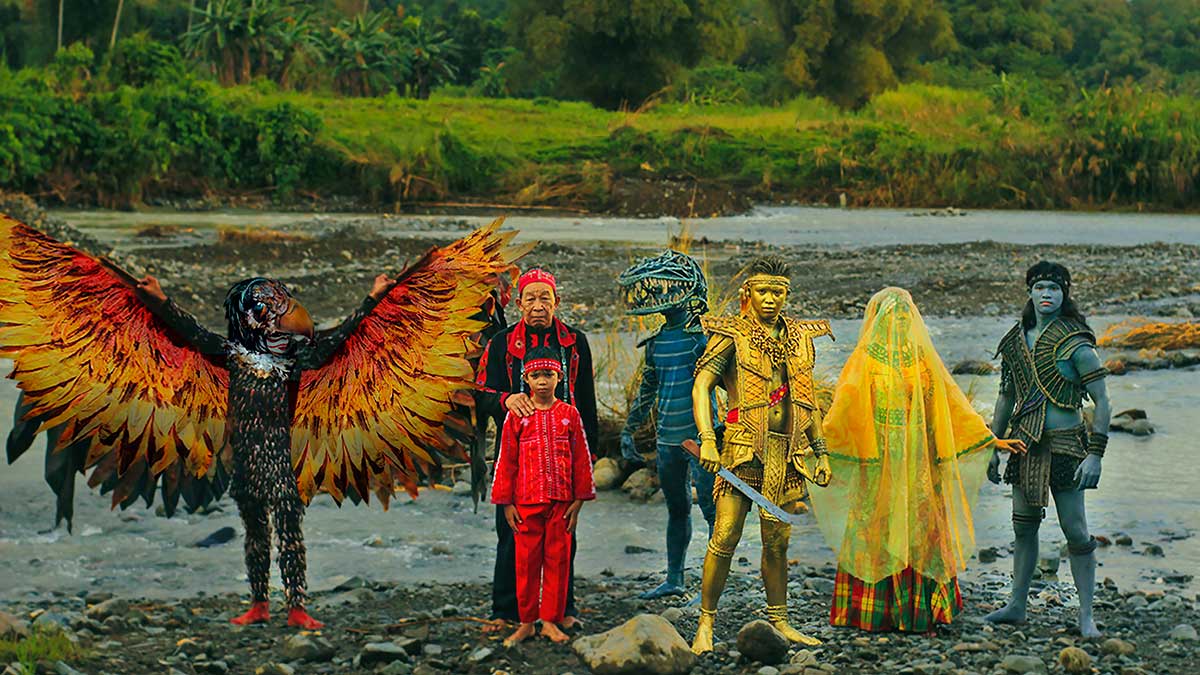 By Claire Justine J. Sarria
The wind beneath Sa Paglupad ka Banog's flight to its Latin America premiere at the 33rd São Paulo International Short Film Festival this August is award-winning Ilonggo filmmaker Elvert Bañares and the Panay Bukidnon community whose collaboration with Bañares saw no compromise of their truth. And it has since been soaring farther.
"This is the first film, in Philippine film history, to have been given consent by the Panay Bukidnon Council of Elders," he said proudly spotlighting the indigenous community, "Ila ni story mo, ga adapt lang ako as a filmmaker."
On Artistic Director Eric Divinigracia's prompt for indigenous content to be featured on Dinagyang Festival 2021, the Region VI Department of Tourism and Iloilo Festivals Foundation Inc-funded short was formally run through the National Commission of Indigenous Peoples, enforcing Republic Act No. 8371 that protects the culture, history, and traditions of Indigenous Peoples even in cinematic portrayals.
Sa Paglupag ka Banog carries through a portion of the Sugidanon Epic (oral literature from Central Panay) that Bañares trusted Palanca awardee Hiligaynon writer Dr. Jesus Insilada to select on the count of hope, which the telling would later exude love and resurrection.
HOPE
Bañares followed movement from how the community's way of imagining the epic, in close consultation with the Caballero family, the known chanters of Panay Bukidnon to whom Bañares attributed the film to. "Kinanglan the imagination is matched, kay imaginative ila story mo, grabe ka decorative. Tam-an ka nami. The best way for me is to match it," he said.
The short moves around Cultural Master and Gawad URIAN Nominee Romulo's Caballero's chanting – done originally by himself – of the Binukot-poisoned, golden hero Humadapnon, whose ordeal be resolved by the water, fetched by Banog (the hawk), from the river of the hungry crocodile Pabayhu, tying the story in love, hope, and bravery.
The Kinaray-a and Salugnon film credits a well-paid cast and crew, 95% of whom are from Calinog, Lambunao, and Iloilo City. "For me, more than adapting the film, they should be a part of it (in major and key production roles)," Bañares said.
"The Caballeros were casted in the film because the family embraces their culture, importante para sa akon nga gina embrace mo ang culture, waay mo gina kahuya, gina pabugal mo," he said. Alongside the Caballeros were first-time performers chosen by Bañares on a filmmaker's criteria that consistent creating molds: gut feel. "When I wrote the film, tanan nga artista gina panumdom ko na sa ulo ko. Gin pili ko sila kay matyag ko amo ni ang makarepresent sang film sa ila," he said, noting that he never had difficulties directing them.
LOVE
"Kung ano ila pag istorya, amo man na akon nga pagistorya," Bañares said on Zoom, holding up the Oral Tradition.
Bañares propounded that producing indigenous films should start from the heart, "Are they sincere in doing this? The goal is to tell the story of our indegenous people, from which the rest will follow if you are really doing it right." The llonggo filmmaker, who never sees our culture inferior to the Western, was assured to be on the right track, "tackling big stories about superheroes."
These indigenous superheroes were geared by Bañares' costume designing prodigy, with Ilonggo visual artist Leoniel Sabrec who had rounds of design approvals escalating to the Panay Bukidnon Elders. "Nag hambal ko sa mga elders, indi ko ya mag sunod sa mga nag-dulurawing na sa iya (Humadapnon). Meaning, mabasa ko sang libro niyo, I will design it, I will let you approve it," he said. They came well-decorated in materials sourced by Bañares from Downtown, City Proper, Iloilo Central Market, and Super.
RESURRECTION
"And if you have love, hope, and resurrection, you have celebration," he said, in amusement of the universal, classic, and eternal indigenous messages.
This celebration took form in a Jabian family-owned restaurant in Calinog, all decked out and  dimmed for their own viewing. At the applause, Bañares' measurement of the film's success was better defined – that he says is bigger than its world premiere in the prestigious Fantasporto International Film Festival – by a Panay Bukidnon standing in celebration to ask a question that weeped out the filmmaker, "San-o ang sunod ta nga film?"