By Martin Genodepa
Seeing is listening or perceiving; that seems to be what the eight artists in the exhibit   titled Pagsidungog are claiming.
Pagsidungog, from the Cebuano and Hiligaynon root word dungog, means honor or favorable reputation. It also means to hear, to perceive or understand.
The exhibit organized by Bahagreyna Productions which recently opened in Robinsons Pavia gives art audiences another interesting sampling of artworks made by Ilonggo artists who belong to different waves of the local contemporary art progression starting in the 1980s.
Eric Tacorda is an artist who began making art in the 1980s. His initial output had strong religious content but in this show, with his mixed media work Panglakaton ni Datu Paiburong, he references the Maragtas account. The artwork is dominated by a relief bust of the purported founder of Iloilo with the indigenous script or baybayin filling the rest of the pictorial space. Adding to the assembly is a bolo and a row of semi-precious stones sourced locally and arranged like heraldic embellishments or symbols. The work recalls a typical portrait of a nobleman or royalty and asserts the nobility of Ilonggos in general. Tacorda's other works in the exhibit like Amihan and Lin-ay sang Kinaugali attempt to relate socio-civic concerns with local mythic characters and stories to stress the interconnectivity of all things in this world.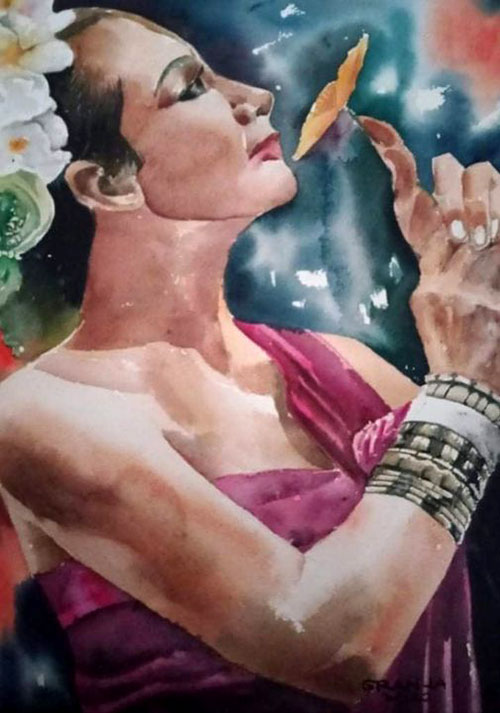 Ronnie Granja who has been very active since that 1990s is one painter who shuttles between mediums and styles with a considerable degree of ease. He can work in oils or water colors and can do figurative or abstract art. Granja is one artist who wants to prove he can do anything. This is not to be taken against him because he strives after mastery in all that he does.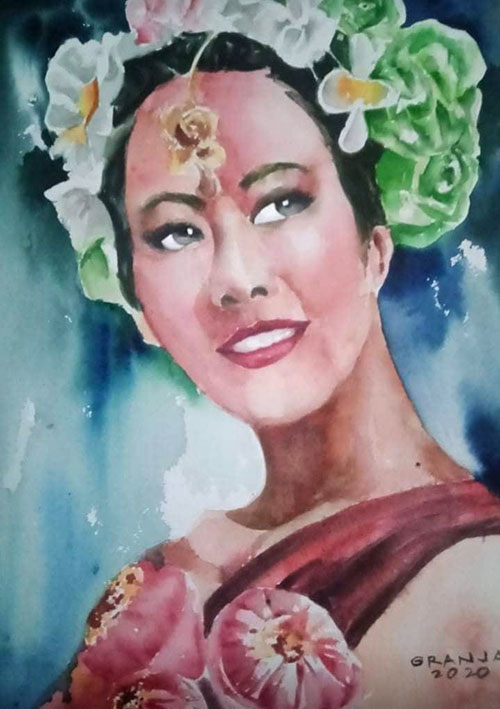 His two water color portraits, Morena 3 and 4, in this group exhibition are proofs of that. While the women subjects can be imaginary, the character and life-like expressions make one forget that they are seeing but an assembly of dabs and smudges of colors and not mechanical photographic reproductions.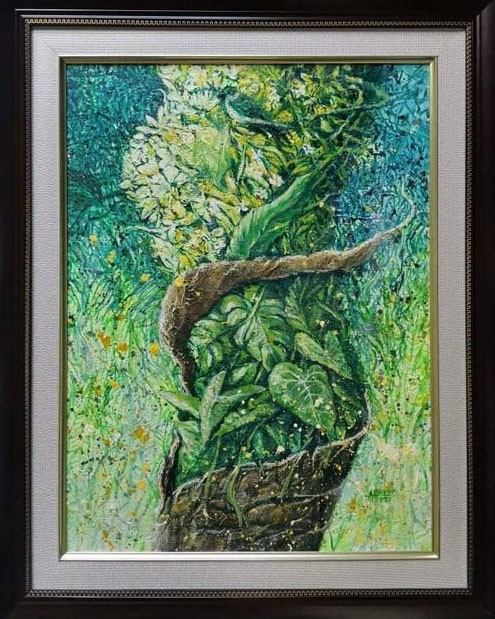 Alex Ordoyo has established himself as an artist by winning major art competitions in the last three or five years. Like the veteran Granja, Ordoyo is also versatile and does not exactly work in one particular style but he is always aiming for product excellence, too. Ordoyo's recent works are consistently dense eschewing the so-called breathing space favored by minimalists. This may be considered as his trademark or style. This style is obvious whether in his series of abstracted landscapes that began with his award winning painting in the Metrobank-sponsored art contest or in his human figures formed by a tangle of plants like the ones in this group show, the Plantita Series that suggests the oneness of humans with the environment. Ordoyo is a maximalist in one sense but his is a kind that is not over-the-top; rather, he replicates patterns in his canvases like repeated prayers. They are psychologically cathartic yet they betray the collective ennui in these days of uncertainty.
In this group show two artists who are also nurses are included; Carlo Juntado and Daryl Dalipe both became active in the art scene starting in the past decade. Other than being nurses and artists, the two have nothing else in common when it comes to their art.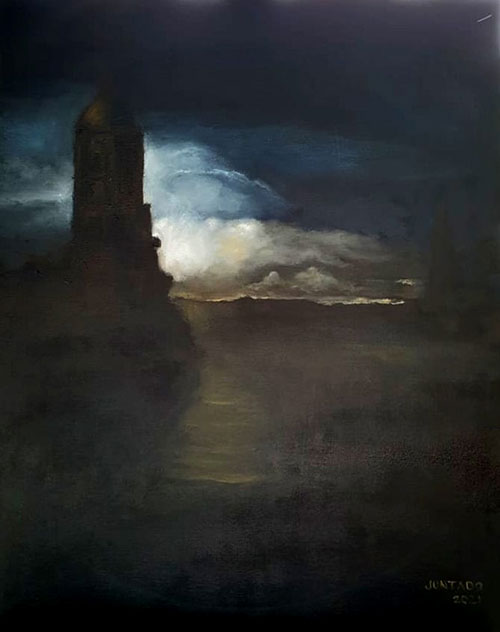 Carlo Juntado who has been steadily making surreal oil paintings created landscapes in his Pamanagbanag series for this exhibition. Pamanagbanag means dawn in Hiligaynon; dawn conjures hope of a new morning or a fresh start. But Juntado's dawn is rather dreary, foreboding, not very promising, even if such is viewed with a religious perspective as suggested in Pamagbanag (Katedral). The image of what looked like the Jaro belfry lords it over a land devoid of signs of dynamic civilization or life. The bleakness in Juntado's work, though, cannot erase the metaphorical link between the dawn and hope – hope, after all, is an idea that one must hold on to even if the times are truly dark. Juntado works seem to say that, too.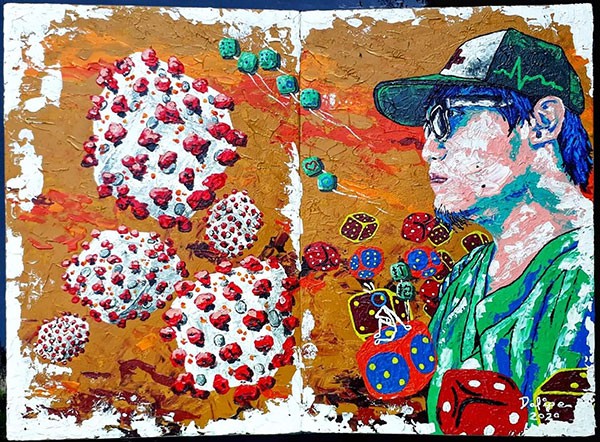 Daryl Dalipe's works evoke lightness and even fun despite tackling issues like COVID 19 or health and well-being. Dalipe brims with hope amidst adversity in his Codex series of acrylic paintings. With canvasses shaped to approximate open books, Dalipe's Codex paintings are visual diaries or they may serve as his memoirs as a health frontliner in the time of the pandemic. The paintings are technically portraits enhanced by personal symbols signifying things related to or confronting the subject. The dice is a leitmotif for Dalipe symbolizing chance or fortune that does not have any bearing or effect on the overall disposition of the subjects who smile or are calm. These portraits are possibly Dalipe's notion of grace under pressure or resiliency in the face of adversity.
Gerundio Buendia, Algerico Saraum and Mating Namo have only been in the local art scene fairly recently but they have been consistently joining group exhibitions.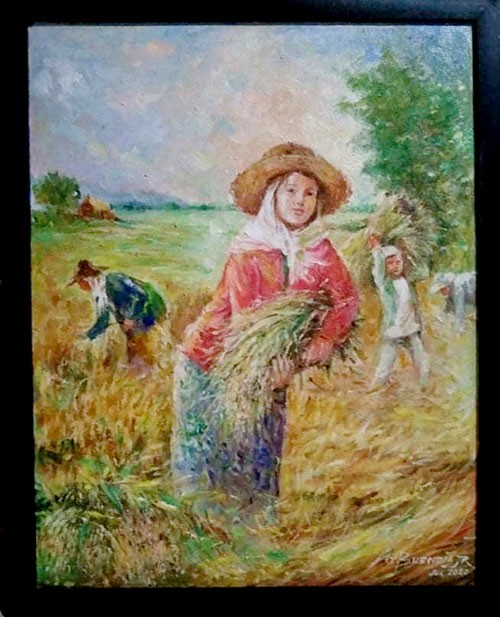 Gerundio Buendia's genre paintings have traces of Amorsolo's artistic legacy but the former's human subjects, women especially, are starkly not the usual dalagang Pilipina but mestizas. Buendia may be capturing, advertently or inadvertently, the reality of miscegenation in the country brought about by so many Filipinos working abroad and intermarrying or having children with foreigners. In The Harvest, the lady rice harvester, in provincial garb and presumably poor, does not look very native; she is fair skinned. Buendia's works also lean towards, if not are well aligned with, naïve paintings and provides it with its own folkish charm.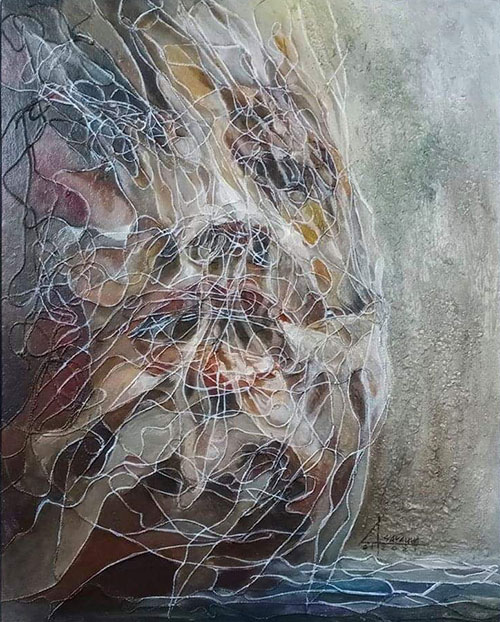 Algerico Saraum mixed media works mainly incorporate strings in them. In this exhibition his MMXX Series 1 and 2 and Crying Soldier are abstract representations of the human head heaped with an intricate pattern of convolutions that mimic neurons or veins that crisscross the human body. To the artist this represents mixed emotions and uncertainty. Saraum may be reiterating visually the complexity of the human psyche that may never be fully understood or unraveled. In Saraum's works the multilayered nature of human beings, whether seen as melancholic, buoyant or mellow, is polysemic and, hence, beyond complete comprehension.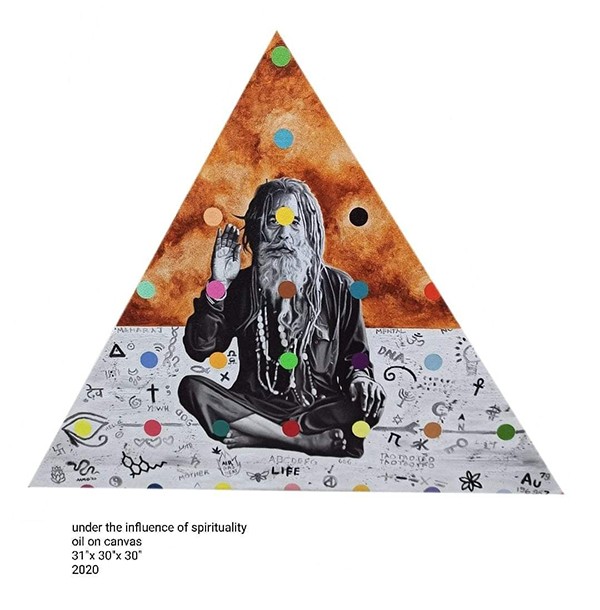 Mating Namo's recent paintings, including the one in this group exhibition may be classified as pop art – but with a twist. The colors and composition, the inclusion of words in the painting Under the Influence of Spirituality display some of the characteristics of pop art. However, the painting's theme and subject are not, unless spirituality is classified under popular culture. This oil painting on a triangularly shaped canvas was inspired by an Indian sadhu (hermit or holy man), Namo disclosed. But the person in the painting looks like the artist himself exposing likely his aspiration after the divine. The triangle in Christian or Catholic iconography represents the trinity or triune God. Namo's spirituality in this painting is about humans attaining godhood by finding the truth that is in themselves or by recognizing themselves as truth personified. Also, the lotus position, the pataka mudra gesture and the triangle makes this work a visual statement on syncretism that the artist seems to be moving towards ideationally if not theologically.
Pagsidungog, the group exhibition's title, rings as a command than an invitation to listen or perceive what artists in Iloilo are now concerned with – what is in their hearts and minds as seen in their artworks – be it about treasuring the past, living in the present realities or aspiring after the cosmic or divine.