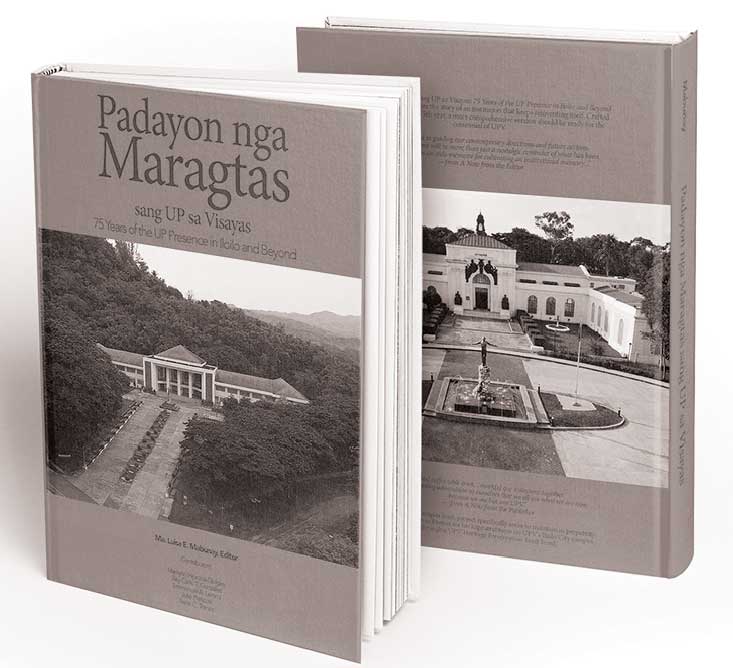 By Francis Allan L. Angelo
Today's launching of "Padayon nga Maragtas sang UP sa Visayas: 75 Years of the UP Presence in Iloilo and Beyond" aims to support the university's Handumanan Project.
Among other undertakings, the Handumanan Project aims to renovate the Old High School Building (currently occupied by the Health Services Unit) and the Woman's Club Building (currently occupied by the Office of Student Affairs) at UPV-Iloilo City Campus.
The project also has biodiversity and environmental components that will be implemented in its other campus in Miagao, Iloilo.
Proceeds from the sale of "Padayon nga Maragtas sang UP sa Visayas", which chronicles the state university's beginnings and contributions to Iloilo, will be added to the Handumanan fundraising efforts initiated by retired Supreme Court Justice Francis H. Jardeleza (BA Political Science, 1970).
Justice Jardeleza is also the publisher of the book which was carefully painstakingly edited by retired UPV Professor Ma. Luisa E. Mabunay.
The contributors are Marilynn Hiponia-Quigley, Rey Carlo T. Gonzales, Emmanuel A. Lerona, Julie Prescott, and Rene C. Trance.
The book will be officially launched today, August 19, 2022, at Hotel del Rio.
For reservations and inquiries about the book, please contact handumanan.project@gmail.com, https://www.facebook.com/handumananproject/, and +63 9393451258.
Here are some of the reviews of the book by academic and business luminaries both in the national and local scenes:
"The University of the Philippines is much more than its main campuses in Diliman, Los Bafios, and Manila. Indeed, it has always been the sum of all its constituent campuses. This wonderful book is specifically about UP Visayas, which opened after the Second World War as a junior college in Iloilo, explicitly to bring a secular high quality UP education to the brightest young men and women of Iloilo and the neighboring provinces. Using rare photos and colorful anecdotes provided by its devoted faculty and alumni, the book's editors led by Prof. Ma. Luisa E. Mabunay document the evolution of the Iloilo campus and pays loving tribute to the institution builders behind the school. They were the pioneer scholars and teachers who selflessly doubled as academic administrators, building planners, basketball coaches, cafeteria managers, and surrogate parents and counselors. Woven into the school's formative years as an institution is an account of its generally warm and supportive, but at times tangled relationship, with the powers-that-be in the local community. This is a valuable piece of social history disguised as a coffee-table book." – Randy David, UP professor emeritus of sociology.
"The import of history-telling cannot be overemphasized. We owe future generations a trustworthy chronicle of history and an insight into how educational institutions have helped shape the part of the country where they are located – and how in turn they were shaped by the place that has been their home. Padayon nga Maragtas sang UP sa Visayas accomplishes this with the well-researched accounts of the writers, interspersed with personal narrations of former administrators, alumni, and other important UPV figures; stories on how political personalities figured into the UP
Visayas story, and well-curated photos. The personal recollections provide texture and dynamism to what could otherwise be uninvolved and detached stories – as historical accounts of universities are wont to be. Padayon nga Maragtas sang UP sa Visayas is a rich and colorful tapestry of how UP Visayas came to be and how it has grown. It is a great resource that will provide institutional memory and guide future generations of leaders of UP Visayas in institution-building." – Jose de Vera Camacho Jr., PhD, Chancellor, University of the Philippines Los Baños
"Padayon nga Maragtas sang UP sa Visayas provides the reader with a panoramic sweep of UPV's evolution over 75 years. Through text and precious photographs never before collected in one volume, this book chronicles the growth of UP Iloilo College in 1947 to what it is today. This book is not just the history of UPV. It is also the history of Iloilo City and Province. Their stories are intrinsically tied together. It is also a series of stories about the sacrifices and tireless devotion of its leaders, faculty, and staff; the resilience of the UPV community through good times and bad; the loves, losses and successes of its alumni; and of giving back to the alma mater the graduates love dearly." – Narzalina Zaldivar Lim, former chairman and president, Iloilo Economic Development Foundation, Inc.
"Padayon nga Maragtas sang UP sa Visayas: 75 Years of the UP Presence in Iloilo and Beyond is a compelling read in its visual storytelling, its balanced attention to intimate and grand details, comprehensive and inclusive scope, and a narrative arc that puts the institution as the protagonist, with the land, water and climate as forces to contend with. Here is the intellectual history of the region, a necessary intervention and contribution in the writing of the nation. It mines historical archives, shared memories and collective challenges. Individual and institutional achievements are woven with care, and written beautifully. This is a work of gratefulness and pride, so that we may be both nostalgic and astonished, and invited to dream anew, beyond ourselves." – Genevieve L. Asenjo, PhD, Professor, De La Salle University
"Padayon nga Maragtas sang UP sa Visayas is an endearing way for UPV to show its numerous breakthroughs as an academic institution. Many UPV alumni have become wonderful role models for succeeding generations of Iskolar ng Bayan. They have enriched and reshaped the universe around them. The book also demonstrates how UPV administrators, faculty members, staff members, and students have engaged with their internal and external publics to highlight UPV's strengths and capabilities. There is so much honor and excellence on every page of this book. Ultimately, readers will be stirred by UPV's compelling history and legacy for the past many years. To all who made this book possible, madamo nga salamat! We are moved, pleased, and deeply transformed!" – Jose Wendell Capili III, PhD, Professor and Assistant Vice President for Public Affairs, University of the Philippines
'The year 2022 marks the 75th anniversary of the University of the Philippines Visayas (UPV). This lavishly illustrated and thoroughly researched book documents UPV's rise from a junior college in 1947 to its prominent position as an autonomous university specializing in fisheries and aquatic sciences. It highlights UPV's contributions to the development of the Visayas region and the nation and to fostering a deeper appreciation of the Visayan cultural heritage. It traces UPV's administrative evolution, key contributions in research, teaching and extension work and also documents the lighter side of student life, including antics and fads. It honors those who were shaped by the UP Visayas experience – and those who paid back, grateful for the experience. This tome is a fitting tribute to UPV and all who built it up and comprise UPV on its diamond anniversary." – Ricardo T. Jose, PhD, Professor, Department of History, University of the Philippines Diliman