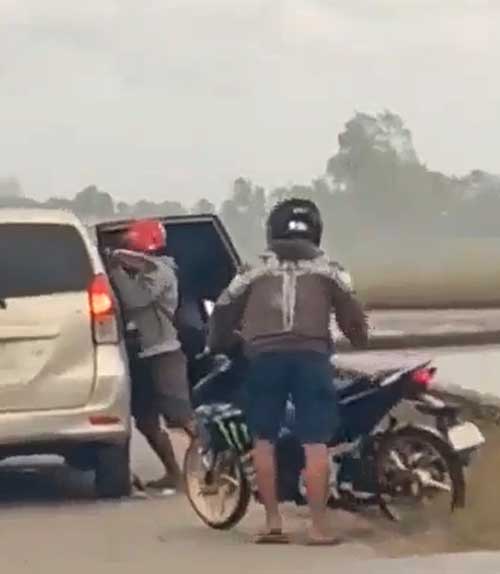 By Glazyl Y. Masculino
BACOLOD City – "Maluoy kamo, ibalik nila akon bata" (Have pity, bring back my son).
This was the message of Edgardo Garfil to the alleged abductors of his son, Johnson Ciervo Garfil, in an interview with Brigada News FM Bacolod at Bago City Police Station in Negros Occidental.
Johnson, 32, of La Carlota City, was waylaid by unidentified men on two motorcycles and was forcibly dragged into a gold/silver Toyota Avanza in Barangay Abuanan in broad daylight on Jan 18, 2022.
The incident was captured by one of the motorists, who passed by the area, thinking it was just a road accident. The video went viral on social media this week.
Johnson's father appealed to the abductors to return his son unharmed.
"Kung ano man gid himuon nila sa bata ko, tani indi lang nila pagsakiton, pasensyahon lang nila," an emotional Edgardo said.
Edgardo maintained that his son did not do anything wrong, thus there's no reason for them to treat him that way.
Johnson's mother Gemma also appealed to return her son to his family, as his children are looking for him.
It's been three days since Johnson has been reported missing, but police still have no lead yet on the identities of the perpetrators.
Despite the video of the alleged abduction that surfaced on social media, Police Lieutenant Colonel Joem Malong, city police chief, earlier said that it did not help much in the investigation because the escaping sports utility vehicle has no car plate, as well as the two motorcycles seen in the area.
Johnson was released on bail in November 2020 for violation of Republic Act 7610 or Special Protection of Children Against Abuse, Exploitation and Discrimination Act.
Police continue to check the background of the victim. In fact, they learned that the victim was heard by his live-in partner talking to somebody over the phone asking for payment from the latter.