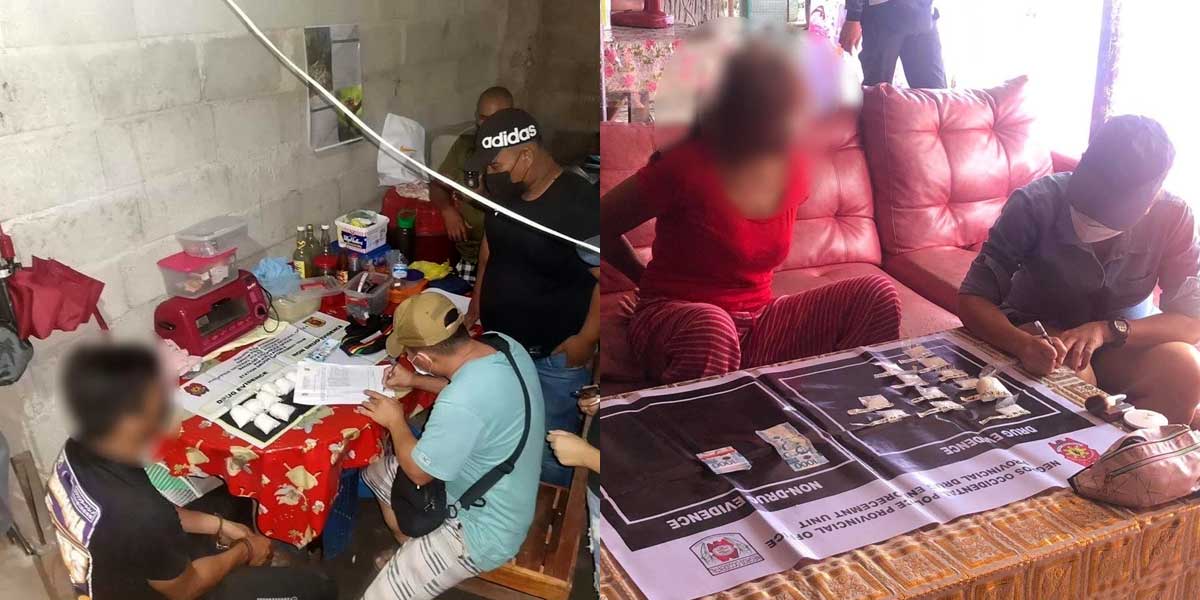 By Glazyl Y. Masculino
BACOLOD City – More than P5.2 million worth of suspected shabu were seized in two operations here and Negros Occidental province in the past two days.
The stings also led to the arrest of a suspected drug group leader in the province.
On Sunday, police collared Ahzer Villarosa, 36, of Purok Masinadyahon, Barangay Pahanocoy here in a buy-bust in said village.
Police Major Joery Puerto, head of Police Station 8, said they recovered from Villarosa 635 grams of suspected shabu worth P4,318,000.
Villarosa is an alleged high-value individual and "bodegero" or storekeeper of illegal drugs.
Puerto said Villarosa's name has been tagged to the illegal drug trade in 2019 but he was placed under surveillance more than a month ago.
Villarosa was also charged for murder before, but the case may have been dismissed as he was released from jail in 2019.
"While he was in jail, Villarosa met Alex Soberano, who was jailed for a drug offense at that time," Puerto said.
Soberano was later convicted and imprisoned for a drug offense at the New Bilibid Prison in Muntinlupa City. He was recently found buried under a tower at Barangay Vista Alegre here last month.
"Prior to Soberano's death, Villarosa was allegedly tasked to keep the illegal drugs when the stocks arrive here and repack it for distribution through Soberano's instructions," Puerto said.
The alleged illegal drugs were sealed in Chinese tea bag packaging before the repacking, which made them suspect that the contraband was sourced from Luzon and transported here through the seaport in San Carlos City, Negros Occidental.
Puerto said the recovered illegal drugs were believed to be part of the four kilos of illegal drugs that arrived here when Soberano was still alive.
Part of the 4-kilo stock was confiscated from two women from Manila, who were intercepted in Silay City with P7.1 million worth of suspected shabu last month.
Puerto said that Villarosa's clients were from this city and the southern part of the province.
With the arrest of these individuals, Puerto said they are monitoring three more who have links with the arrested persons.
Meanwhile, Police Colonel Thomas Joseph Martir, director of Bacolod City Police Office (BCPO), ordered station commanders to intensify their intelligence monitoring to prevent the possible entry of illegal drugs here, especially with the looming MassKara Festival which will be held in October after a two-year hiatus due to the pandemic.
Martir said the demand for illegal drugs increases if there's a festivity due to the influx of people and visitors.
Martir said the BCPO also strengthens its coordination with the Philippine Coast Guard, Maritime Group, and the Philippine Drug Enforcement Agency (PDEA) in the monitoring of seaports here and in the province.
'DRUG GROUP LEADER' FALLS
On Monday, the Provincial Drug Enforcement Unit (PDEU) in Negros Occidental also collared a suspected drug group leader and her alleged drug runner in a buy-bust operation at Purok Paraiso, Barangay Hilamonan, Kabankalan City.
Jonalyn Bugalon, 49, of the said village, is the purported leader of Bugalon Drug Group, while her alleged runner was Juanito Artisano Jr., 54, of Himamaylan City.
According to the PDEU, it took them several months to trace Bugalon and transact with her.
"Dugay na na nga build up namon. Kay may information sang una nga nanago na siya sa Iloilo. Wala siya abi gahatag kung hindi niya gid kilala. Kag kabudlay sudlon ang iya ginaistaran kay kadamo sang pamalay," according to a member of the PDEU, whose name was withheld upon his request.
Police recovered from the duo 130 grams of suspected shabu worth P884,000, and the P20,000 marked money.
The PDEU said Bugalon's arrest will "significantly dent" the illegal drug supply in the province since her band is one of the drug groups with the most number of members in the province.
"Mabatyagan gid na nila ang pagdakop kay 'Mommy Jing' and amo naman na amon i-monitor kung sino ang mabulos in case may ara man gid," the PDEU member said, adding that they will exert efforts to arrest its members.
"As far as I know, mga 5 to 6 years na ni naprofile ang mga members nila," the PDEU member said, adding that the group's focused areas are the fifth and sixth districts in the province.
However, the PDEU said that they could not consider yet the dismantling of the drug group, since there are parameters that need to be complied with and such will need to undergo deliberation by the Committee.
The PDEU believed that the source of the illegal drugs came outside the province.
Considering the status of Bugalon, the PDEU said she is considered a high-value individual, while Artisano is a street-level individual.
Police Colonel Leo Pamittan, acting director of Negros Occidental Police Provincial Office (Nocppo) here, lauded the officers for another accomplishment and directed them to lead a more vigorous battle against illicit drugs.