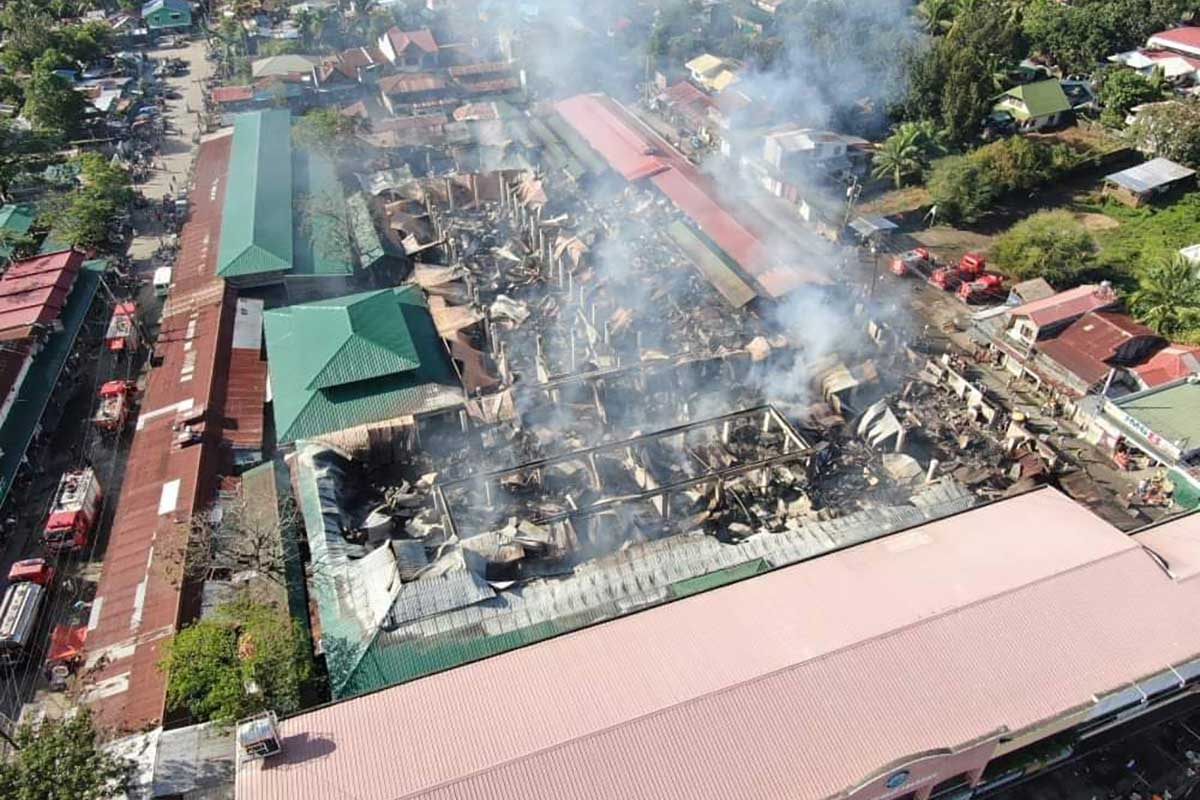 By Jennifer P. Rendon 
An early morning fire gobbled around 80 percent of the public market in Oton, Iloilo on Dec 20, 2021.
Fire Inspector Roberto Tamayo, Jr., Bureau of Fire Protection (BFP)-Iloilo deputy provincial director, said that 212 stalls, or around 40 percent of the 558 market stalls, at the Oton Public Market were totally burned.
Tamayo said they are yet to come up with the final list of stalls that were partially damaged.
BFP personnel have yet to allow stall owners to go inside the market as firefighters have to wrap up the mopping operation.
Records indicated that the fire call was placed around 12:05 a.m. Monday. The fire was declared under control by 2:23 a.m. while fire out was at 9:08 a.m.
It was initially thought that the fire originated from the meat section.
But upon closer investigation, "we theorized that it could have possibly started at the dry goods section located at the southern back portion of the market," Tamayo said.
A butcher claimed that he saw something spark and heard static sound before the fire erupted.
Tamayo said the fire reached the fourth level of alarm which meant it required help from other BFP units and volunteer groups.
Aside from local firefighters, BFP personnel from the towns of Tigbauan, San Miguel, Pavia, Sta. Barbara, Miag-ao, Guimbal, and Cabatuan also responded.
Fire responders from the districts of Arevalo, Mandurriao, and Jaro also augmented, as well as volunteers from the fire brigades ICAG Volunteer Brigade and Federation Iloilo Fire Brigade Incorporated.
Tamayo said they have initially pegged the damage to property at P44,040,000.
"That estimate Is based only on the structure and area that was razed by fire," he said.
They have yet to account the losses incurred by stall owners.
No one was reported injured during the incident.
CASH AID 
As early as 2:00 a.m., Rep. Janette Garin of the 1st district of Iloilo already issued a statement in response to the Oton fire.
"My heart breaks for the victims of the fire at Oton Public Market. Many of our kababayan are still recovering from the devastation brought by Typhoon Odette, and yet here we are, facing another tragedy that will affect lives and livelihood. Loaded guid ang market sang paninda on Sundays because Monday is Oton's Market Day. This means the losses are greater for our vendors," Garin said.
She added that her office will initially be giving P5,000 as assistance to affected vendors while they are assessing the situation.
"This might be small compared to their economic losses but they can use this as starting capital as they rebuild and restart," she said.
It was gathered that the local government of Oton has also assured assistance to the affected vendors.
LOOTING 
As several vendors went to the area to salvage their goods, several of them reported that they were victims of looting.
Those who complained are mostly vendors of frozen foods.
They claimed that looters took ham, chicken, and other frozen products from their freezer and loaded them to a pedicab.