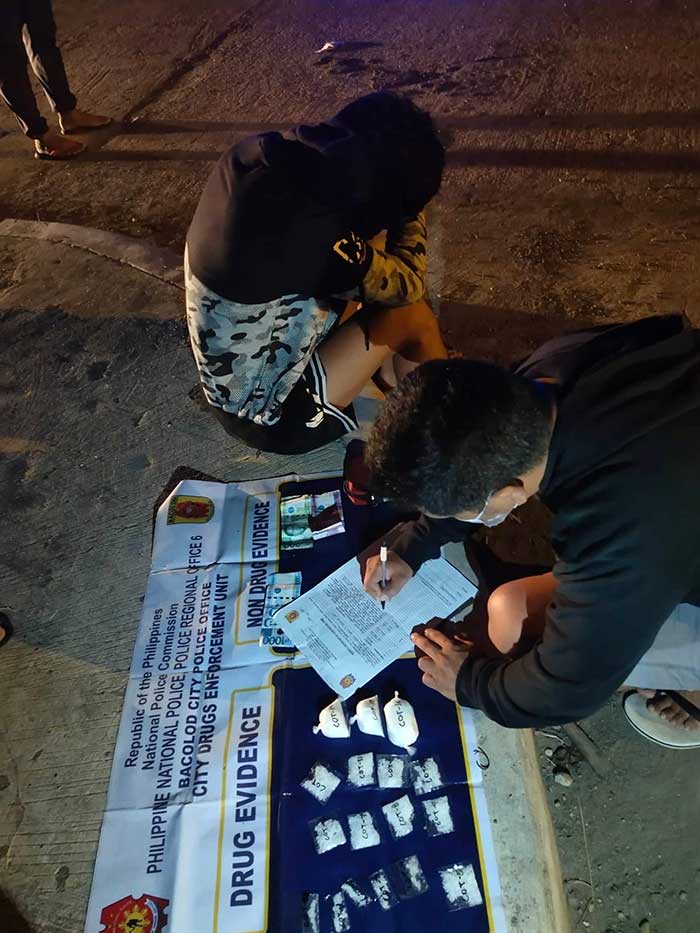 By Glazyl Y. Masculino
BACOLOD City – Two buy-bust operations here yielded an estimated P3,060,000 worth of suspected shabu from four persons over the weekend.
On April 30, Baby Girl Villarna, 33, of Barangay Banago here, and Elmar Gallego, 33, and Edmar Infante, 26, both residents of Silay City, Negros Occidental were collared at Purok Kahirup, Barangay Singcang-Airport here.
Police Major Joery Puerto, head of Police Station 8, said Infante and Gallego were allegedly tasked to meet and transact with their clients upon the instruction of Villarna who has an alleged contact inside a jail here.
Puerto said that Villarna was previously arrested for a drug offense but was released from jail in November 2021 through a plea bargain agreement.
Police recovered from them the P30,000 marked money and boodle money, and 200 grams of suspected shabu worth P1,360,000, while Infante allegedly yielded a .22-caliber revolver with three live ammunitions.
The following day, Christian Oliveros, 21, of Barangay 35 here was apprehended at Purok Lampirong, Barangay 2 here.
Police confiscated from them 250 grams of suspected shabu worth P1.7 million, the P1,000 marked money, and P300 cash.
Police Lieutenant Joven Mogato, head of City Drug Enforcement Unit (CDEU), said that Oliveros allegedly just started engaging in the illegal drug trade.
But police considered him a high value individual because of the volume of illegal drugs seized from him, Mogato added.
"Daw kabayo na siya, then ga repack man siya kag ga baligya man," Mogato said, adding that Oliveros's clients were usually truck drivers who are waiting to board a vessel near a seaport here.
Mogato said that Oliveros reportedly sourced out the contraband from a supplier here.
Oliveros is detained at Police Station 2.