By Jennifer P. Rendon
A convicted drug pusher who was released from prison two years ago is behind bars once more after getting nabbed in a police anti-narcotics operation in Pototan, Iloilo.
Ryan Ace Jallorina, 41, a resident of Escarios St. Barangay San Jose, Pototan, Iloilo was arrested evening of June 14, 2022.
Jallorina transacted with operatives of the Regional Police Drug Enforcement Unit (RPDEU)-6, the Criminal Investigation and Detection Group (CIDG)-Iloilo province, and the Pototan Police Station at a dimly-lit part of Montero Village in Barangay Igang, Pototan.
Lieutenant Colonel Mark Anthony Darroca, RPDEU-6 chief, said the suspect agreed to sell a sachet of suspected shabu for P20,000.
When subsequently frisked, Jallorina yielded 48 small and two big sachets of suspected shabu, the P20,000 marked money, P2,390 personal cash, a digital weighing scale, an android mobile phone, and several non-drug items.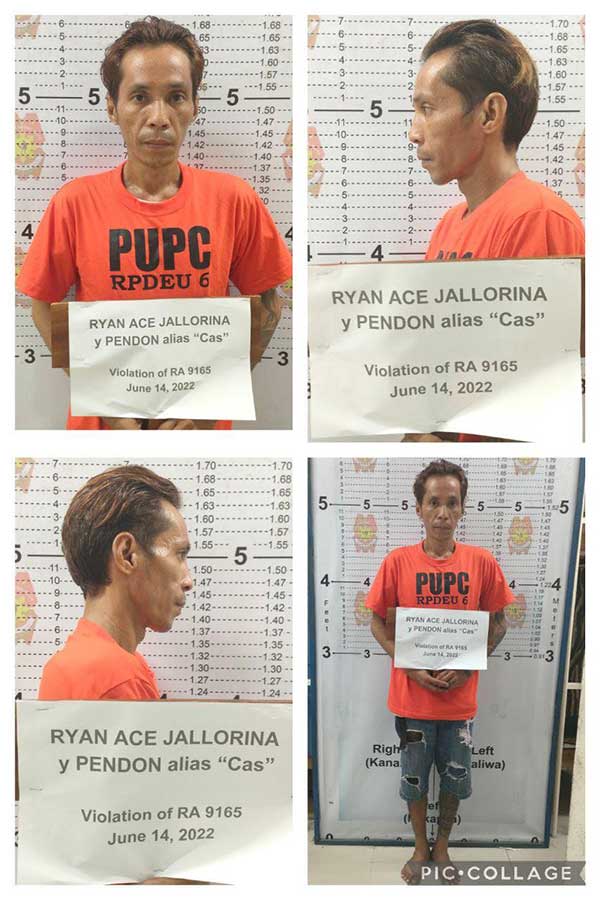 Darroca said the confiscated drugs weighed around 350 grams and valued at P2.38 million.
In 2009, members of the Philippine Drug Enforcement Agency 6 (PDEA-6) also arrested Jallorina in a buy-bust in Pototan town. He was charged for violation of Sections 5 and 11, Article II of Republic Act 9165 (Comprehensive Dangerous Drugs Act of 2002).
Jallorina availed of the plea-bargaining agreement and was released from jail in 2020.
But in January 2022, police got wind that Jallorina allegedly returned to illegal drug dealing.
The suspect then laid low after learning that the police were on him. But the arrest of an alleged "colleague" eventually led RPDEU-6 operatives to him.
A day before Jallorina was arrested, police collared Archie Tipanan and two women in a buy busy operation in La Paz, Iloilo City.
Just like Jallorina, Tipanan was also convicted for an illegal drug offense.
Tipanan later squealed on Jallorina's alleged illegal drug trade activities.
It was learned that Tipanan and Jallorina have the same source of suspected drugs.
Darroca said Jallorina has a partner in his illegal drug business
On his own, Jallorina has at least 35 downlines operating in the towns of Pototan, Estancia, Tigbauan, Zarraga, Leganes, Mina, Janiuay, Barotac Nuevo, Dumangas, and Dingle.
Jallorina is now detained at the lock-up cell of Pototan Police Station and would be charged again for violation of Sections 5 and 11, Article II of RA 9165.