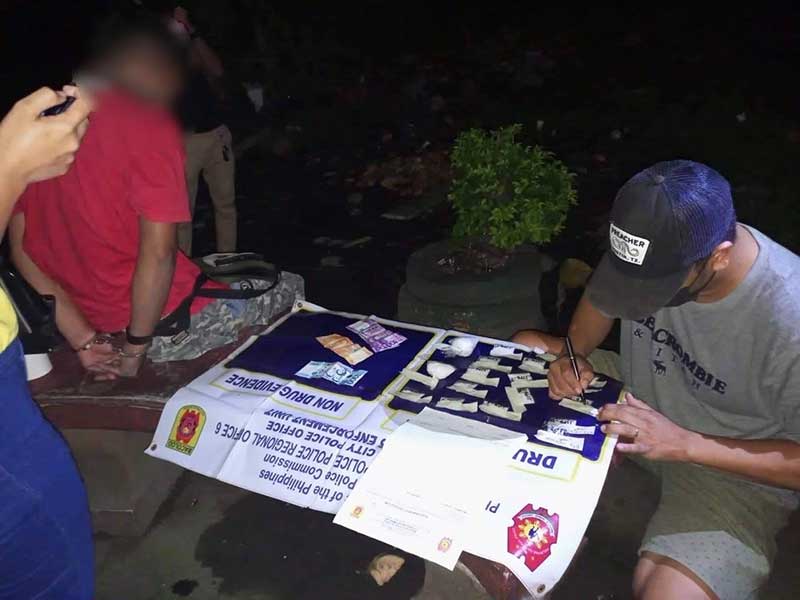 By Glazyl Y. Masculino
BACOLOD City – Two drug busts here and in Negros Occidental on Monday led to the confiscation of more than P1.4 million worth.
The biggest volume was seized in an operation at Purok Kahirup, Barangay Singcang-Airport here.
Jeboy James Poneles, 21, of Barangay 2 here, yielded P1,400,800 in suspected shabu, which made him a "high value individual."
Poneles was nabbed two days after Police Station 8 confiscated P4.3 million worth of suspected shabu from an alleged "bodegero" or stockkeeper of illegal drugs at Barangay Pahanocoy here last Sunday.
Police Lieutenant Joven Mogato, head of City Drug Enforcement Unit (CDEU), said the stash from Poneles may have been sourced from Luzon and transported through the seaports of Escalante City or San Carlos City in Negros Occidental.
With the series of huge drug recoveries recently, Mogato said they are intensifying their intelligence monitoring to prevent the entry of more contrabands, especially since the MassKra Festival will return in October.
Police earlier said that the supply of illegal drugs might increase during the festivities because of the influx of people.
"Amo man na gina monitor ta subong, may mga gina himo naman ta nga monitoring kay indi malikawan ang item and stocks advance magsulod," Mogato said.
Despite this, Mogato said the illegal drug trade here does not progress, as police continue their campaign against illegal drugs.
Poneles is detained at Police Station 8.
EX-COP BUSTED
Meanwhile, a former policeman who was dismissed from the service was arrested in a buy-bust operation in Barangay Lantad, Silay City, Negros Occidental last Monday.
Police collared Julius Octavio, 63, of the said village, who allegedly yielded six grams of suspected shabu worth P40,800.
Lieutenant Colonel Mark Anthony Darroca, city police chief, said the illegal drugs reportedly came from Bacolod City.
Darroca said that Octavio was previously arrested for a drug offense in 2015 and illegal possession of firearms and ammunition in 2019.
Darroca said that Octavio was released from jail after he posted bail for his two offenses.
Darroca said that Octavio was included on the drugs watchlist and considered a high value individual.
"Target na na siya nga daan galing ga untat-untat man siya baligya pero continuous aton monitoring and kagab-i naka transaction ta sa iya," Darroca said.
Meanwhile, police also seized 15 grams of suspected shabu worth P102,000 from two persons in a drug bust in Barangay 14, Victorias City last Monday.
Also confiscated from them were three improvised tooters, two improvised pen guns, and two lighters.