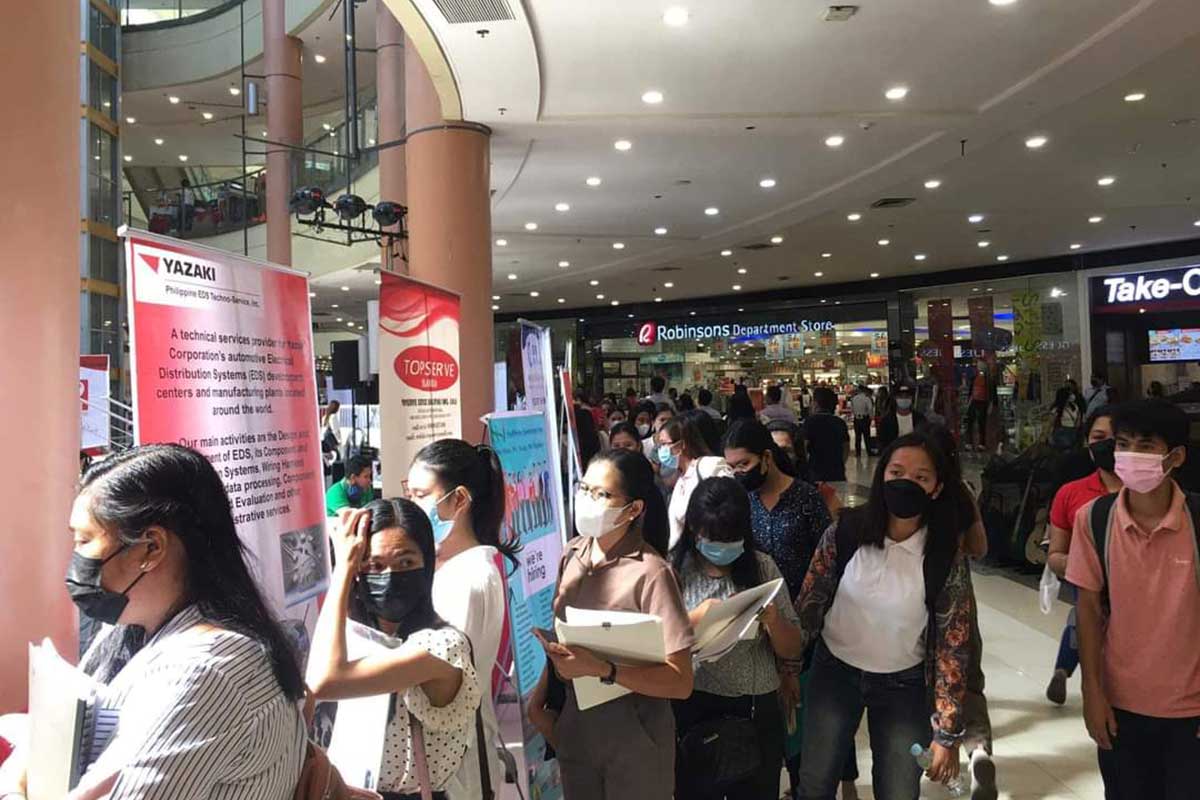 By John Noel E. Herrera
More than 4,000 job applicants were hired and qualified on the spot during the job fair organized by the Public Employment Service Office (PESO) as part of Iloilo City's 85th Charter Day celebration in Robinsons Place Iloilo on Friday, Aug 26, 2022.
Data from PESO – Iloilo City indicated that out of 5,179 interviewed applicants, a total of 4,472 job seekers were automatically hired and qualified, while an additional 2,194 were subjected to further interviews.
There were a total of 108 companies that participated in the job fair – 20 Business Process Outsourcing (BPO) firms, 76 local companies, and 12 overseas employment agencies.
Iloilo City Councilor and Chairman for Labor and Employment Alan Zaldivar thanked all the employers and job seekers who participated in the activity, which he described as "the biggest and most successful job fair."
"Sa aton nga mga employer, companies nga ari diri, dako gid ang amon pasalamat kung ngaa nga ari kamo diri kay nakahatag kamo sang maayo nga buwas-damlag sa aton nga mga fellow Ilonggos sa pag hire sa ila," he added.
(To our employers, and companies that are here, we are thankful that you are all here as you gave our fellow Ilonggos a better future by hiring them.)
One applicant also said that the job fair was a big help for someone like him, who had been unemployed for almost two years.
Another applicant also expressed that she took the opportunity of participating in the job fair because "as a fresh graduate from college, I really wanted to work immediately, and knowing how difficult it is today to find a job even if you are a college graduate, I need to get and take all the opportunities given to me."
Meanwhile, Zaldivar also said that the job fair indicates that the city is going back to normal as employment in the metro is booming and, "this is one of the campaigns of our city mayor when it comes to development. It is included in our WHEELS, which stand for Welfare, Health, Employment, Education, Livelihood, and Sustainability."
In a statement, Department of Labor and Employment (DOLE)-6 Regional Director Atty. Sixto T. Rodriguez Jr. also said that the job fair "manifests our strong commitment to strengthen the labor force, which is one of the pillars of the country's economy, and the activity is also a realization of the Charter Day's theme, forging stronger ties in the community. What we have gone through will bind us together and stronger."
PESO Manager Gabriel Felix Umadhay said that they aim to provide employment opportunities to Ilonggos especially those who lost their jobs due to Covid-19.
Recently, the Iloilo City government has partnered with the famous online job portal, JobStreet Philippines to bring more job opportunities to Ilonggos.
Under the partnership, JobStreet Philippines will provide an online platform and free marketing to magnify the employment services of the Iloilo City government and provide more access to Ilonggo job seekers. (DG)