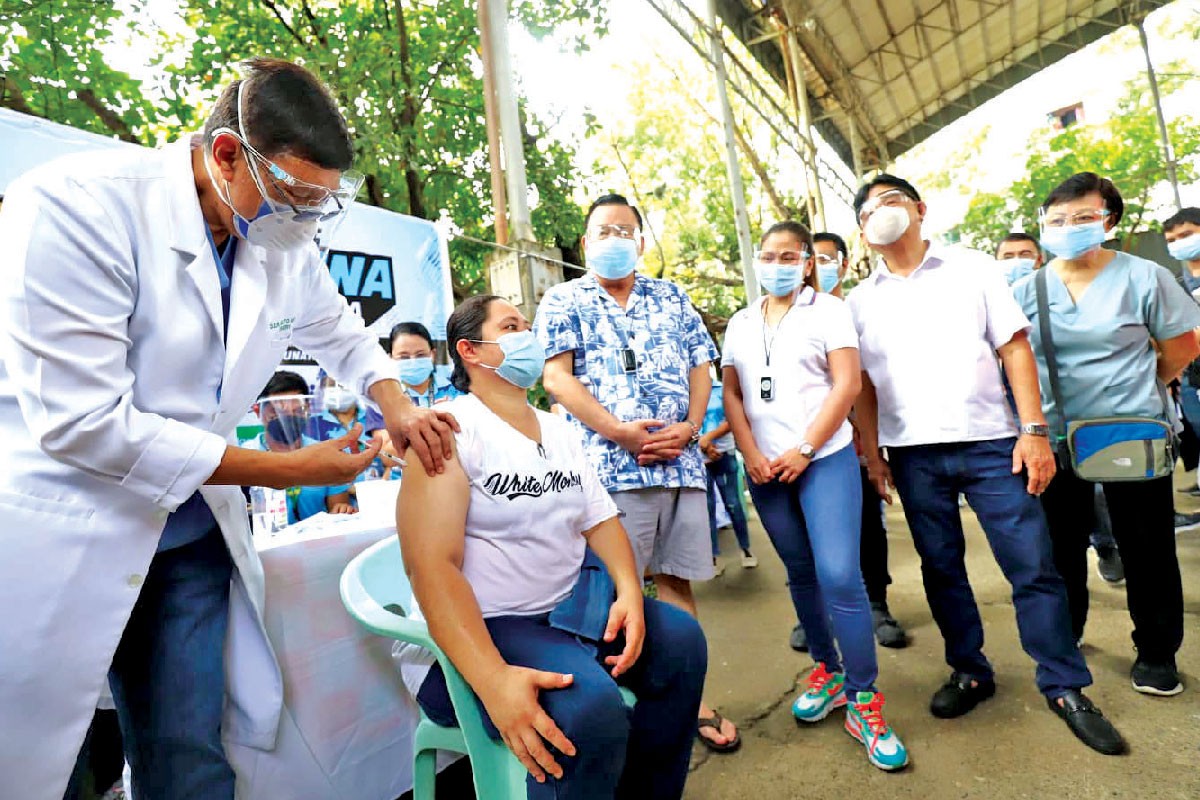 By Joseph B.A. Marzan
It has been almost a year since the coronavirus disease 2019 (COVID-19) pandemic forced everyone in Western Visayas into the confines of our homes.
But where are the city and province of Iloilo in the fight against COVID-19?
The lockdown in the country was first imposed by President Rodrigo Duterte on March 12, 2020 in Metro Manila to slow the spread of COVID-19. It was then expanded to entire Luzon under "Enhanced Community Quarantine" (ECQ) starting on March 16, 2020.
A State of Calamity was then declared by Duterte on March 17, 2020 via Presidential Proclamation No. 929.
In Western Visayas, Iloilo province was placed under community quarantine when Governor Arthur Defensor Jr. issued Executive Order No. 028-C, placing the entire province under GCQ.
The EO barred entry of visitors into the province except for government officials and employees and humanitarian workers, initially until only April 14, 2020, but was later elevated into an ECQ on March 19, 2020.
Other local governments followed suit with their CQ regimes, and as of this writing, the entire region is under MGCQ, the lowest CQ status.
Data from the Department of Health-Western Visayas Center for Health Development (DOH-WV CHD) as of March 14, 2021 indicated that Western Visayas has had a total of 25,832 confirmed COVID-19 cases, with 1,249 active cases, 23,818 recoveries, and 759 deaths.
From the same data, Iloilo City has 5,465 confirmed COVID-19 cases, (287 active cases, 5,010 recoveries, and 167 deaths).
Iloilo province has 4,806 COVID-19 cases, with 457 active cases, 4,223 recoveries, and 125 deaths.
Vaccination against COVID-19 had already started in the city and province of Iloilo, with the DOH-WV CHD recently deploying more than 20,000 doses of vaccines donated from overseas.
Despite the pandemic's effects, especially to the local economy, the city and the province made strides in responding to the pandemic which earned widespread acclaim.
Iloilo province provided support to the LGUs, with at least P1 million each for support for relief to the people and the implementation of their own CQs, as well as buying vegetables for local farmers to be part of its relief packages to indigents.
The city, meanwhile, was even heralded as a "Wakanda of the Philippines" for its highly-publicized response, which include community kitchens for food packs to barangays, sewing of cloth masks for frontliners and residents, and raising funds for continued support, among a few.
Daily Guardian asked Iloilo City Mayor Jerry Treñas and Iloilo Governor Arthur Defensor Jr. of their assessment of the fight against the pandemic so far.
Treñas said that the city was beginning to see a "light at the end of the tunnel" because of the recent developments regarding COVID-19 vaccines.
The city government received 610 doses of the AZD1222 vaccine from DOH-WV CHD, which it used to vaccinate its frontliners in their Temporary Treatment and Monitoring Facilities on Sunday.
They are also expecting in the middle of the year 600,000 doses of the same vaccine that the city ordered from the British-Swedish pharmaceutical company AstraZeneca in January 2021.
"I am happy that we are almost one year in, but at least now we are beginning to see the light at the end of the tunnel because of the vaccines. That is a big help for us here in the city," the mayor said in a phone interview.
Defensor did not give any clear assessment of the province's situation a year into the lockdowns because of the nature of the disease, but he said the province was "heading in the right direction".
The provincial government is currently implementing its Timing Exercises (TIMEX), which is a simulation of its vaccination activities, as part of its COVID-19 Vaccine Deployment and Immunization Plan 2021-2022 (COVAC Plan 21-22).
The province also expects 270,000 AZD1222 doses that they also ordered last January.
"When we look at it, we cannot put a number to it, because of the nature of the disease. This is a pandemic without a vaccine. When it comes to a pandemic, herd immunity is the goal if you want to be safe but it is not doable if you don't have any vaccine. But we are now at the stage, that we are on the right track when you look at our moves and our expectations," Defensor said.
The biggest challenge for both local governments are the implementation of the CQ status and their effects.
Treñas hopes that they can be able to "continue reviving Iloilo City's economy" sooner and is now looking at how they can help boost the economy in the city's communities.
Defensor emphasized on the implementation of the lockdowns, saying that the challenge was on how they were able to implement them in a longer period of time.
"It's challenging because when a community quarantine takes longer, it gets harder to implement, because by nature, community quarantines are short in measure, but same as the disease we are facing now, it does not go away quickly. It is passing through, and we are not at the stage where we have perfected a solution where we can get herd immunity," he said.
Both local governments are now preparing their eventual deployment of COVID-19 vaccines, but both local chief executives are saying that until then, the people need to continue observing health protocols such as frequent washing of hands, practicing of social distancing, and wearing of face masks and face shields.
DOH
The Department of Health-Western Visayas Center for Health Development gave itself a pat on the back by celebrating the helping spirit and togetherness of the region in combatting the coronavirus disease 2019 (COVID-19) as related lockdowns in the region are reaching toward a one-year anniversary.
In a press conference on Saturday, DOH-WV CHD Infectious Diseases Cluster Unit Head Dr. Mary Jane Juanico noted their achievement in empowering local government units (LGUs) in their own handling of the pandemic.
She said that there was "great improvement" in the region's healthcare system, while also citing difficulties such as pockets of increase in the number of cases as well as Overseas Filipino Workers (OFWs) who may have contracted COVID-19.
She also touted the "Bayanihan spirit" within the region between the public and local officials as key to lowering COVID-19 cases.
"I think we were really able to empower our local governments in managing the operations for COVID-19. Most of them instituted protocols on how they can really contain our COVID-19 cases. I think the Bayanihan spirit within Western Visayas is really evident because cases are gradually going down and each local government unit, by the leads of their local chief executives, are finding ways to really contain our COVID-19 cases," Juanico said in a press conference on Saturday.
According to Juanico, DOH-WV CHD has already distributed 18,580 first doses of the Coronavac vaccine made by the Chinese biotech firm Sinovac.
The first batch of Sinovac vaccines arrived in the region on March 5, both in City and Negros Occidental, with other batches arriving in Iloilo throughout the previous week.
They had also distributed 10,000 doses of the AZD1222 vaccines, which had arrived last Saturday, March 13.
The Sinovac vaccines also started being administered on March 5, and the AstraZeneca vaccines on March 13, with now a total of 9,945 first doses being administered as of March 13.
The second doses of the Sinovac vaccine may be administered starting on April 2, or 28 days after the first dose, and the AstraZeneca second doses may be administered 8 weeks after the first dose.