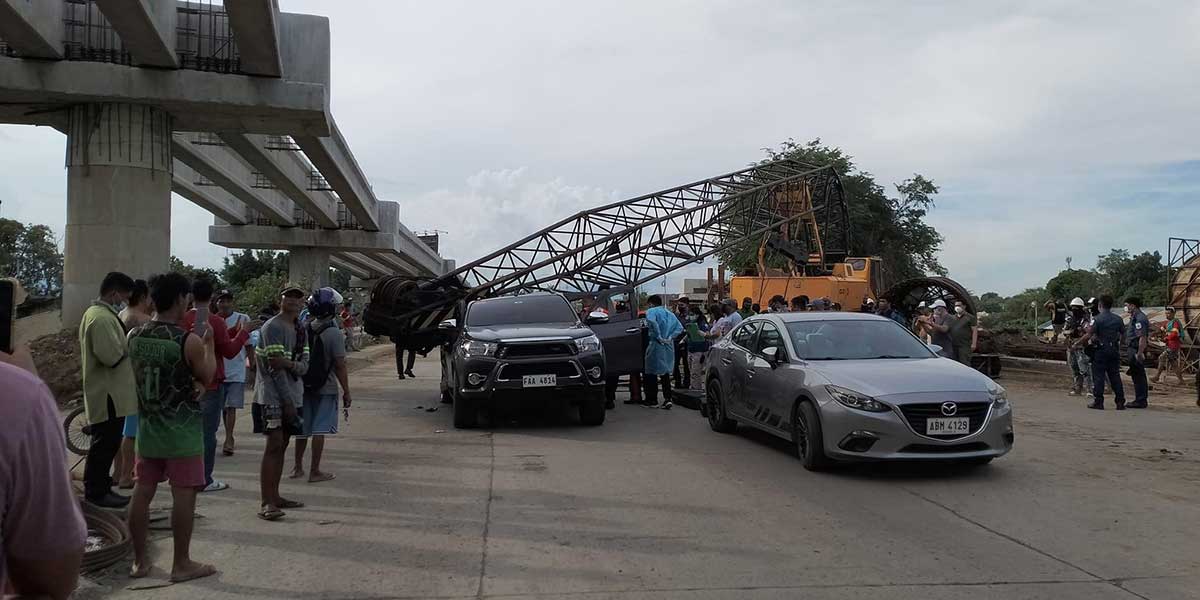 By Jennifer P. Rendon
A 20-year-old woman was hurt after a crane boom fell on two passing vehicles – a sedan and a pick-up truck – by the ongoing flyover project at Barangay Aganan, Pavia, Iloilo afternoon of July 19, 2022.
While the sedan only incurred minor damages, a Toyota Hi-Lux pick-up truck's top was wrecked.
Nonong Celeste, the pick-up truck driver, claimed that he was with his wife and their child when the incident happened. The family came from Calinog, Iloilo and was on their way to Pavia when the mishap occurred.
The couple was unscathed, but their 20-year-old daughter was wounded and unconscious.
Major Rolando Araño, Pavia police chief, said emergency responders rushed the victim to Iloilo Mission Hospital in Jaro, Iloilo City.
The crane operator, Jovenelly Carreon, 31, of San Joaquin, Iloilo, is now in police custody.
Investigation showed that the crane was lifting a cage bar when a loud thud was heard all over.
The operator claimed that the hydraulic hose burst, causing the boom to disengage.
"There was apparently a mechanical problem with the heavy equipment," Araño said.
He said the portion of the road where the construction was ongoing was closed but the long crane arm smashed on the two cars.
"Bangod sa kalaba sang boom, naabot man gihapon ang duha ka salakyan," Araño said.
It was gathered that the construction of the flyover is being undertaken by the International Builders Corp, the same company that is also constructing another flyover in Barangay Ungka.
In the past, there were some informal complaints against the construction firm such as lack of warning devices and safety protocols for workers and motorists.
At some instances, workers initiate road closure without warning or prior notices.
Araño said an emergency meeting will be conducted today, July 20, to discuss safety concerns at the project site.