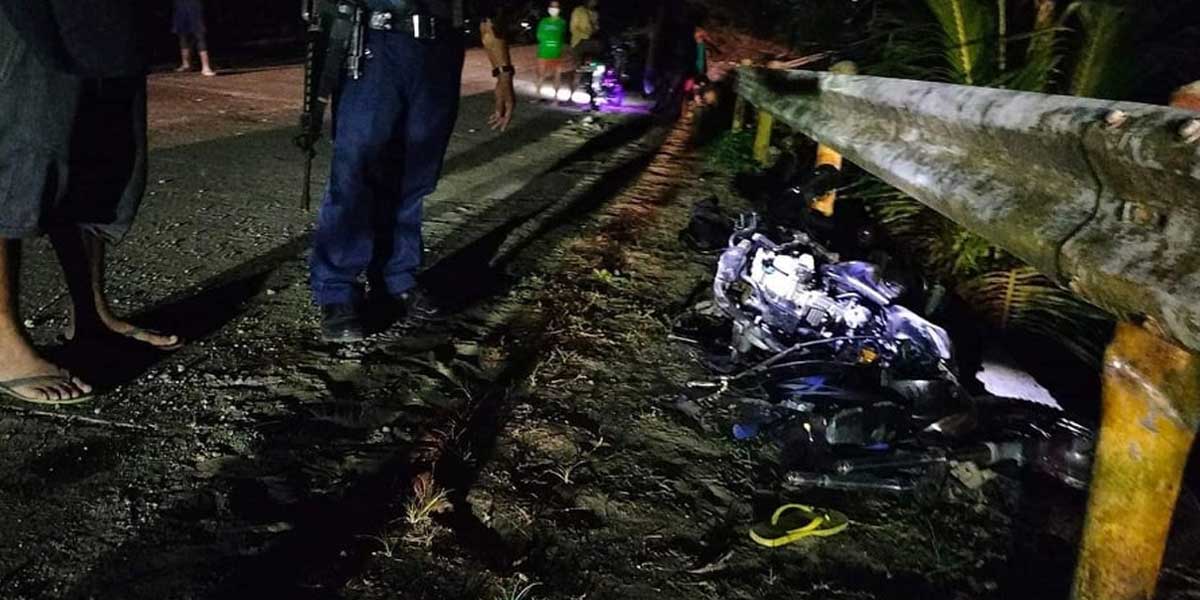 By Jennifer P. Rendon
A collision between two motorcycles claimed the life of a 24-year-old man and left four other persons wounded.
The vehicular incident happened 8 p.m. of Feb 10, 2022 at Barangay Agta, Leon, Iloilo.
Police identified the fatality as Jay-ar Agnote, 24, a resident of Barangay Dorog, Leon. He was declared dead on arrival at the Aleosan District Hospital in Alimodian town.
Lieutenant Melchior Tolentino, Leon police chief, said Agnote's right leg was severely injured apart from head wounds.
Also wounded were Agnote's back riders – his brother Jerald Agnote, 26, also a resident of Durog village, and their friend, Rea Cagbay of Barangay Tunguan, Leon.
Jerold suffered injuries on his right leg, mouth, and right eyebrow. He was taken to Western Visayas Medical Center in Iloilo City for treatment.
On the other hand, Cagbay suffered a head injury and abrasions on both legs.
Tolentino said that the suspect-rider, 17-year-Lance (not his real name), also a resident of Barangay Dorog was also wounded.
His back rider, Jerold Tagacay, also suffered minor injuries.
It appeared that all those involved are friends and they came from their pal's house in Barangay Tunguan and were on their way to Dorog.
As they were navigating a portion of Barangay Agta, Lance overtook Jay-ar and suddenly drove back to his lane. But he hit the left side of Jay-ar's motorcycle which led to the accident.
Most of them were thrown off their motorcycles and landed on the road's steel railings.
Tolentino said it appeared that most, if not all of them, were drunk when the incident happened.
All of them were also not wearing protective helmets during the incident.
Tolentino said the victims' families might not pursue charges against the minor suspect.
A month ago, two riders were also killed after their motorcycles collided with each other in Leon, Iloilo.
The fatalities were identified as Vincent Cabanalan, 16, of Barangay, Dusacan, Leon, and Ronel Calibayan, 30, of Barangay Bulwang, Leon.
Both victims were driving a Rusi motorcycle, sans a driver's license.