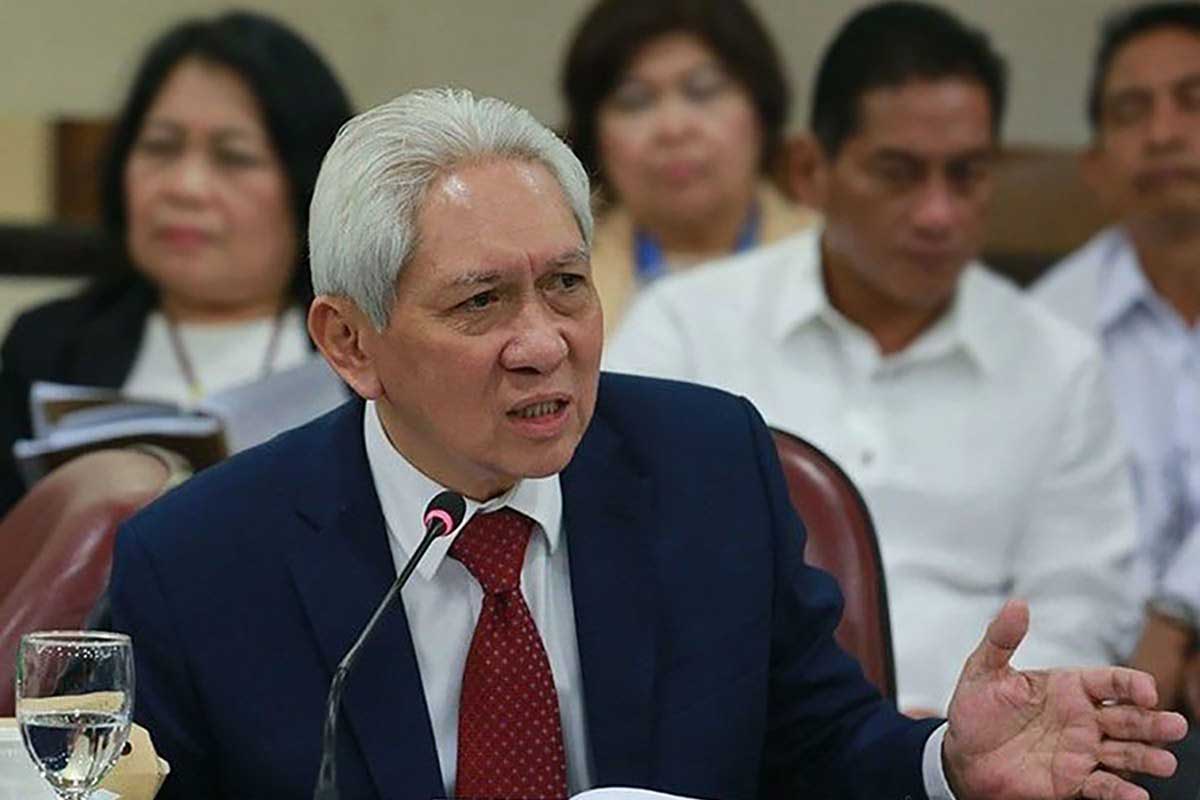 By Jennifer P. Rendon 
Ombudsman Samuel Martires challenged two members of the Philippine National Police (PNP) in Iloilo to prove that there are bad eggs in the anti-corruption office who do the biddings of politicians.
Martires was referring to a press conference called by Police Lieutenant Colonel Jonathan Pinuela Thursday last week at the Iloilo Police Provincial Office (IPPO) headquarters in Camp Sumagaysay in Sta. Barbara, Iloilo.
Pinuela was joined by Captain Charlie Sustento, who is currently assigned at the Police Regional Office 6 (PRO-6) headquarters.
Both Pinuela and Sustento were punished by the Ombudsman for separate administrative cases.
Pinuela held the press conference to express his dismay over the decision of the Office of the Ombudsman finding him guilty of conduct prejudicial to the best interest of the service. He was ordered suspended for six months without pay for accosting a civilian sans legal ground.
After Pinuela read his prepared statement and answered queries from the media, Sustento claimed that someone in the Ombudsman asked money so he can file his motion for reconsideration. He also accused the Ombudsman of corruption and even hurled expletives at the agency.
In 2017, Sustento and three other police officers were found guilty of grave misconduct and conduct unbecoming of a police officer for beating and pointing a gun at a civilian.
The decision dated June 28, 2017 was penned and signed by Emmanuel Ringpis, Jr., Graft Investigation and Prosecution Officer II. They were ordered dismissed from the service, but a decision by the Court of Appeals modified the penalty to one rank demotion.
In last week's press conference, Sustento claimed someone from the Office of the Ombudsman asked for P1 million when he filed for his motion for reconsideration.
In the same interview, Pinuela said that former Iloilo 4th district congressman Rep. Ferjenel Biron influenced the case filed against him.
While Pinuela remained calm, Sustento also hurled invectives at Biron.
Amid the accusations and allegation hurled against their office, Martires maintained his composure in an interview with Bombo Radyo-Iloilo Saturday evening.
Martires claimed that the case against Sustento was decided before his stint as Ombudsman.
In the case of Pinuela, Martires said it was the Office of the Ombudsman-Military and Other Law Enforcement Offices (MOLEO) that decided on the officer's case, not the Ombudsman-Luzon
"I just wish that sana ay binasa ni Police Lieutenant Colonel Pinuela ng maigi, nag kunsulta s'ya sa abogado and nagtanong sya sana kung bakit ang nagdesisyon ng kanyang kaso ay yung MOLEO. Hindi Luzon ang nag desisyon ng kanyang kaso," he added.
The decision dated August 23, 2021 was penned by Stephanie B. Tabladillo-Yanson, Graft Investigation and Prosecution Officer of Ombudsman-MOLEO, which has jurisdiction over members of the military, police, and other law enforcement offices.
"Police Officer Pinuela should know that as a police officer that all cases of military officers, police officers, members of the BJMP, the National Bureau of Investigation, all those that are involved in law enforcement, ang nag-iimbestiga nun, ang humahawak nun ay ang sectoral office na tinatawag natin na MOLEO. Sinasabi nya bakit ang nag desisyon ay Luzon, that's not true," Martires said.
Martires also tackled the issue raised by the two police officers that a local politician, who has a connection with the Office of the Ombudsman, was behind the "harassment" cases against them.
The Ombudsman narrated that since the pandemic started March 2020 until now, no one is allowed to visit at the Office of the Ombudsman.
"Walang bisita. Walang pwedeng mag-deliver kahit na 'yung mga Shopee, Lazada, o kung anumang delivery," he said.
Those who want to file complaint would be allowed at the records and receiving sections. For persons who would file their clearances, the Ombudsman has a drop box outside the offices where they could fill their applications.
"So, the protocol since March 2020, the public is not allowed to enter the premises of the Office of the Ombudsman. Even the employees, mayroong schedule kung sino ang papasok. Paano naglakad ang sinasabi nilang pulitiko?" Martires said.
A former Supreme Court justice, Martires said that the only politician he knew from Iloilo is Senator Franklin Drilon.
"I don't even know your city mayor. I've been to Iloilo in 2018 and 2019 for several times, I don't know know your city mayor. Wala akong kilalang congressman sa Iloilo. So, sino yung naglalakad? Panahon ko na 'yung 2020 na kaso ni Pinuela. Sino ang naglakad sa akin? Sa akin ba naglakad?" he said.
Given that the accusations are sweeping, "they owe the public to name names kung sino ang kinausap ng pulitiko," he said.
Martires said he could even show his phone and let someone check if there is any name of the politician registered on his contact list.
"I can't talk about the case of Sustento because it was decided prior to my assumption of office as Ombudsman. Pero wala akong alam na maglalakad ng kaso kasi mula mg budget hearing ng 2020, virtual na. Naka Zoom ako. At pati mga Congressmen, naka zoom. So, hindi ko alam ang sinasabi na may naglakad. Hindi ko alam," he said.
Again, Martires asked the two police officers to name names.
"Napakinggan ko ang interview kay Sustento, I'll be honest with you, that is unfair. We don't like what he said. That's why we're also doing an investigation of what he has been saying. Hindi pa-pwede 'yung ganoon eh. Magsalita ka. Hindi pu-pwede 'yung ganoon eh. Pagpasensyahan mo na ako pero hindi maganda 'yun," he said.
If they wouldn't name names, it's like allowing people to assume or guess, which makes all employees of the Office of the Ombudsman vulnerable, he added.
"That's unfair. If they find the decision unfair, I find it also unfair to the officers who signed the decision. It's unfair to accuse without naming names. Let them name names."
And as a promise, "I would not bat an eyelash, any employee or officers in the Ombudsman who is involved in any anomaly, ipapaalis ko sa serbisyo."
Martires said he is doing everything he could to serve, and the corrupt accusations are unfair.
"Hindi ko gusto 'yun. That's why, I consented to this interview for them to know. Name names. I respect them. They're good police officers. They should also respect the people who are getting involved in their accusations na hindi naman dapat ma involve," he said.
Martires said that people should not make generalizations in their accusations.
"Pangako ko sa kanila at sa mga kaibigan ko dyan sa Iloilo, tatanggalin ko sa serbisyo kung sino ang kasabwat ng Congressman. Sabihin lang nila kung sino," he vowed.
Martires said that words are empty if they would not point to the Ombudsman employee who allegedly connived with a politician.
He also assured that despite what happened, he wouldn't take it against Pinuela and Sustento.
"I'd like to assure you and the police officers that vengeance and vindictiveness ay wala sa dugo na tumatakbo sa aking ugat. Hindi ko ugali. Maaring magalit o magtampo ako sa'yo but I will not get back at you. Bahala ka sa buhay mo. May konsensya ka naman di ba? Why should I take action against you?" he said.
"Sabihin niyo lang yung humihingi ng pera. Sino Ang kumausap at kinausap. Ganoon lang. Para maliwanag sa ating lahat. Kasi may mga tao diyan na naka prima diyan sa desisyon na matitinong tao. All their lives, they've been in government serving the people na nagtitiis hanggang ngayon. Umaasenso lang dahil sa tumataas ang sweldo. Kung 'yan ay madadamay pa, kawawa naman 'di ba."
He again challenged them to name names. "Pangalanan nila sino ang mga taong yun. Ang mga Ombudsman corrupt. Ang mga taga Ombdusman pera-pera lang. 'Yan Ang sinasabi niyo diyan sa Iloilo eh."
He then pointed out that that there are people in the government who serve well.
"I just would like the people to know also hindi lahat ng nasa gobyerno ay nabibili ng pera. Wala namang gamit ang pera ngayon pandemic eh. Saan ka pupunta kahit maraming pera? Hindi lahat ng kawani sa gobyerno nakukuha sa pera," he said.
Martires said he needed Sustento and Pinuela's help to substantiate their allegations and accusations.
"Makakaasa ang dalawang pulis na yan ng patuloy naming serbisyo. Makakaasa sila na ang kaso nila ay titingnan ng maigi," he said.