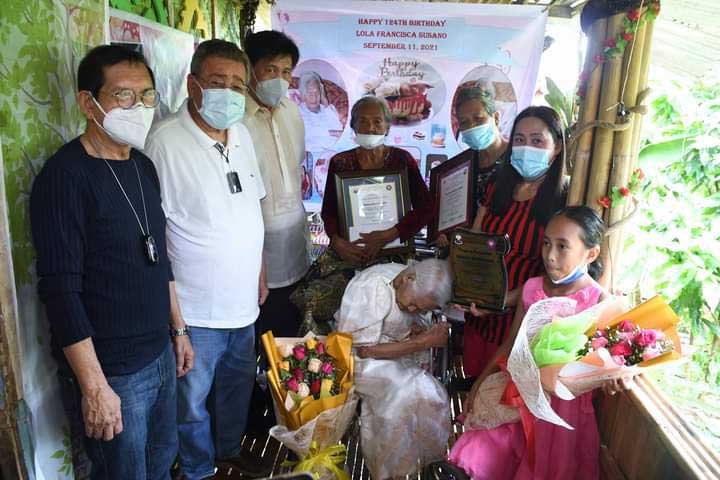 By Glazyl Y. Masculino
BACOLOD City – Police on Sept. 11, 2021 led the celebration of the 124th birthday of Francisca Susano, who is said to be the oldest living Negrense and the oldest living Filipino based in Negros Occidental.
The Kabankalan City Police Station led by its deputy chief, Lt. Dennis Melgarejo, together with the 604th Company, Regional Mobile Force Battalion (RMFB)-6 visited Susano at their house in Barangay Oringao and surprised her with a cake.
The cops also greeted her with a birthday song.
Born in 1897, Susano got married at 14 and had 14 children.
What is also amazing about Susano is that one of her children is already a centenarian at age 101.
Melgarejo said the family was happy as the police celebrate her birthday every year.
Meanwhile, Commissioner Franklin Quijano of the National Commission on Senior Citizens honored Susano and personally delivered gifts for her such as bouquet of flowers, plaque of recognition, P10,000 cash and a managers check for P24,000 to celebrate her birthday.
Mayor Pedro Zayco and Vice Mayor Raul Rivera also gave her a cake, medical supplies, vitamins and groceries.
The Provincial Health Office also gave wheelchairs, vitamins, face shields, dusters, and blankets for the birthday celebrant from the Department of Health headed by Dr. Elizabeth Altamira and her team.
Commissioner Jorge Largado of the Commission on Indigenous Peoples was also present as Susano is a member of the Indigenous People community at her village.