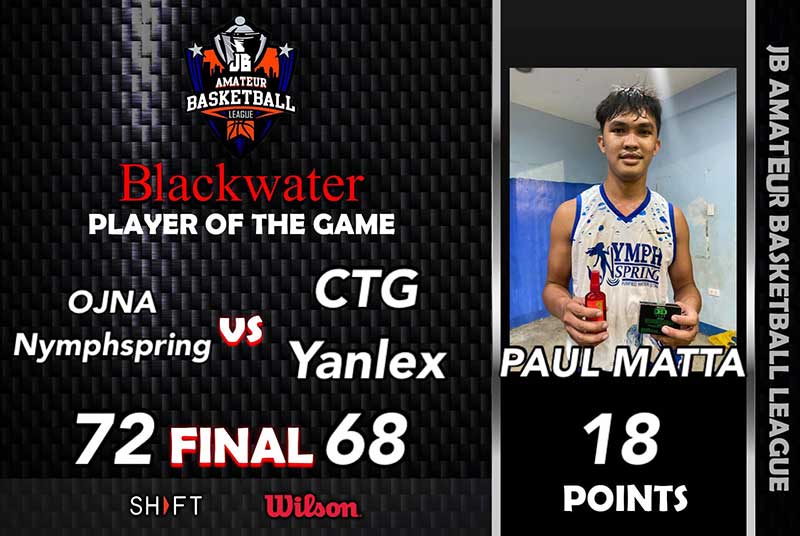 By Leobert Julian A. de la Peña
The OJNA Nymphspring and the TEJ-RC Stoneford squad clinched their respective victories in the ongoing 2022 JB Amateur Basketball League (JB ABL) Season II.
Going up against the star-studded CTG-Yanlex team, the youngsters of OJNA out-ran them nabbed the stunning victory, 72-68, to grab their first win of the season.
It was the veteran-filled CTG team who dictated the pace of the game as their backcourt duo of Clint Mesias and Felino Arenal couldn't be stopped and just schooled the younger guards of team OJNA.
Aside from Mesias and Arenal, the towering Erjohn Hermogino and Joshua Maquiling owned the paint early on, imposing their will against the thin OJNA frontcourt.
However, OJNA suddenly caught fire and matched CTG's defensive intensity that turned things around led by Paul Matta who was also awarded as the Best Player of the game.
Matta's 18-point offensive explosion was responsible for their huge fourth quarter comeback when they trailed by as much as 10 points.
Kobe Bachoco and JJ Guanzon then sank timely baskets in the final canto that gave their team a four-point cushion in the last two minutes of the game.
With 21 seconds left and OJNA gaining possession, CTG committed a mental mistake when they didn't foul as the end of regulation buzzer sounded.
Meanwhile, the boys of coach Rodel Camacho bounced back huge and crushed Team Medics, 88-61, in the last game of the night.
From start to finish, team TEJ just dominated the game through their signature full-court pressure that awarded them with tons of points from turnovers.
Franc Tono was the star of the show and chipped in 19 points on his way for the Best Player of the Game.