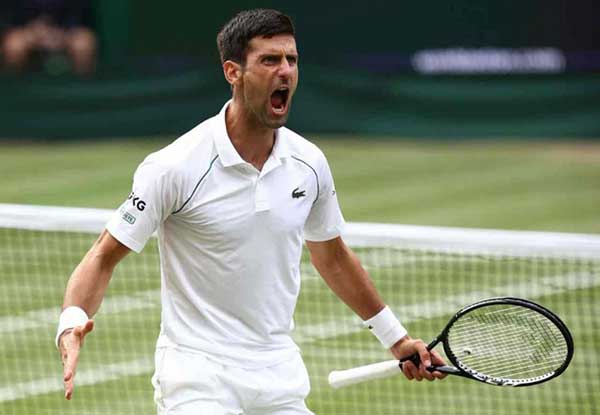 By Leobert Julian A. de la Peña
Serbian lawn tennis superstar Novak Djokovic is back in the Wimbledon semifinals.
It wasn't an easy path advancing to the men's top 4 in the famous grass court in London, England after dispatching the no. 10 ranked male tennis player Jannik Sinner in five grueling sets- 5.7, 2.6, 6.3, 6.2, 6.2- during their action-packed quarterfinal duel.
Tensions rose in the center court venue as the world no. 1 player once again faced early adversity after giving up the first two sets and was on the verge of getting swept by the younger Sinner who outplayed Djokovic for 40-straight minutes.
The Italian youngster went deep into his bag of offensive artillery and displayed flawless tennis in the first two sets and capped off his courageous run by breaking Djokovic's service possessions several times.
However, Sinner was denied of a sweep after the more experienced Djokovic slowly chipped away and turned the tables with a much-improved baseline game while taking care of his service possessions in the next three sets.
After hitting his patent down-the-line backhand that gave him a 5-3 lead in the third set, Djokovic never looked back and continued his relentless attack against Sinner.
Aside from his offensive game's resurgence, Djokovic's minimized unforced errors also put him back into the game and was extra careful in holding his service possessions which Sinner broke several times in the first two sets.
Sinner tried to retaliate in the last set after scoring two easy smashes while attacking the net but Djokovic's court mastery negated any sort of comeback to seal the match with a 6-2 fifth set win.
Awaiting Djokovic in the semifinal round is British no. 9 ranked tennis player Cameron Norrie who took down David Goffin during the quarterfinals and Tommy Paul in the Round of 16.