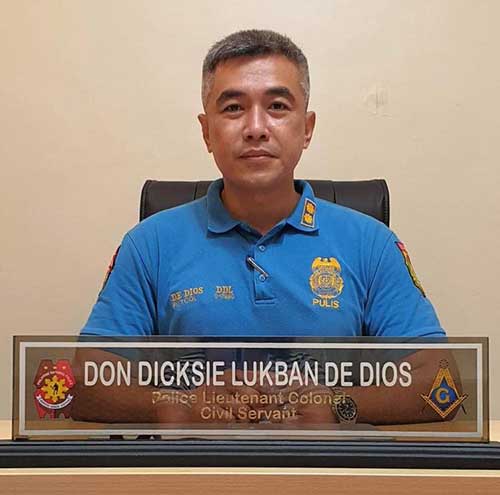 By Jennifer P. Rendon
The Police Regional Office 6 (PRO-6) has absolved the police station chief of Malay, Aklan of allegations that he was mulcting businessmen in Boracay Island.
An investigation conducted by PRO-6 found that the complaint against Lieutenant Colonel Don Dicksie de Dios "was dropped and closed for lack of factual basis to pursue the case without prejudice to the filing of same case if confronted by controverting evidence in the future."
The decision was contained in a letter dated Jan. 18, 2022 signed by Brigadier General Flynn Dongbo, Western Visayas police chief, and addressed to Undersecretary for Peace and Order Bernardo Florece Jr. of the Department of the Interior and Local Government (DILG).
The decision was also furnished to DILG Undersecretary for Operations Epimaco Densing III, PNP chief General Dionardo Carlos, and PNP chief directorial staff Lieutenant General Rhodel Sermonia.
The complaint against de Dios stemmed from a letter sent by a "Boracay Concerned Citizen".
The letter was received by Dongbo's office Dec. 2, 2021. However, it appeared that the letter was also sent to the DILG, which referred the case to the Office of the Chief PNP. The latter later directed Dongbo to investigate the allegations.
Dongbo then directed the Regional Investigation and Detective Management Division (RIDMD) to conduct a probe to verify the allegations.
THE ACCUSATIONS
Part of the letter told Dongbo, "por delicadeza, please instruct police chief Col. de Dios not to treat businessmen in Boracay like milking cows. His family has been staying at La Carmela FOR FREE since March. He requested Kuya Boy So for discount pero noong sinabing libre, umabuso naman."
Boy So is one the prominent businessmen in Boracay Island.
The complainant alleged that it has almost been a year since de Dios stayed in the hotel.
"Just imagine when Boracay will open full blast. Baka buong angkan na po e dadalhin at libre! Mabait po si Kuya Boy pero dapat siguro huwag naman abusuhin at puro na lang si Chief at misis nyang mas matapang pa sa kanya ang tsismis ng mga taga Carmela."
The complainant added that even the salon in front of the police station is "complaining because they have been giving free haircut to his whole family for free for almost one year."
"Kung kelan po pandemya na konti lang costumer, doon pa sila sinagad nang libre," the letter complaint added.
The "Boracay Concerned Citizen" claimed that Henry Chuseuy of the Hennan Hotels "is also very angry because his employees are always fined P2,500 each for violation of curfew when actually, Mayor Bautista already clarified that employees going home at night are exempted from the curfew. Hindi naman po kasi mapagbigyan ni Sir Chuseuy yung pareho na ginawa ni sir Chief kay Boy So tapos 60% pala ng fine, sa PNP napupunta. Pahirap sa mga tao na minimum wage."
The allegations did not stop there. The complainant claimed that "without permission or courtesy man lang, he is boarding the private speedboat of private resorts. We have clients who paid for privacy then suddenly gugulatin nya na lang yung crew. Boat captain tuloy mapapagalitan dahil sa bad reviews ng costumer."
Businessmen in the island are already hiding from de Dios because of his alleged incessant asking for free accommodations and meals for his family, "as well as for monetary donation for his never-ending beautification projects."
The complainant pointed to the owner of Andok's in the island who allegedly used to donate rice to the police station, but it was cut off because of the pandemic.
When former PNP chief General Guillermo Eleazar visited the island, de Dios allegedly demanded that the brand-new private vehicle of Andok's be used for Eleazar's visit. He didn't even provide gasoline, the complaint added.
The local government unit allegedly used to donate 15 sacks of rice but de Dios had it converted to cash. But the policemen allegedly claimed they did not receive any meal allowance.
NO GMRC?
The complainant also called out de Dios for allegedly not observing good manners and right conduct or GMRC.
"He has many occasions publicly shamed officials of the municipality. The MDRRMO (Municipal Disaster Risk Reduction and Management Office) Chief Catherine Fulgencio naiyak na lang sa galit at hiya because of his habit of publicly shaming LGU officials during meetings. Other officials that he scolded in public is the Tourism Chief Sir Felix de los Santos. He also went too far to recommend the removal of the municipal social worker na gusto sana siyang kasuhan ng unjust vexation"
Because of de Dios' alleged bad manners, police officers were deprived of free transportation at the jetty port.
The complainant also claimed that de Dios has been name-dropping Lt. General Sermonia.
"Nakakatakot po siya sa amin na Malaynon at Aklanon. Hindi po siya nababagay dito. We are praying for your proper decision," it added.
NO FACTUAL BASIS
But the investigation by the RIDMD did not find merit in the complainant's allegations.
Based on evidence gathered, the RIDMD concluded that de Dios "has no irregularities in the performance of duty or abuse of authority as alleged in the anonymous complaint. In fact, he only performed his duties and responsibilities in providing security for maintenance of peace and order in the mainland Malay and Boracay Island."
Further, "the complaint was only made to harass and discredit the reputation of a good police officer who is performing his duties and responsibilities."
The probe result claimed that the issue raised against de Dios could have been simply "inspired by motive and personal interest."
As far as the investigation body is concerned, de Dios "enjoys the trust and confidence of the people of Malay, as well as the personnel assigned at Malay PNP."
It also noted that local officials of Malay have commanded and congratulated him for exemplary performance and accomplishments.
The decision further reads, "mere allegations without any evidence in support thereof remains an allegation and such complaint containing the allegation does not have any legal basis to hold water in any judicial or quasi-judicial proceedings.  Charges based on mere suspicion and speculations likewise cannot be given credence."
DEMOLITION JOB
When asked about the allegations against him, de Dios labeled it as a demolition job to destroy his credibility.
He did not discuss the merit of the case and the investigation result claiming that it might be self-serving.
When pressed on who could have been behind the complaint, he referred to another policeman, whom he did not name.
"Ang pulis na ito kaibigan ng iilang negosyante nahihigpitan sa pamamalakad. Nagagamit ang police to destroy me," he said.
De Dios also denied that his wife has been staying in La Carmela for free. He claimed they were able to present receipts that they are paying as long-term occupants.
As to the free services at the salon, "that's not true. Tingin ko nga 'yung nag ko-complain ay nakakasama ko pa sa salon. Minsan nililibre ko pa. Bakit naman ako hindi magbabayad sa gupit na P80 lang?" he said.
Good thing, de Dios added, that they have been paying in GCash when availing the services of the salon.
"We have proof that we are paying."
De Dios said he did everything to improve the services of the police in the island, but certain sectors want the law enforcers to be at their behest.
"May mga hindi tayo napagbibigyan. Kasi alam ko namon na may mga negosyante na iba na once na nagbigay, gustong hawakan ka na sa leeg. Hindi pupwede 'yun."
In the case of Henann Resorts, he said that he called the attention of one of the managers for violating the province's executive order.
"As commanders, we come and go. I can assure that I have delivered honest services to Boracay Island," he said.