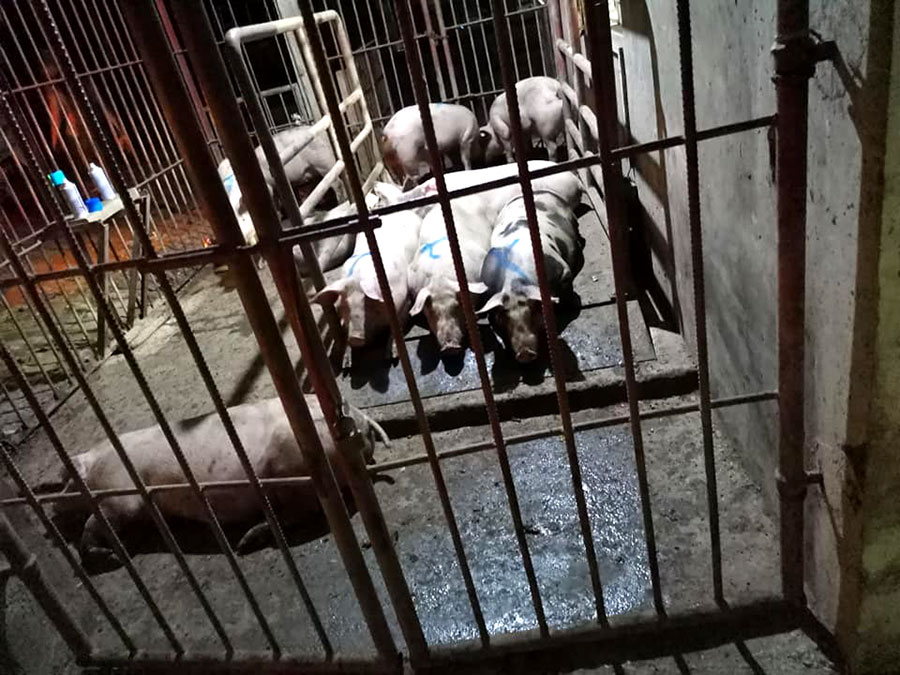 By Joseph B.A. Marzan
An official of the Department of Agriculture-Region 6 (DA-6) assured the region that
Western Visayas remains free from the industry-crippling African Swine Fever (ASF).
The ASF is a severe viral disease affecting domestic and wild pigs which has been around since the 1920s, known to be originating from Kenya via warthogs and other wild pigs.
The transport of wild pigs to Europe and other parts of the world by colonizing traders was one of the reasons for its continued spread.
It is characterized in pigs by fever, loss of appetite, weakened body systems, and appearance of dark rashes and bruises in several prominent spots of their skins, all of these showing within two to four days.
Pigs that catch ASF can die in as fast as five days, with one piggery in Luzon reporting losing all its animals within one week.
Its notoriety is well-noted among agriculture and livestock experts. It hits the healthiest pigs and is strong against extreme temperatures and even disinfectants.
So far, there has been no vaccine developed against ASF due to its fast-mutating characteristics.
This is only present in pigs, with no known infections to humans, and is different from the Influenza A virus subtype AH1N1, which was also called the "swine flu".
ASF in the country was first reported in Rizal province, severely spreading towards the rest of Luzon, and the first case in Mindanao was reported in the Davao region, before also spreading the mainland.
Most recently, the latest ASF outbreak was reported in the town Abuyog, Leyte in Eastern Visayas.
Local leaders in the region have already ordered blocking the entry of pigs from other areas, unless they can present a certification of disinfection from their port of origin.
According to Dr. Jonic Natividad chief of the DA-6's regulatory division and its ASF Team Leader, Western Visayas remains ASF-free since the disease broke out in the country in 2009.
While pork is not a main source of income in the region, it is slowly rising to become a billion-dollar industry in recent times.
Natividad told Daily Guardian on Air on Friday that from PHP22-billion last year, sales from pigs within and outside the region had been rising due to local investments on feed mills and veterinary medicines, as well as the ASF's impact on Luzon and Mindanao piggeries.
While there are areas in Luzon which have not been hit by the ASF, there has been a shortage of supply of pork in Metro Manila, and neighboring areas are unable to fill in the shortage.
Natividad said that if the ASF hits Western Visayas, it would also drastically affect trade and labor sectors.
"We saw the outflow of pigs, the outgoing shipments. Imagine, just this January, we sent 20,000 heads to Luzon. This is as of the January 25 report by Animal Quarantine. Right now, there are still shipments, so it will still rise. It means that production increased, and in the backyards, because of the awareness of the disease, their surroundings got better, and production also rose. But the price has been very promising," Natividad said.
He reminded hog-raisers to regularly sanitize their pens and surroundings, saying that these must be squeaky clean first before disinfecting.
The standard disinfectants against ASF are quaternary ammonium compounds, which are also being used against another livestock-related illness, the Food and Mouth Disease (FMD).
"The treatment for this is clean, clean, clean first, then disinfect. It has been tested all throughout the world, that if you don't clean first before disinfecting, it would be useless because the virus is still hiding behind the dirt. So you have to really clean first, then that's the time you use disinfectant and let it rest for 30 minutes to 1 hour so it can be absorbed," Natividad said.
He added that visitors who wish to buy from piggeries, particularly from backyard raisers, should not be allowed to enter the pen areas as they might carry the virus with them.
He also advised dealers to be cautious buying from backyard raisers due to lack of biosecurity measures.
"[Hog raisers] should also stop people from coming into their place. Within a half-kilometer radius, if someone enters and (brings in the virus), the pigs need to be killed. That is the protocol. People are the number one source of the [ASF] in Luzon and Mindanao. Because of the rush in buying hogs at this time, we are [also] continuously reminding traders and dealers not to just enter the backyards, because there are some which don't have good biosecurity measures. There are some who promise good stock, and it actually came from another piggery. Don't buy from just anywhere," he said.
Natividad also reminded hog raisers to report their pigs' deaths to their municipal agriculturist even if the cause is not related to ASF.
He also cautioned consumers buying pork products online that they must check for certifications from the Food and Drug Administration (FDA) and the National Meat Inspection Service (NMIS).
"Right now, there is a rampant sale of online products. To our consumers, before you buy from online sellers, you have to see to it where the meat for their ham or tocino came from. So you have to ask for legit certification from the FDA, since they are processed meat, and if it is fresh meat, they have to coordinate with the NMIS," he said.
He said that the DA-6 is closely monitoring sales of pork and pork products in physical and online markets.