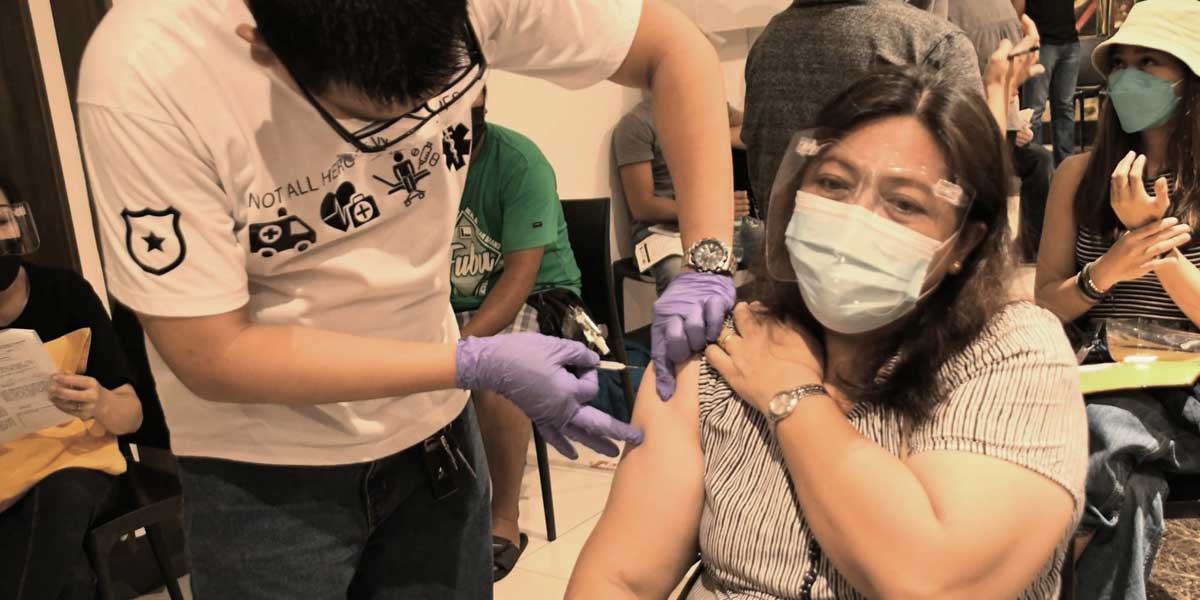 BACOLOD City – A night-time public vaccination drive by the Bacolod City government started 8 p.m. Monday at the second floor of the Jollibee branch along Gatuslao-Burgos Streets.
Mayor Evelio Leonardia said Covid jabs will be administered by the medical team of the Emergency Operations Center-Task Force and the City Health Office to qualified residents, who have pre-registered online.
The 4 p.m. launch coincided with the commemoration of the National Heroes Day.
Also launched Monday on Monday was the third mobile vaccination unit or the Vax-i, courtesy of Merzci, City Administrator Em Legaspi-Ang, concurrent EOC-TF executive director and Covid-19 Vaccination Council coordinator.
Two buses, owned by the city government and  Vallacar Transit, Inc., were launched earlier this month as mobile vaccination units.
Ang explained that with the day-and-night vaccination of the EOC-TF, the city government is plugging all holes to fast-track the LGU's target to achieve herd immunity, which is by the end of December 2021.
Also being targeted as priority of the 24-hour vaccination drive are the economic frontliners.
After Monday's launch, the EOC-TF resumed regular operations for night-time vaccination on Tuesdays, Thursdays and Saturdays to cover as many Bacolod  residents, Ang said.
The 8 p.m. to 8 a.m. schedule, another first by Bacolod City in this side of the country, is an aggressive and innovative approach to keep local communities safe as the LGU continue to experience a decline in Covid infections during the month of August, Ang pointed out.
It also complements the continued daily schedules in 27 vaccination sites, the jabs given at different malls, on-site drive at Business Process Outsourcing firms, the drive-thru campaign at Ayala Malls Capitol Central and the mobile Vax-i targetting market vendors and public utility drivers since mid-August.
Leonardia, Vice Mayor El Cid Familiaran and Ang, together with EOC-TF deputy for medical, Dr. Chris Sorongon, and Dr. Edwin Miraflor, Jr., CHO officer-in-charge, among others, also met online over the weekend with deans and officials of local nursing schools and allied medical fields and reached an agreement that nursing students, who are future frontliners, nursing faculty and their family members, will also be prioritized for vaccination.
Also last Saturday and Sunday, the city government mounted the "Bigjab Weekend" drive at the SMX of SM City and Ayala Malls Capitol Central from 10 a.m. to 3 p.m. to further increase the total number of vaccinated Bacolod residents.
Ang said late last week that the city had already administered first dose to 156,242 residents as of August 23.
Some 94,179 have been fully vaccinated during the same period, she added.
The "Bigjab Weekend" resumes this week at the same venues. (Bacolod City PIO)