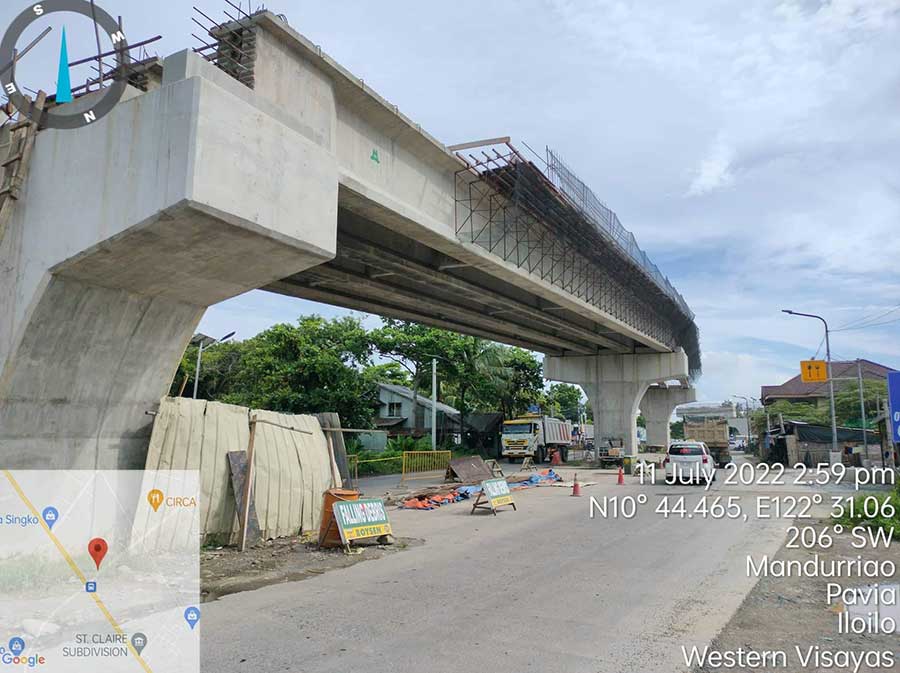 The Department of Public Works and Highways (DPWH) Iloilo City District Engineering Office established new flyover projects to optimize travel efficiency along the circumferential road in Iloilo City.
These infrastructures, which are part of the Build, Build, Build Program, aim to regulate traffic and reduce travel time for travelers entering and exiting the city as well as the neighboring provinces.
DPWH 6 Regional Director Nerie D. Bueno said that the ₱591.2-million Jibao-an flyover in Brgy. Jibao-an, Mandurriao, which runs along the Iloilo Circumferential Road-1, includes the construction of a 240-meter-long flyover comprising six 40-meter-long spans.
"The Jibao-an flyover aims to minimize traffic congestion in the adjacent towns of Pavia and San Miguel to Metro Iloilo, as well as the streets along Mandurriao district," Bueno said.
To date, the project is already 85% accomplished and is expected to be completed before the end of the year. The remaining work includes coping of abutments
A and B; 4 pieces of Girders; mechanically stabilized earth (MSE) retaining walls; and deck slab and approach slab.
The Buhang flyover in Brgy. Buhang, Jaro, along Circumferential Road-1 crossing Iloilo-Capiz Road (New Route), includes a 200-meter, 5-span flyover amounting to ₱520 million.
"The Buhang flyover is designed to make travel faster and more convenient in Iloilo's neighboring towns and coastal areas. This will help to develop the local economy within the community of Iloilo City," Bueno said.
The infrastructure has completed 81% completed and expected to be done also by the end of the year.
The remaining work on the flyover includes a concrete slab from Pier 2 to Pier 3; a mechanically stabilized earth (MSE) retaining wall and approach slab at Abutment A and B, solar lights; and reflectorized thermoplastic pavement markings.
"There is no doubt that the city of Iloilo is the economic hub of Western Visayas, with businesses thriving and job opportunities aplenty. These infrastructures will be beneficial as they will save time, provide convenience, and create more opportunities for Ilonggos. It is our mission at DPWH to provide quality infrastructure that is responsive to the needs of every Filipino," Bueno said. (DPWH-6)