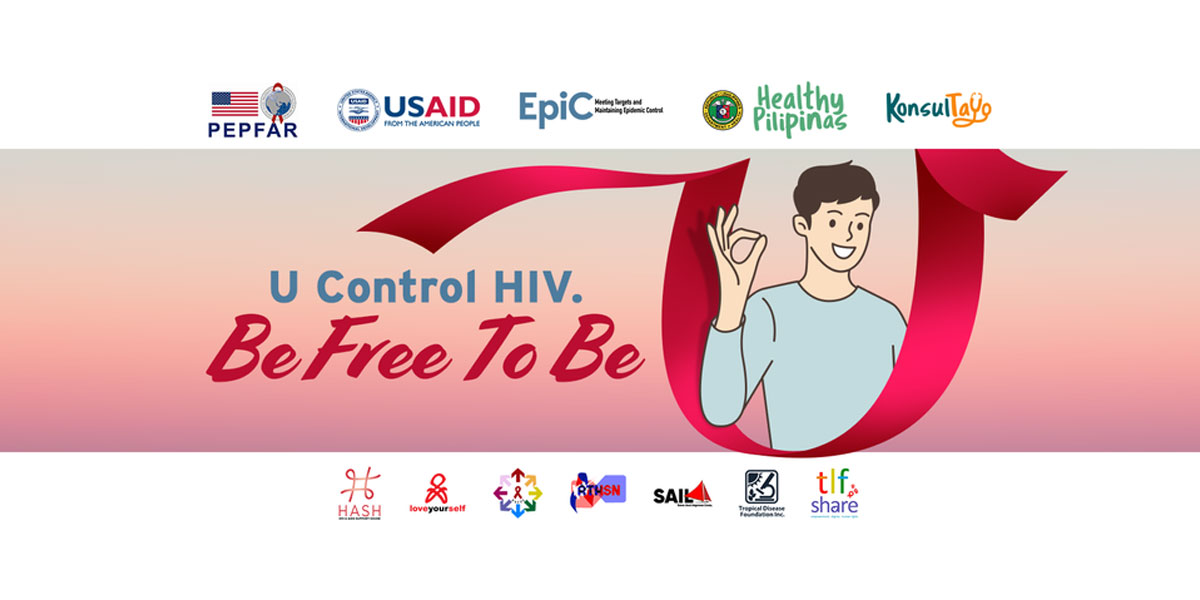 By Joseph B.A. Marzan
A new effort launched last week aims to help Persons Living with Human Immunodeficiency Virus (PLHIV) and others having Sexually-Transmitted Infections (STIs) to safely access services without worrying about the prevailing stigma and the risk of contracting the coronavirus disease 2019 (COVID-19).
The "Free To Be U" campaign launched last Feb 14, 2022 seeks to empower people living with and vulnerable to HIV to break free from fear, labels, and shame; and free to live, love, and pursue their goals.
The campaign joins many HIV awareness advocacies in aiming to raise public understanding of available HIV programs and services for PLHIV and populations disproportionately affected by HIV.
Its strategies include community engagement with both organizations and individuals in promoting testing and treatment to minimize and eventually eliminate the stigma against HIV and PLHIVs, with the ultimate goal of ending the HIV epidemic by 2030.
The campaign was initiated by EpiC Philippines project to strengthen national programs and improve service delivery to control the HIV epidemic and contribute to achieving the goals of the global '95-95-95' strategy by 2030 (95 percent awareness on HIV status, 95 percent of PLHIVs on treatment, and 95 percent of PLHIVs having suppressed viral loads).
The project is initiated by North Carolina-based nonprofit FHI 360 and is being supported by the United States Agency for International Development (USAID) and the U.S. President's Emergency Plan for AIDS Relief.
EpiC Philippines is also working with community-led organizations — specifically, HIV & AIDS Support House (HASH), Love Yourself, Positive Action Foundation Philippines Incorporated (PAFPI), Regional TB-HIV Support Network (RTHSN)-Lakan, Sustained Health Initiatives of the Philippines (SHIP), and TLF Sexuality, Health and Rights Educators Collective (TLF Share) to offer holistic support and a range of services for PLHIV as part of the campaign.
Teresita Marie Bagasao, Project Director of EpiC Philippines, said the campaign aims to address barriers to greater awareness of HIV and AIDS.
"In recent years, there have been significant advances in the treatment of HIV. PLHIV can now enjoy long, productive, and healthy lives, with many of the services provided for free," Bagasao said.
"Unfortunately, despite being free, the awareness of and access to such interventions and treatment remain low. The FREE TO BE U campaign seeks to address those barriers and pave the way for an inclusive and supportive environment where PLHIV are free to receive the treatment they need, and free to be themselves," she added.
Part of the project is the promotion of QuickRes.org, an online platform developed by EpiC Philippines for service booking and case management that can be used for HIV programs by both clients and service providers.
Bagasao stated that the platform may help PLHIVs achieve an undetectable viral load within 6 months.
An undetectable status means that the amount of virus in a person's blood is so low that viral load tests can no longer detect it. That means the virus cannot be transmitted through sex
One of the goals of the FREE TO BE U campaign is to increase awareness among PLHIV in the Philippines of 'Undetectable Equals Untransmittable' or 'U=U' — an evidence-based global campaign that ends the decades-long misconception of HIV being a death sentence.
"Through this platform, vulnerable populations have easier access to HIV testing services in public and community-led facilities, and in particular, those who will be newly diagnosed can immediately be enrolled to life-saving antiretroviral therapy that allows them to achieve an undetectable viral load," Bagasao explained.
She hopes that the campaign can reach its goal of progressively increasing HIV/AIDS awareness and eventually end the virus by 2030.
"These exciting new developments — the increased access to HIV treatment and interventions, as well as various community efforts to share more PLHIV stories of hope and positivity with a general audience — can help in dispelling stigma and take us closer to the goal of ending HIV by 2030. These services are here so that you can be free to be you," she said.
Data from Department of Health's HIV/AIDS & ART Registry of the Philippines indicated that there have been 92,096 PLHIVs in the country as of October 2021.