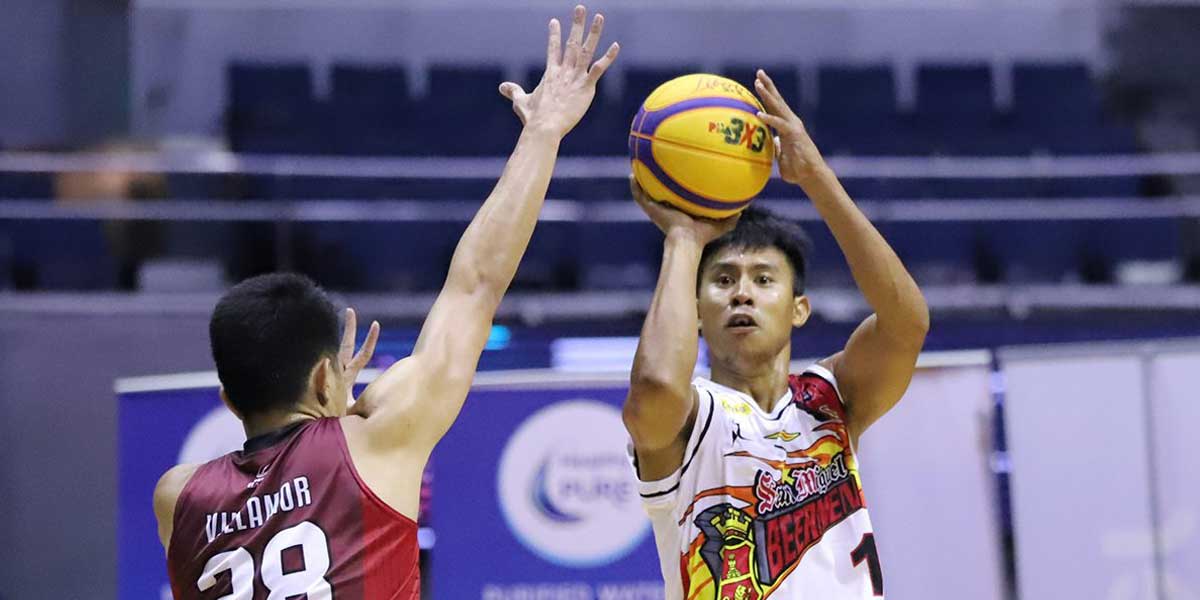 By Leobert Julian A. de la Peña
Negrense shooting guard sensation Jeff Manday just had his best PBA moment since entering the draft after lifting the San Miguel Beermen to the 2022 3×3 Leg 2 championship title.
The crafty Bacolodnon scorer went unconscious from the field and fired San Miguel's first nine points on his way to a game-high 13 on an outstanding 8/14 shooting from the field against the Barangay Ginebra San Miguel, 21-15.
Manday wasted no time dancing around Ginebra's perimeter defense and schooled all who dared to stop him and drained his usual step-back treys and one-handed floaters at will.
Eager to adjust defensively and contain a scorching hot Manday, Ginebra focused on denying him the ball but always left a wide-open Ken Bono and Bacon Austria for an easy roll to the basket.
Ginebra still showed their never-say-die attitude and cut San Miguel's lead from 10 to just four, 14-18.
Encho Serrano did his thing and carried the Ginebra offensive load but timely baskets from Manday restored San Miguel's comfortable cushion.
With over two minutes left and the Beermen only needing a point to secure their first-ever 3×3 leg championship, Austria delivered the goods and tipped in a Bono miss in the shaded area.
Manday, who was the former superstar of the Colegio de Santa Ana de Victorias in Negros, showed he belonged with the big boys and is already one of the most promising scorers in the PBA 3×3.
Since earning his SMB 3×3 contract, Manday has established his value in the SMB 3×3 squad and became their no. 1 offensive option several times during their crucial games.
With the victory, the Beermen took home 100,000 pesos while Ginebra had 50,000 pesos and the third-placers Appmasters won 30,000 pesos.