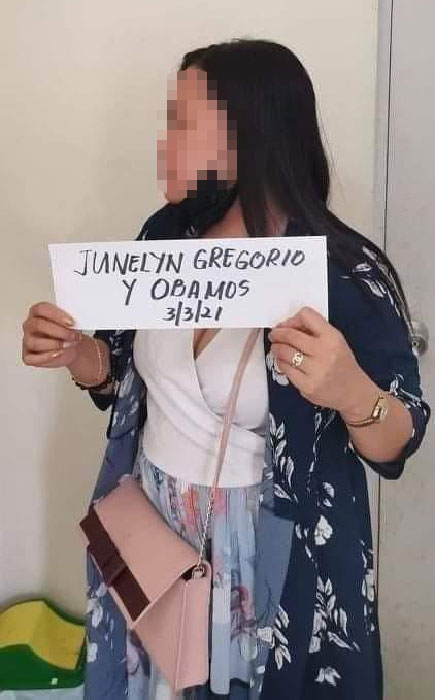 By Jennifer P. Rendon
Months since it started operation, the Capiz-based "25-Day Double Your Money Investment Scheme" may have received at least P1 billion from unwitting investors.
"That's a ballpark figure based on the amount provided by some of the complainants," Atty. Jeremiah Sargado, National Bureau of Investigation – Western Visayas assistant regional director, said on Thursday, a day after the arrest of the company's chief executive officer, Junelyn Obamos Gregorio alias Madame O.
NBI-6 operatives collared Gregorio in an entrapment operation around 3:30 p.m. on March 3, 2021 at her rented place in Barangay Taal, Molo, Iloilo City.
Sargado based the amount invested by five persons who lodged a complaint against Gregorio before the NBI.
"They claimed to have put in around P100 million. There were five complainants in Capiz who also gave P100 million," he said.
The NBI also helped a walk-in complainant who invested around P10 million.
The amount is on top of the money invested by complainants from Iloilo and Aklan.
Sargado said that it also saddened them that a good number of those "scammed" included businessmen, politicians, government officials, and, yes, even law enforcers.
But majority of them chose not to sue Gregorio.
"It's a shame on their part that someone like Gregorio duped them," he said.
Rather than running after the suspects, most of them went silent to protect their name after they fell prey to the Ponzi scheme.
Named after swindler and con artist Charles Ponzi, a Ponzi scheme is a fraudulent investing scam which basically generates returns for earlier investors with money taken from later investors. This is akin to a pyramid scheme in that both are based on using new investors' funds to pay the earlier backers.
Another reason why some government workers who invested in Gregorio's scheme are afraid to surface is they might be accused of unexplained wealth as their investments, which run in millions of pesos, is unlikely to be declared in their statements of assets, liabilities, and net worth (SALN).
While the P1 billion might seem to be a "fortune," the NBI believed that there is a bleak chance that investors will be able to recover their money.
"We believe she (Gregorio) has no money in her possession or even at the bank or elsewhere," Sargado said. "Daw wala naman siya kwarta. Ginapatulan niya na pati mga P5,000 or even P10,000 nga pay in."
When her "investment" scheme kicked off late of 2020, Gregorio already paid out or returned the money of some of her initial investors.
"Whatever amount that she had, she just rolled it by paying to investors who had paid in earlier," he said.
As such, there were basically no assets to be frozen as NBI believed that Gregorio's remaining properties are her houses in Sapi-an town and Roxas City in Capiz.
Sargado said Gregorio and her cohorts will be facing charges for syndicated estafa, which is a non-bailable case.
It can be noted that Gregorio has been the subject of complaints filed by her investors after she failed to return their money.
Gregorio's troubles came on the heels of the Securities and Exchange Commission's (SEC) revocation of the registration of Chiyuto Creative Wealth Document Facilitation Services OPC for running an unregistered "double-your-money" roulette game scheme, also in Capiz province.
Earlier, Lawyer Atlas Catalan has withdrawn as counsel of the chief executive officer (CEO) of the 25-Day Double Your Money Investment Scheme for failing to keep her promise to return the money of investors by February 20.
Catalan confirmed that he no longer represented Gregorio as of February 20, saying that "the most important thing here is the credibility of a person by fulfilling what she promised."
Gregorio failed to show up at the venue of the supposed payout of the investors. She was also not at her home in San Jose Village, Barangay Tiza, Roxas City, Capiz, that day.
Because of this, investor Katrina Aguirre – through local media – announced plans to file a complaint for syndicated estafa. She had been enticed to invest P65 million from January 10 to 11 this year.