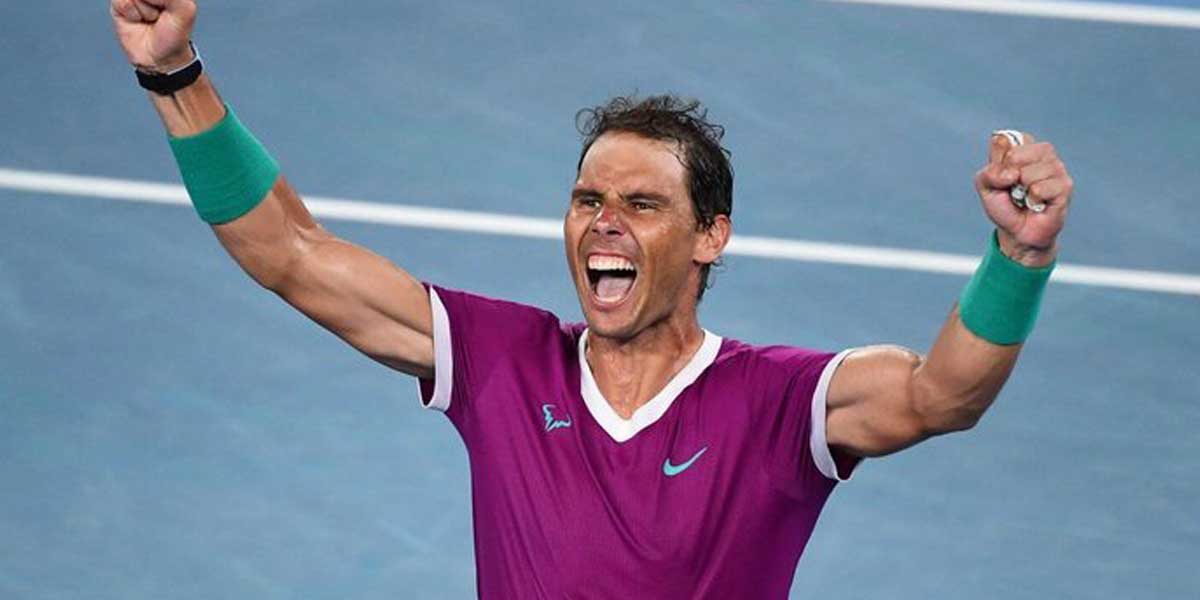 By Leobert Julian A. de la Peña
Gun for 21 is done. All hail, king Rafael Nadal.
After exactly 12 days, seven matches, and 27 sets, Spanish tennis sensation Rafael Nadal weathered the storm and collected his record-breaking 21st Grand Slam title after a come-from-behind victory against the young and upcoming Russian star Daniil Medvedev in five grueling sets, 2-6, 6-7, 6-4, 6-4, 7-5, in the grand finals of the 2022 Australian Open.
Nadal's Australian Open title propelled him as men's tennis' record-holder for the most Grand Slam championships won, breaking the tie among him, Roger Federer, and Novak Djokovic who both have 20 Grand Slams.
It wasn't an easy road for the 35-year-old Nadal who had to overcome COVID-19 infection last December 2021 and wasn't even sure of joining the Australian Open due to health concerns.
However, Nadal surprised everyone when he arrived in Melbourne, Australia as early as January 2, 2022 and confirmed his participation in the year's first Grand Slam tournament.
Nadal had to endure tough and long matches against Marcos Giron, Yannick Hanfmann, Karen Khachanov, Adrian Mannarino, Denis Shapovalov, and Matteo Berretini before taking on Medvedev who was coming in as the world's no. 2 ranked male tennis player.
Medvedev was poised to dominate Nadal after taking an early 2-0 set lead and was six games away from his second career Grand Slam title after winning the 2021 US Open.
Just when Medvedev started to feel the victory nearing him, the veteran Nadal started to smell blood and played a spectacular brand of tennis for three straight sets.
Nadal bounced back from his sluggish performance in the first two sets when he gave up too many points due to unforced errors committed.
The three-set extension also prolonged the fiery showdown that ended after five hours and 24 minutes, the second-longest Australian Open finals match in the history of professional tennis.
This is also Nadal's first time to come back from zero sets down in a Grand Slam finals match and his fourth in his entire career.
"This has been one of the most emotional nights of my tennis career. If we put everything together, the scenario, the momentum, what it means. Yeah, without a doubt probably have been the biggest comeback of my tennis career," Nadal said.
Despite the loss, this has been one of the most consistent rides for Medvedev during his two-year Grand Slam stint, winning the 2021 US Open and qualifying in the grand finals twice in the Australian Open in the past two years.