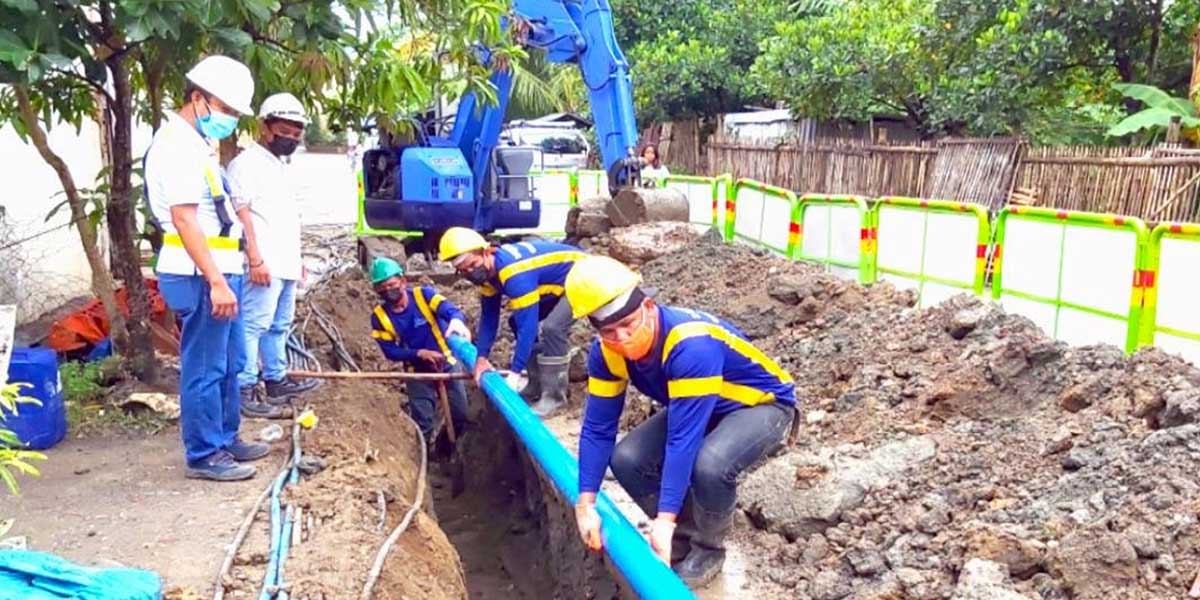 By Francis Allan L. Angelo
Good news.
The water shortage that was supposed to affect more than 20,000 consumers of Metro Pacific Iloilo Water (MPIW) will not happen after its bulk water supplier, FLO Water of businessman Rogelio Florete Sr., agreed to continue supplying water in the next six months.
This was the outcome of the meeting called by Iloilo City Mayor Jerry Treñas and Iloilo Governor Arthur Defensor Jr. with MPIW, FLO Water, and Metro Iloilo Water District.
MPIW is the joint venture company of MIWD and the Pangilinan-led Metro Pacific Water Investments Corp. that distributes water in Metro Iloilo area.
According to reports by Bombo Radyo, which is also owned by Mr. Florete, FLO Water agreed to continue supplying to MPIW for six more months even if the former's contract expired on May 15, 2022.
The price of delivered water will be at P21 per cubic meter while both parties renegotiate FLO Water's new contract, including the new price.
Treñas said the interim agreement will give the two sides enough time to settle the new contract without disadvantaging the consumers.
Sources from MPIW and MIWD welcomed the move, but they said they will remain on standby until the formal six-month agreement is signed.
Earlier, MPIW and MIWD said around 20,000 water consumers will be affected if FLO Water decides to cut its supply.
MPIW planned to implement 12-hour rotational water supply interruptions from 3 a.m. to 3 p.m. in MIWD's service areas in Arevalo, City Proper, La Paz, Lapuz, Molo, as well as selected parts of Jaro (Benedicto, Calubihan, Democracia, Desamparados, Dungon A and B, Fajardo, Javellana, Luna, M.H. Del Pilar, Montinola, Our Lady of Fatima, Lourdes, San Jose, San Pedro, San Vicente, Seminario, and Taytay Zone II) and Mandurriao (Diversion Road, Dungon, PHHC, Q. Abeto, R. Mapa, San Rafael, Santa Rosa, Tabucan, and Taft North).
Water supply will be available in these areas from 3 p.m. to 3 a.m.
Interruptions will also occur from 3 p.m. to 3 a.m. in other barangays of Jaro (Arguelles, Balagao, Balantang, Buhang, Buntatala, Camalig, Cuartero, Cubay, Fajardo, Lanit, Libertad-Santa Isabel, Lopez Jaena, Maria Cristina, M.V. Hechanova, Quintin Salas, Sambag, San Isidro, San Roque, Simon Ledesma, Tabuc Suba, Tacas, Tagbak, and Ungka), Mandurriao (Calajunan, Guzman, Hibao-an Norte, Hibao-an Sur, Oñate De Leon, and So-oc), and Leganes, Pavia, and Santa Barbara towns.
Water will be available in these areas from 3 a.m. to 3 p.m.
MPIW will deploy static tanks and water tankers to augment supply in some areas, with schedules to be announced via its social media channels.
Flo Water provides 30,000 cubic meters of water to MIWD daily – 20,000 directly from the Florete owned firm and 10,000 through another bulk water provider, the Villar-owned Prime Water.
The other providers, Metro Iloilo Bulk Water and Mactan Rock, provide an aggregate supply of 50,000 cubic meters per day.
MPIW and MIWD have been actively negotiating with FLO Water since last year regarding its 10-year contract that ended on May 15, 2022.
One prickly area in the negotiation is FLO Water's proposal to increase its rates from P11.72 per cubic meter to P25.
FLO Water cited several factors for the increase – changes in riverbanks, increase in fuel prices, projected devaluation of pesos, interest rate increase, and climate change.
The Florete-led firm also proposed to progressively increase the rate up to P35.00 at the end of another 10-year contract.
MIWD OIC General Manager Amarylis Castro said in a press conference last week that the Government Procurement Policy Board has allowed MIWD and MPIW to renew the contract at P11.72 (per cubic meter) for a year.
"We have already informed FLO Water on that matter, but they said that because of certain reasons, they cannot accept that price," Castro said.
Castro said that any price increase, as well as consideration of other water players, would have to go through the process with the Local Water Utilities Administration (LWUA).
MPIW Chief Operating Officer Rob Cabiles said their main consideration is the effect of the price increase on the consumers.
"What we have in our minds, the MIWD and the MPIW, is the best interest of our consuming public. Th [P11.72] I think it's a reasonable price. We haven't agreed upon that price, because we have an obligation to our customers that we will provide safe, reliable water, at the same time, affordable water," Cabiles said.